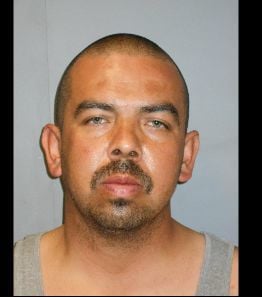 A Lompoc man on Friday was sentenced to 30 years to life in prison for the sexual assault of his stepdaughter during an emotional hearing inside a packed courtroom in which the victim and family members read wrenching impact statements. 
Santa Barbara County Superior Court Judge Raimundo Montes de Oca handed down the sentence in a Lompoc courtroom to Rene Navarro, who pleaded guilty Dec. 6 to two counts of aggravated sexual assault of a minor by force as part of a plea deal. 
Each charge carries a 15-years-to-life sentence, which Navarro will have to serve consecutively.
Under Proposition 57, Navarro will have to serve at least 80% of his sentence before he's eligible for parole. 
Navarro was also credited with 516 days of time served and will have to register as a sex offender. 
A Santa Maria Superior Court judge earlier this month ordered a $5,000,000 judgment in a civil case against a man convicted of molesting children at a Lompoc day care center in 2015. 
Additionally, Navarro was ordered to pay $5,248 in restitution, a $10,000 restitution fine and $500,000 in noneconomic damages. 
Noneconomic damages are awarded to molestation victims age 14 or younger to account for their pain and suffering, according to Santa Barbara County Deputy District Attorney Scott Donahue, who prosecuted the case. 
You have free articles remaining.
Navarro will carry the judgment of damages for this rest of his life, according to Donahue, which means a portion of the wages he earns during and after prison will go toward the victim. 
Navarro was arrested in November 2018 after the mother of the victim — who was referred to as Jane Doe in the courtroom — notified police. 
The abuse, which included numerous sexual assaults, first began when the victim was 5 years old, then continued when she was 9 and lasted for approximately six years, according to court documents.
The victim reported the abuse around the time of her 15th birthday and recorded a phone call with Navarro stating that she was pregnant in order to corroborate her allegations, court records show. The recording was turned over to police. 
The mother and aunt of the victim, as well as the victim herself, each read emotional impact statements before the court. 
Navarro, who was dressed in an orange jail jumpsuit top and wearing glasses, never turned back to look at the victim or her family. 
The victim was under oath so that her statement was admitted into evidence. She described graphic details of the abuse she endured for years. 
"When kids are little, their biggest fear is sleeping in the dark," Jane Doe said. "But my biggest fear was not a monster living under my bed but sleeping right next to me."