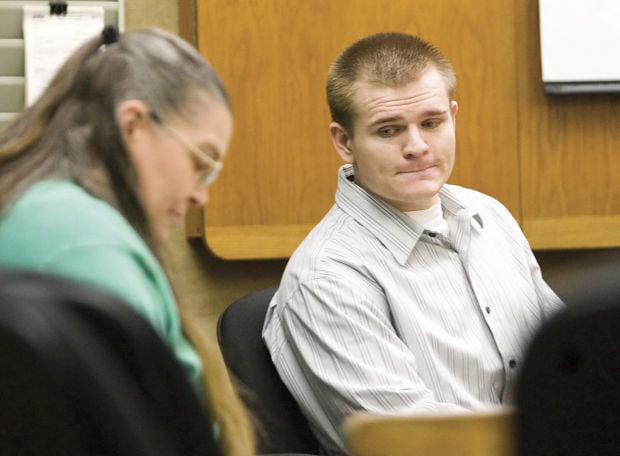 A mother and son charged with the gruesome slaying of a Santa Maria teen sat stone-faced Monday when prosecutors displayed extremely graphic photographs of the girl's charred corpse to jurors, some of whom wept quietly.
Nipomo residents Rhonda Maye Wisto and her son Frank Jacob York are facing first-degree murder charges for the Sept. 25, 2010, death of Dystiny Myers.
The pair also face kidnapping, torture and aiding-and-abetting charges connected to the murder.
Myers' badly burned and rope-bound body was discovered early the next day in a shallow grave off Parkhill Road near Santa Margarita in northern San Luis Obispo County.
The teen died from mechanical asphyxiation and blunt-force trauma. She also had toxic levels of methamphetamine in her system, which contributed to her death, according to an autopsy report.
Prosecutors believe Myers died sometime between Sept. 25 and Sept. 26 after she was severely beaten, hogtied, duct-taped and possibly drugged at Wisto's Mars Court home, where she had been staying.
She also had a glove stuffed down her throat and sweat pants tied tightly around her neck.
Myers' mother ran out of the courtroom sobbing when a particularly disturbing photo of her daughter's charred corpse lying in a burned pit was projected onto a large screen in the hushed courtroom.
Chief Deputy District Attorney Tim Covello told jurors in his opening statement that Myers was murdered, in part, because she knew too much about a "budding criminal enterprise" allegedly headed by Wisto and Santa Maria resident Ty Michael Hill.
Hill, a suspected drug dealer who was also charged with Myers' murder, brought the girl to Wisto's Nipomo home in the days prior to her death. The home was a haven for methamphetamine users, as well as a place where individuals bought narcotics, according to the prosecution.
"Rhonda Wisto makes things happen," Covello told the jury. "She was the ultimate facilitator and perfect partner for Hill."
The nine-woman, three-man jury was told by the prosecution that Wisto and Hill had a "shared ethos of criminal street gangs" and a "distorted notion of respect and demanding respect."
"It was a lethal combination for Dystiny Myers," Covello said, adding Wisto also believed the teen had stolen from her and was too mouthy. "(Dystiny) had been warned and she kept popping off."
Myers also allegedly carved gang graffiti into a wood desk owned by Wisto, which was viewed by the older woman as disrespectful and offensive, according to prosecutors.
"Rhonda Wisto promoted this (murder)," Covello said. "She encouraged it."
In his opening statement, Michael Cummins, who's representing Wisto, attempted to deflect the blame for Myers' murder onto Hill, who pleaded guilty earlier this year for his role in the teen's death in exchange for a life sentence without the possibility of parole.
Cummins told jurors that Hill, who was facing the death penalty prior to his plea bargain, was a master of intimidation and manipulation.
"He is the purest manifestation of evil in human form that you've ever encountered," Cummins said, adding evidence in the case will show Wisto isn't a saint but that she's also not a murderer.
The defense attorney also told jurors that two other defendants in the case - Cody Miller and Jason Greenwell - are "serial liars, cagey and unstupid human beings."
Miller recently took a plea deal from prosecutors in exchange for a lesser sentence for his role in the murder, as well as his testimony against Wisto and York. Greenwell has also agreed to testify for the prosecution.
Testimony in the case will resume at 9 a.m. this morning in San Luis Obispo County Superior Court, Dept. 2.
Sign up for our Crime & Courts newsletter
Get the latest in local public safety news with this weekly email.