An illegal commercial cannabis cultivation and sales operation just outside Buellton city limits was shut down Wednesday by the Santa Barbara County Sheriff's Office Cannabis Compliance Team, a sheriff's spokesman said.
More than 14,000 pounds of cannabis was seized after Sheriff's Office compliance team, Special Investigations and Criminal Investigations bureaus detectives, District Attorney's Office investigators and California Department of Fish and Wildlife officers served search warrants at the operation in the 2000 block of West Highway 246, Sgt. Matt Fenske said.
Investigators believe the owner and operator, whose name was not released, created false documents to obtain a temporary state cannabis cultivation license, then stored and sold processed cannabis illegally, Fenske said.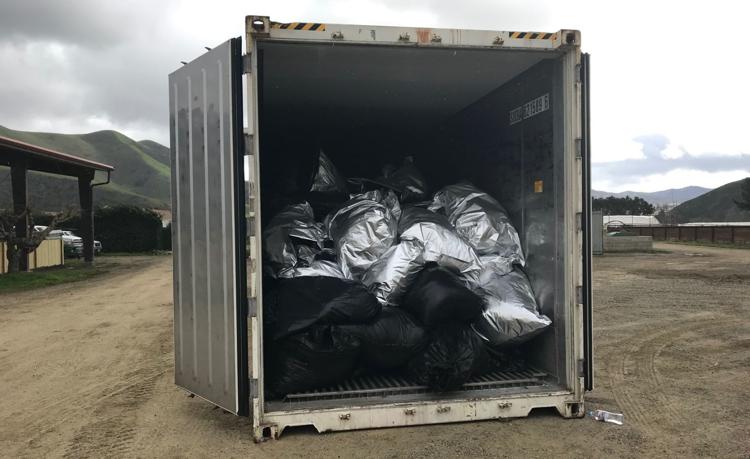 During the search of the premise, approximately 14,000 pounds of mixed cannabis and trimmings from the cannabis flowers were seized along with about 240 pounds of cannabis packaged and prepped to be shipped, he said.
The street value of the seized cannabis was estimated at $1.3 million to $2 million.
Fish and Wildlife officers inspected the property because of its close proximity to the Santa Ynez River and noted several potential environmental crimes believed to be connected to the cannabis operation.
Wildlife officers rescued and released a young rabbit found apparently trapped illegally and injured not far from a residence near the site.
Fenske said because of the complexity of the investigation and its ongoing nature, no additional information will be released until further notice.
Cannabis Compliance Team members are asking the public to report any activities potentially involving unlicensed or illegal cannabis operations by calling the Sheriff's Anonymous Tip-Line at 805-681-4171 or visiting www.sbsheriff.org/home/anonymous-tip/.
Sign up for our Crime & Courts newsletter
Get the latest in local public safety news with this weekly email.