Christopher Diaz wants his students to make mistakes.
As a matter of fact, he welcomes them.
"Lots of times, things don't go the way you think they're going to go," he said. "We have a term in this industry called 'happy accidents' — something happens and, even though you didn't mean to do that, it still turns out good."
To the chagrin of engineers, chemists and mathematicians, Diaz, a professor of music  at Hancock College, embraces imprecision in his classroom — a small recording studio tucked away in the college's music building. Starting Tuesday, Diaz began teaching students enrolled in his music production class the fundamentals of recording, mixing and mastering sound — mistakes and all.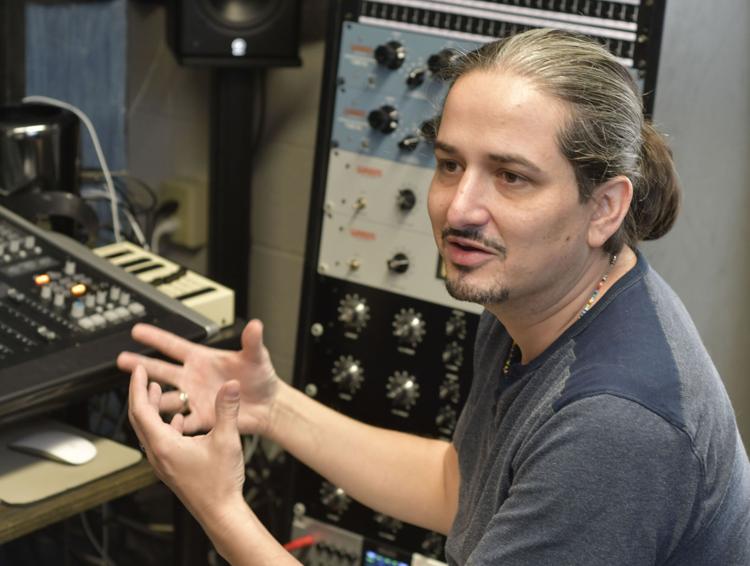 No matter how unconventional the instrument or obscure the genre, Diaz hopes to bring local bands or musicians (spanning the musical spectrum) into his classroom for his students to record, mix and master in what he describes a real-world learning opportunity.
"I'd love to [record] an ensemble that I have no idea how to do," he joked. "As a teacher, lots of times, you don't want to let your students see that you don't know everything. But, no matter what you do in music production, you have no way to know what's going to come through your door." 
A disciple of the Beatles and producer Dr. Dre, Diaz credits his interest in music and production to his first professional recording session. Then 17, Diaz recalled being enthralled by Logic, a digital audio workstation and MIDI (Musical Instrument Digital Interface) sequencer, and other digital recording components that sit at the center of most major recording studios.
"The first time I saw someone hit play, and I saw the little bar move and notes [pop up,] it was like magic for me. I knew this was what I wanted to do," he said. "It was the coolest thing I had ever seen."
Tuesday marked the first time many of Diaz's students set foot in a studio and sat behind a mixing console, after spending most of the fall semester learning how to use the equipment. While some of the students have used comparable software on their personal computers, Diaz said the tactile response from MIDI controllers and the mixing board will add a new dimension to their work.
"They get all this stuff in front of them and realize it was just a simulation of [the hardware,]" he explained. "They've been in the virtual world all this time — once they learn how all it works, it helps them function way better virtually."
Diaz said the class will provide students with a comprehensive understanding of not just the technical recording process but, also, teach them how to refine and experiment with the principles of sound.
"Lots of times people sit down and want to know what's the right way to do this," he said. "There's a sound they want, and I want to show them how to get to that sound. I want to liberate their ideas and get them more in touch with what they want to create."
With the start of classes quickly approaching, Diaz hopes to sign up a diverse genre of groups and musicians to perform in the studio.
"Hancock's music now includes more than just classical [genres,]" he said. "If you're into pop, rock, hip-hop or EDM (electronic dance music), that's accessible here."