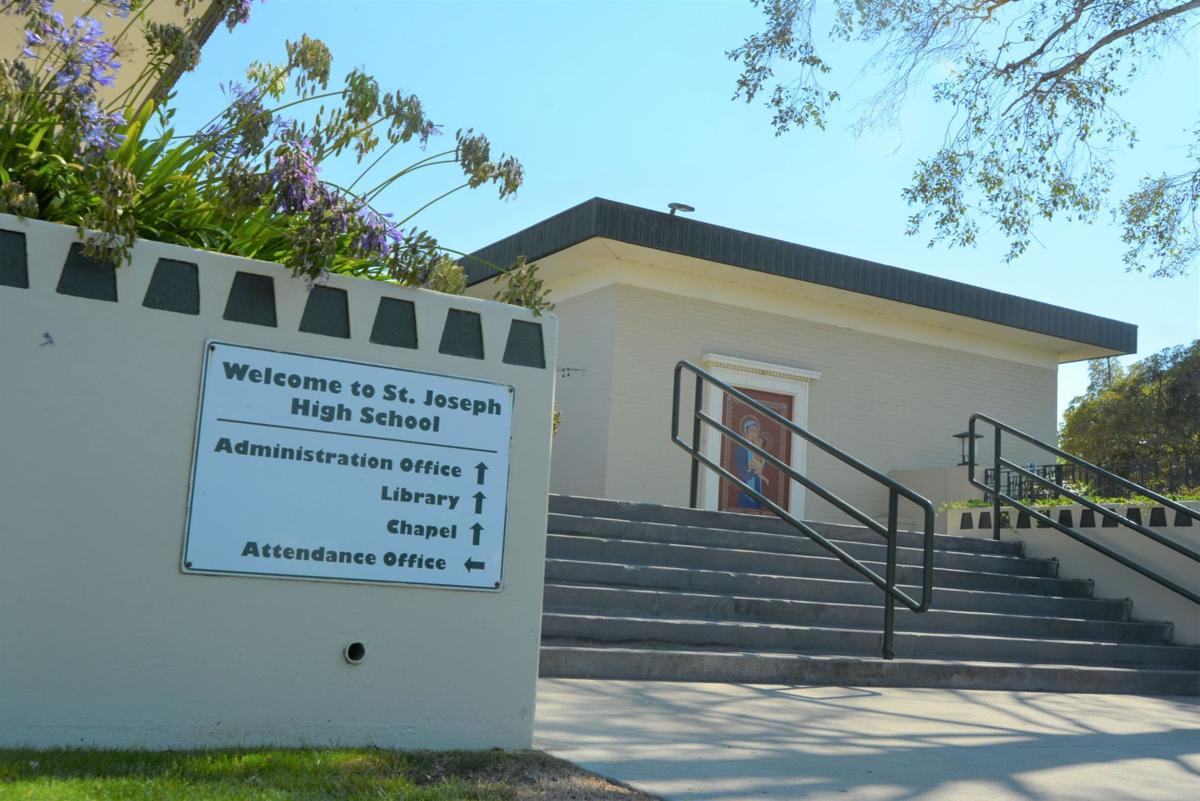 St. Joseph High School in Orcutt has opened up the option of targeted cohorts to its families, allowing a limited number of students in need of extra academic support to continue learning on-campus. 
The cohort process, first shared by the California Department of Public Health on Aug. 25, permits both private and public schools to host groups of students with specific learning needs on campus to better support them. 
According to the state, individual districts and schools can decide who will be allowed to participate in a cohort or targeted support group. However, students with disabilities, English learners, students at risk of abuse or neglect, students experiencing homelessness, foster youth and those at higher risk of not participating in distance learning should be prioritized. 
Cohorting is separate from the waiver process, in which elementary schools can apply for a waiver to resume in-person classes for grades K-6. 
At St. Joseph, Principal Erinn Dougherty said any student desiring specialized support could be considered for a cohort, with the goal to accept students on campus as early as next week. 
"All of our students, every student has a specialized learning plan, so for any student who desires it, they would articulate in what area they need support," Dougherty said. 
Schools offering cohorts or targeted support must limit each group to 14 students and two adults, with no more than 25% of the school's capacity on campus at one time. 
Being a smaller school, St. Joseph will be able to offer cohort services to approximately 100 students, Dougherty said. However, she anticipates that the number of families interested will be lower. 
The Catholic high school is already equipped with sneeze guards, socially distanced desks, personal protective equipment and temperature screening devices, making it easy for the school to begin safely accepting students, Dougherty said. 
"We could be ready to open tomorrow," she said. 
According to Santa Barbara County Public Health Department spokeswoman Jackie Ruiz, schools are required to notify the department if they are planning to offer cohorts via a form that was sent out to schools Wednesday.
As of Wednesday, the county had not received any forms. 
"Schools and districts are required to notify us, not necessarily consult with us, if they are offering cohorts," Ruiz said.
Dougherty said the school is still soliciting interest at this point before submitting the form, as it asks schools to provide the number of students participating, which they will not know until after the school's Friday deadline. 
Along with following mask-wearing and social distancing guidelines, students in cohorts are prohibited from mixing with students in other cohorts on campus to prevent any potential spread, according to the state. 
In an email sent to parents Wednesday, Dougherty said participating students will stay in the same classroom for the whole day to complete their distance learning, where they will have the opportunity to ask facilitating teachers questions. 
St. Joseph High School officials and parents have been pushing to reopen for in-person learning, with Dougherty saying the school will open as soon as they are given a legal avenue to do so. 
In the meantime, however, the option of cohorts is uplifting news for parents, Dougherty said. 
"It gives people hope," she said. "I'm very excited to take advantage of this opportunity offered to us by Santa Barbara County … and I encourage other schools in the county to take advantage of this opportunity."
Many school families have also formed learning pods, where small groups of students complete distance learning together with the help of a tutor or other adult, she said. 
Concerned about COVID-19?
Sign up now to get the most recent coronavirus headlines and other important local and national news sent to your email inbox daily.