From a grassy bluff Fred Chamberlin looks out over fallow farmland and grazing cattle. He points toward the horizon, a view that's changed over the course of a lifetime.
When his father Ted bought their 8,000-acre Los Olivos property in 1929, cattle ranching was king in Santa Barbara County. He was surrounded by neighboring cattlemen, said the grizzled 75-year old rancher, stomping his boots. 
Today, a victim of economic vagaries and an extended drought, the land tells a different story.
"There are thousands of acres of grapes around here that used to support cattle," said Chamberlin, reaching into his back pocket for a wad of Red Man chewing tobacco.
To the south, grazing land has been sold and subdivided to make way for small recreational ranches, or ranchettes. To the north, Firestone Vineyards and Fess Parker grow wine grapes. What was once Michael Jackson's 2,800-acre Neverland Ranch is just past the eastern ridge.
In Santa Barbara County, cattle ranchers are a dying breed.
The slow decline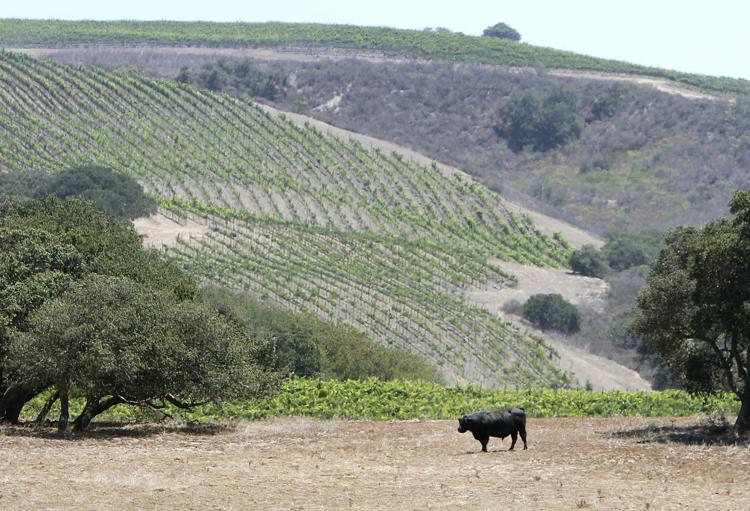 Most land on the Central Coast was dedicated to grazing when Spanish and Mexican land grants were issued in the 1800s. Ranchos were established to serve a burgeoning hide and tallow trade, during a time when vaqueros would drive cattle hundreds of miles by horseback to sales yards.
Over the years, however, cowboys armed with riatas and bullwhips have disappeared, along with thousands of acres of grazing land. More than 21,000 acres were converted in Santa Barbara County between 1984 and 2012, according to state Department of Conservation reports reviewed by the Santa Maria Times.
Cattle were the county's No. 1 grossing agricultural product for more than a decade starting in the 1960s, according to crop reports filed by the Santa Barbara County Agricultural Commissioner. They now rank 12th — strawberries, wine grapes and broccoli top the list. 
The decline has been gradual, as year after year ranchers produce fewer heads of cattle. Between 2012 and 2013, for example, the number fell by 4,500, according to crop reports. In 2013, county ranchers produced 33,000 head, down 77 percent from 1970.
Described as "endangered" in a 2007 county-commissioned report by American Farmland Trust, the livestock trade shows few signs of recovering. Cattle operations declined by 40 percent between 2002 and 2007. In that time, the report shows, the blossoming wine grape industry grew by more than 500 percent.
Profit-driven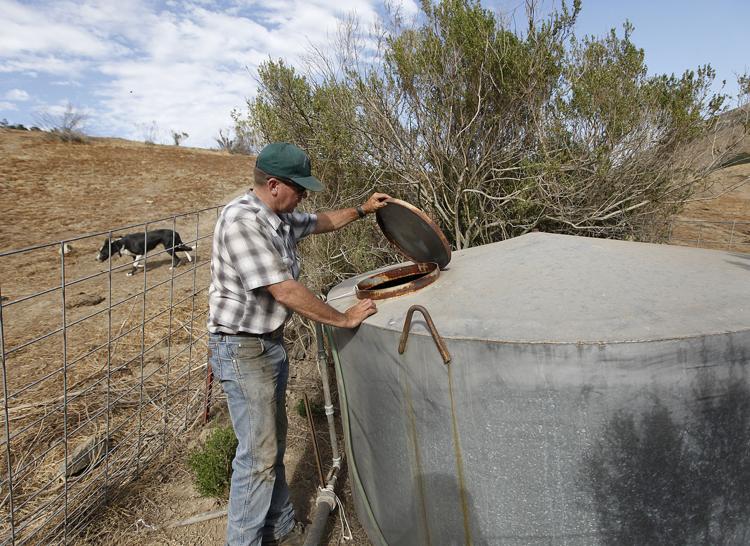 Much of the decline can be attributed to mounting pressure for ranchers to convert their properties to more lucrative uses.
Farmland values have increased rapidly since 2000 — wine grapes are valued at between $25,000 and $50,000 per acre. By comparison, it takes roughly 25 acres to run one cow per year on unirrigated land. A 500 lb. choice heifer could fetch about $1,000, based on August market reports.
"The demand for grazing ranches is pretty limited because the price of land is too high to make any money," said Kerry Mormann, a realtor with 38 years of experience selling ranch properties in Santa Barbara County.
The skyrocketing value of rural land squeezes some ranchers out of the area, making way for more urban recreational ranches that don't always produce an agricultural product.
Mormann sold a 1,700-acre cattle operation in Los Alamos last year for $5 million. The new owners use the land to ride their horses.
Property trading hands has "always been lifestyle first," Mormann said. "I've never sold ranches based upon income from cattle." 
Lease, don't buy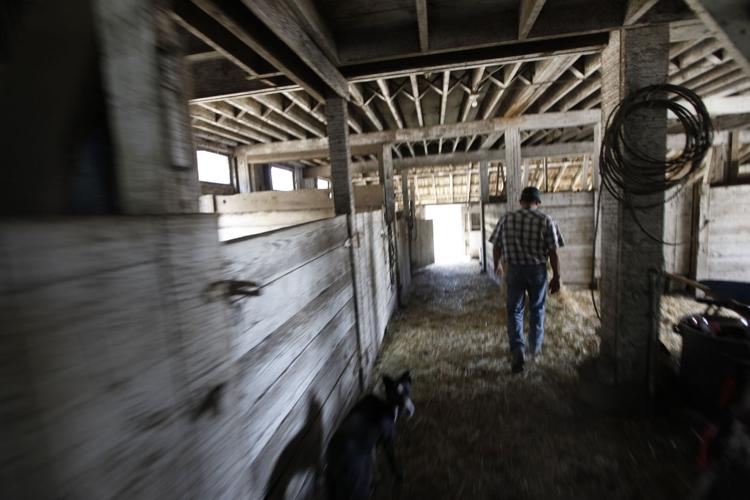 A solution for some ranchers is found in leasing grazing land from wealthy landowners, said former Santa Barbara Cattlemen's Association President Andy Mills.
"Property values are too high to justify financially a cattle operation, but there are all kinds of people who have the wherewithal to buy these properties and are perfectly happy to lease them out because they get a tax break through the Williamson Act," Mills said. "These people aren't villains — they are subsidizing ranchers that otherwise wouldn't be able to financially justify buying this land to have a cattle operation." 
The California Land Conservation Act of 1965, commonly called the Williamson Act, provides landowners a property tax break of as much as 83 percent in exchange for not developing agricultural property for 10 years.
Despite the tax incentive, however, Santa Barbara County accounted for the largest decrease in Williamson Act enrollment in the state between 2012 and 2013, with landowners opting out of renewing 8,194 acres, according to a 2014 report filed by the California Department of Conservation.
Fewer acres of agricultural land on the outskirts of urbanized centers are renewed, according to Department of Conservation maps reviewed by the Santa Maria Times. Ranchers opt out of renewal to keep their options open to developers, industry experts said.
"Williamson doesn't offer enough of a tax break to encourage landowners voluntarily to enter into that agreement not to develop for 10 years," said Edward Thompson Jr., the California director of American Farmland Trust, a nonprofit organization working to halt the loss of productive farmland. 
 "I'd rather pay the extra tax and be able to accept a developer's offer."
Barbed wire and such
Despite the advantages of leasing, costs such as barbed wire for fencing to keep cattle separated from row crops and vineyards eat into a rancher's profit margin. 
Fencing costs roughly $25,000 a mile, cattleman Ralph Lautsen said.
"There's pastures I can have, but you can't afford to fence them," said Lautsen, who leased hundreds of acres of grazing land on the Central Coast, but gave up his herd when times got tough.
Now he rips lines for vineyard development.
"I hate grapes," Lautsen said. "But there's money to be made."
Though most ranchers are reluctant to openly blame vintners for the loss of grazing land in Santa Barbara County — home to 21,000 acres of vineyards — there is some tension between the industries.
"Maybe some tension between cattle and grapes is the value component," said Morgen McLaughlin, executive director of the Santa Barbara County Vintners Association. "You do see vineyards coming in and buying up old cattle ranches because it's nearly impossible now to make money on the cattle side."
Tension aside, agriculture as an industry — including vintners and cattlemen — is threatened, McLaughlin said.
"The idea of a sustainable small family farm is really in the minority … including beef. I don't think it's one ag product versus another as it is ag in general that needs to be supported by the county," McLaughlin said.
Development pressure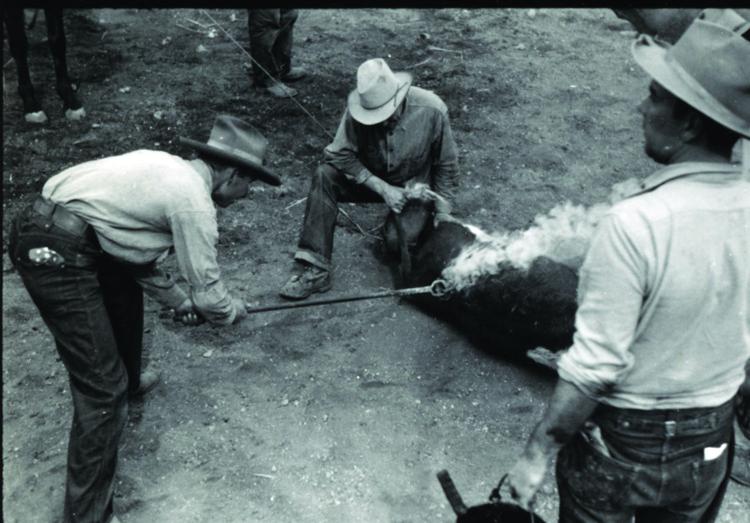 Most ranchers agree that pressure from developers increases the chance they will sell. And with urbanization comes wholesale change.
"It's not just the land that is paved over and developed for houses. Every development tends to exert a force field around it that makes it difficult to farm," said Thompson, with American Farmland Trust.
"The politics change. What used to be a rural county where people were engaged in agriculture and understood agriculture … are now in the minority. They're supplanted by people from the city or suburbs that like to look at the farmland, but don't really understand what it takes to keep agriculture," Thompson said. "That's a real problem if we want to continue eating."
As urbanization continues and housing developments are constructed on fertile farmland, ranchers are likely to sell out to offers they can't refuse, and retire, Thompson said.
"That's probably the only reason they're selling," Thompson said. "Talk to just about any farmer and they'll say they'd like to keep farming."
Just call them 'pretenders'
Billy King, a Lompoc rancher whose family lineage dates back to original Spanish land grant holders on the Central Coast such as the de la Guerras and Orenas, points to some of the new ranchers he's seen over the years — rich hobbyists from out of the area coming to North County to experience a nostalgic slice of the old west.
King's dad, Bill, just calls them "pretenders."
"Down in the Santa Ynez area, people coming in wanted to play cowboy, too. Remember that one time?" Billy asks his dad over a steak lunch at a western tavern in Orcutt.
Bill, a 75-year old rancher born into the business, was paying $10 an acre to run 100 head of cattle, until the landowner leased the property to a "pretender" willing to pay $15 an acre. 
"And he was running 15 head on it. That doesn't pencil out," Billy said.
In the 1960s, one of the most prosperous decades for cattlemen, ranchers were lucky to make $30 a head, Bill said.
Today, the average annual gross income from livestock is $41,232, according to the U.S. Department of Agriculture's Economic Research Service. Less than one third of cattle operators claim the work as a primary occupation.
"There's an old joke in the cattle business – 'You're in the cattle business? What do you do for a living?'" Bill said. "There's not too many who make a living running cattle."
Remember the 'hay day'
Today's landscape is a far departure from 1929, when Chamberlin's father began driving cattle on two-day rides from Los Olivos through the Santa Ynez Valley and over the mountains to Refugio Beach, where they were shipped away by train.
Ranchers refer to those years as the hay day for cattlemen on the Central Coast — a time before vintners discovered micro climates could produce world-class wine grapes, and before environmental movements sparked grazing regulations.
It was a time when ranchers could gaze out their window and see the same rolling hills that pioneering cattlemen saw more than 100 years earlier.
Dust billows from the seat as Chamberlin eases into his creaky red Toyota and rambles up a dirt road his father built on the property decades earlier. Along the west end of his ranch, 60 acres of squash, corn, tomatoes and pumpkins take root.
Forty years ago, the land grew hay, barley and grain for cattle.
Chamberlin planted the crops two years ago and thinned his herd to fewer than 500 head this year, like most in the business. He remains certain, however, that cattle will continue to roam the land — at least a few more years.
"Nothing's going to happen to it while I'm still alive," he said.


Staff reporter Ryah Cooley contributed to this series. Follow her on Twitter @RyahCooley
Harold Pierce covers the Santa Ynez Valley for Lee Central Coast News. Follow him on Twitter @RoldyPierce
Daniel Dreifuss is a staff photographer for Santa Maria Times. Follow him on twitter @DDreifussSMT
Be the first to know
Get local news delivered to your inbox!