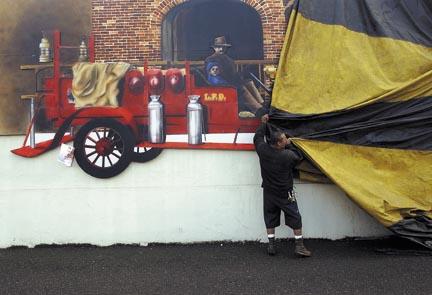 Firefighters and Lompoc Fire Chief Linual White had to bug out of Fire Station No. 1 Wednesday, while exterminators took care of some nasty little pests.
Termite infestation forced the station in the 100 block of South G Street to be tented for fumigation. The city put firefighters up in the Best Western O/Cairns Inn on the south side of town Wednesday and today.
Firefighters had to move all of their personal belongings, food and anything else that could be damaged by fumigation out of the fire station. They also had to make other arrangements for meals.
The station is expected to reopen Friday. The termite problem affected the fire department/s A and B shifts. C shift returns to work at Station 1 8 a.m. Friday.
&#8220We/ve been aware of a termite infestation for some time 7 a couple of years, probably,C White said. &#8220At the beginning it was not significant to warrant any action.C
Termites did not cause any visible damage to the station, White added.
The chief could not say how much the termite problem is costing the city, but the hotel is giving the fire department a deal on the rooms, he said.
White is working out of City Hall, his car or Fire Station No. 2 on North D Street, near the library, until Friday. His secretary is working out of other city offices as well.
&#8220It is an inconvenience of not having the main office and not having the main fire station,C Battalion Chief Robert Kovach said. &#8220We will still try to operate as normal as possible.C
Operating smoothly while the fire station gets debugged means renting four hotel rooms and keeping fire engine 1 parked outside with all the needed equipment close by in case of an emergency.
Firefighters had to keep their pagers and radios handy to stay in touch with dispatch as well.
The idea of putting everyone in Station No. 2 was dismissed primarily because of how that could adversely affect response times in areas covered by Station No. 1, Kovach said.
A hotel on the south side of town was chosen to maintain response times to emergencies, which will not be affected while the main station is fumigated.
&#8220We started on a contingency plan as soon as we knew we would have to tent the (fire station) property, so that started a few months ago,C White said.
Another adjustment the fire department had to make was storing its ladder truck at the city/s corporate yard on West Laurel Avenue.
Mark Abramson can be reached at 736-2313, Ext. 126, or mabramson@lompocrecord.com.
January 19, 2006
Get local news delivered to your inbox!
Subscribe to our Daily Headlines newsletter.