Slowly but surely, the word is getting out about the new kids on the block: A fleet of eight brightly-colored electric vehicles that travel no faster than a jogging ostrich — 30 mph.
The energy efficient "Moke" which can easily navigate the busy, tourist-filled streets of downtown Solvang, has arrived.
The Moke is marketed as the "less noise, less pollution, more fun!" vehicle, said Quincy Ruffin, the ideator behind the local business "Solvang Moke Experience."
Ruffin explained that the Moke, which was originally a British army vehicle designed in the 1950s to be combat ready and parachuted from aircrafts, is making a comeback – with fun in mind.
"I think this option is a great thing for Solvang," Ruffin, 35, said of the clean air endeavor.
A while back the serial entrepreneur, who also runs an online apparel shop "RUFFINIT" for outdoor/ sporty individuals, recalls the moment he found out a Santa Barbara proprietor was making a year's salary inside of a month renting gas-guzzling recreation vehicles.
"I saw these little buggies in downtown Santa Barbara and thought 'That's a cool idea.'"
But instead of copying the model verbatim, he went green: enter the Moke.
According to Ruffin, through research he found that a Las Vegas businessman purchased the Moke design and brought it to America. The vehicle, assembled in Las Vegas, was then converted to electric.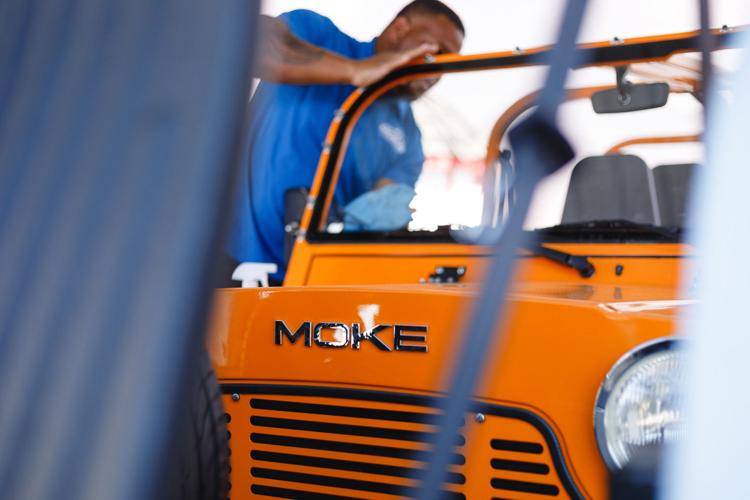 "I reached out to the company, and at the time, they were only selling them," Ruffin said, adding that he had initially made contact with the sales department. 
With a vision and his natural sales prowess, Ruffin was able to connect with the owner of Moke and convince him that leasing out a fleet of vehicles was not only a good idea but a great investment.
"They asked about a location and I mentioned Santa Barbara," Ruffin said, admitting that he did not own a business or rental location at the time.
But he had an idea.
In honor of those who have served in the United States military, VFW Post 7139 will host the Santa Ynez Valley annual Veterans Day program on …
Playing match-maker, the Moke owners reached out to a longtime Santa Barbara-based bike rental shop and suggested they add a fleet of Mokes to their business.
"They put 12 units there and in the first month, it brought in extraordinary sales," Ruffin said.
Eight months later, Ruffin decided to go into business for himself. 
"The guys at Moke said, 'hey, you're a pretty smart kid. We'll give you 12 units and you can go anywhere you want to go,'" Ruffin said, deciding to lease the 12 and designate touristy Solvang as his shop location.
The battery-powered vehicle which can be fully charged in six hours with a standard AC outlet, is fast-becoming what Ruffin calls "the next Uber for anyone touring or visiting any city."
With his starting fleet of eight vibrantly-hued, open air, fiberglass vehicles buzzing around Solvang, Ruffin says business is already starting to pick up.
"It's been over a month and it's been a lot of fun," he said. "I'm just trying to get the word out and grow with the community." 
For Solvang location and rental information, visit www.mokeexperience.co or contact Quincy at 805-322-8535. 
Lisa André covers Valley Life for Santa Ynez Valley News. 
Get local news delivered to your inbox!
Subscribe to our Daily Headlines newsletter.