Firefighters and sheriff's deputies put themselves in harm's way to save lives and protect structures as they battled the Holiday fire that broke out July 6 at the edge of Goleta, emergency officials said Tuesday.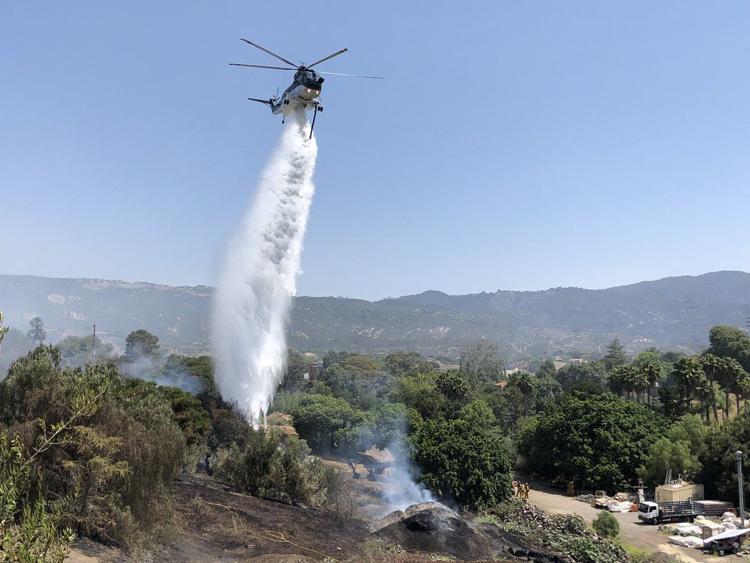 They also said an early weather warning, a prestaging plan, assistance from numerous agencies and cooperative residents were among the keys to preventing casualties and limiting losses.
But they also said more fire breaks are needed so firefighters don't have to go into dangerous situations to save people and property.
The assessments were provided to the Santa Barbara County Board of Supervisors at their meeting in Santa Maria, where County Fire Chief Eric Peterson said the Holiday fire suppression costs alone are estimated at $1.5 million.
A sense of déjà vu
Peterson noted the red flag conditions July 6 were very similar to those at 6 p.m. June 27, 1990, when the Painted Cave fire erupted — a fire he battled in his third year as a county firefighter.
Just as they were that day, winds on July 6 were blowing 30 mph and gusting to 40. Temperatures soared to 100 degrees and higher, and fuels were tinder-dry amid single-digit humidity when the fire was reported at 8:40 p.m.
The Painted Cave fire, which was intentionally set on Highway 154, scorched 5,000 acres, destroyed 427 structures and left one person dead.
Although its cause is yet unknown, the Holiday fire that ignited near North Fairview Avenue burned 100 acres, destroyed 10 homes, damaged three and destroyed 14 outbuildings.
"We, as always, lament the loss of structures, and our heart goes out again to those people who are suddenly homeless," Peterson said. "This fire could have been a lot worse.
"And one of the reasons it was not worse was that we were able to cut it off at the top with some really, really good work by our dozer operators," he said.
Other factors also worked in firefighters' favor.
"Luckily, we had very good early weather information from the National Weather Service, which we acted on," Peterson said.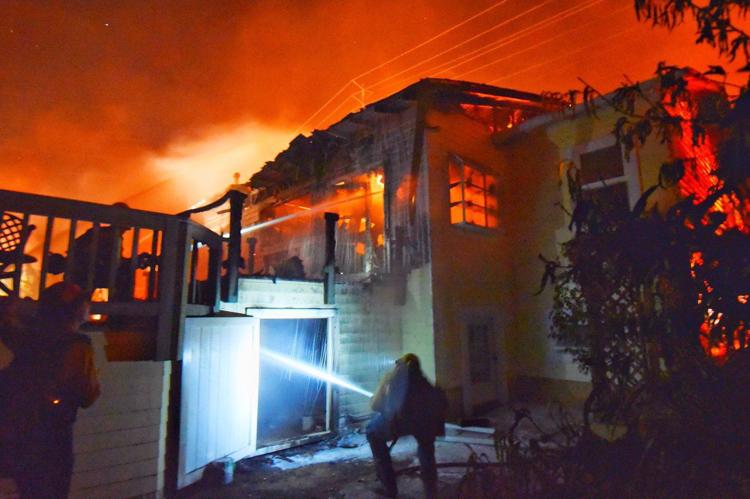 Prompted by the forecast, extra County Fire resources were brought on; Cal Fire made two bulldozers, a hand crew and a water tender available; and a strike team of five California Office of Emergency Services fire engines were staged in Goleta.
"We staged them at the corner of Hollister and Turnpike, and we kind of got lucky, because that turned out to be a perfect spot for them to be predeployed for this incident," Peterson said. "When the fire started, that strike team went to work, I think, within minutes."
The first battalion chief at the scene saw wind-driven flames and ordered an immediate deployment of five more strike teams.
"And within half an hour, we had an additional 14 fire engines on top of the first-alarm response, which is a lot of equipment in a very, very short amount of time, and I think that made a very big difference," Peterson said.
At the height of the fire, 500 personnel and 75 fire engines were at the scene.
Evacuating residents
Evacuations were immediate and orderly, Peterson said, giving credit for that to the Sheriff's Office.
He added that saving people takes priority over fire suppression for County Fire, and the fact the department didn't have to perform rescues was important to the firefight.
Sheriff Bill Brown said door-to-door evacuations were conducted almost immediately by 78 sheriff's deputies and 28 search-and-rescue team members, including those called in from off duty.
An estimated 3,200 people live in the evacuation area, and of that number, 2,200 to 2,500 evacuated when notified, Brown said. Of the remainder, some had already evacuated and a few chose to stay.
"There were some dramatic moments, as well, involving some of the sheriff's deputies," he said. "In one instance, a patrol car sucked a burning ember into the engine compartment."
The engine caught fire, but the deputy was able to put it out with a fire extinguisher.
"The vehicle was still operational, and they continued back into the fight," Brown said. "The LED lights on the push bar of one of our pickup trucks were completely melted, to give you an idea of how close the deputies were to this incident."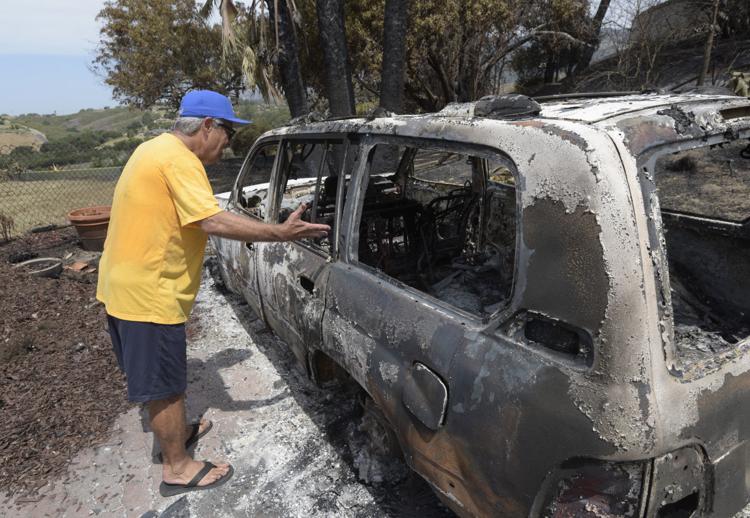 Brown said the Sheriff's Office also had assistance from the Santa Barbara, UCSB and Ventura police departments and the Ventura Sheriff's Office. Deputies from the San Luis Obispo Sheriff's Department also were responding, but their help was canceled because enough manpower had been secured.
"So it was an all-hands-on-deck type of effort, as you can imagine," Brown said.
Peterson said every fire department in the county was involved in battling the fire to one degree or another.
He also praised the Ventura County Fire Department, noting that as he was headed to the fire, he got a call from the Ventura chief, Mark Lorenzen, who asked what was needed.
"Basically we said, 'Whatever you can give up,' and at the end of the day, Ventura County contributed 15 fire engines, a hand crew and a bulldozer, which was a heavy, heavy lift for them because they were under not great weather conditions, either," Peterson said.
Los Angeles County also contributed a night-flying Firehawk helicopter that can deliver 1,000 gallons of water per drop.
It was complemented by the Sheriff's Office's Copter 3, the only one in the fleet capable of night water drops, that made 17 sorties before being grounded by a hydraulic leak.
"This is one of the few areas in the United States where nighttime water drops were made on a fire," Brown said.
Heroic efforts
Matt Farris, division chief for County Fire, said the efforts of a pair of bulldozer operators helped save many homes.
Farris said the bulldozer prepositioned at department headquarters and dispatched with the first engines was driven by Mark Linane Jr., whose knowledge of the local area is "impeccable, you can't even compare it."
"He knew exactly where to go and what to do," Farris said.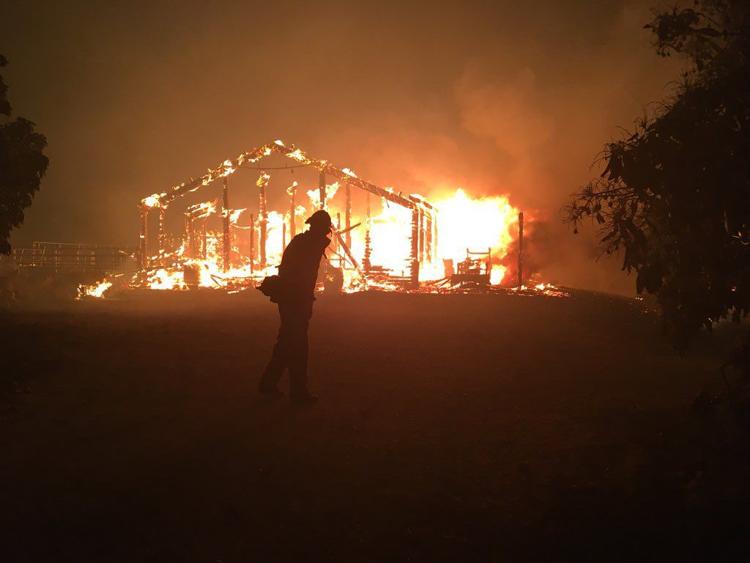 During last year's Whittier fire, it was Linane who was first able to break through flames on his bulldozer and reach Circle V Ranch Camp to help rescue trapped children and counselors.
Farris said Linane hauled his bulldozer up Patterson, unloaded it and began cutting fire break at the northern end of the fire, which was critical to saving homes below.
The National Weather Service forecast said the sundowner winds pushing the fire down the canyons would reverse, driving the fire back to the ridge tops.
But fire officials knew sundowner winds would return to send the flames down the canyons again, destroying more homes.
Cutting a fire line at the northern edge was a priority to block the fire from the ridge tops, Farris said, but the vegetation was tall and thick.
"There is no recorded fire history there, so (Linane) being able to go in there and fight direct fire was incredibly dangerous," Farris said. "He was calling in water drops on himself as he got down this steep hill, just so he didn't burn up."
Linane had positioned the other bulldozer on the opposite side of the canyon, where operator Kyle Hill worked it down the steep canyon wall to the bottom.
"It's a one-way trip," Farris said. "And once you get down there, the fire activity was so intense … ."
The Firehawk helicopter had to drop 1,000 gallons of water at a time on Hill, too, to protect him from the flames, Farris said.
While the bulldozer drama was playing out, Linane's brother, Chris, an engine company captain, received word people were trapped in a home.
"So … he goes in, the house is almost completely involved (in flames), but he goes in three separate times to try to rescue these people, and he couldn't get them out," Farris said. "Come to find out, the people already left, which he found out later through dispatch.
"That's just a couple of stories that went on, but we kept that fire to 100 acres," he said. "Tragically, we lost 100 acres and 10 homes. But it could have easily been 1,000 acres and 100 homes."