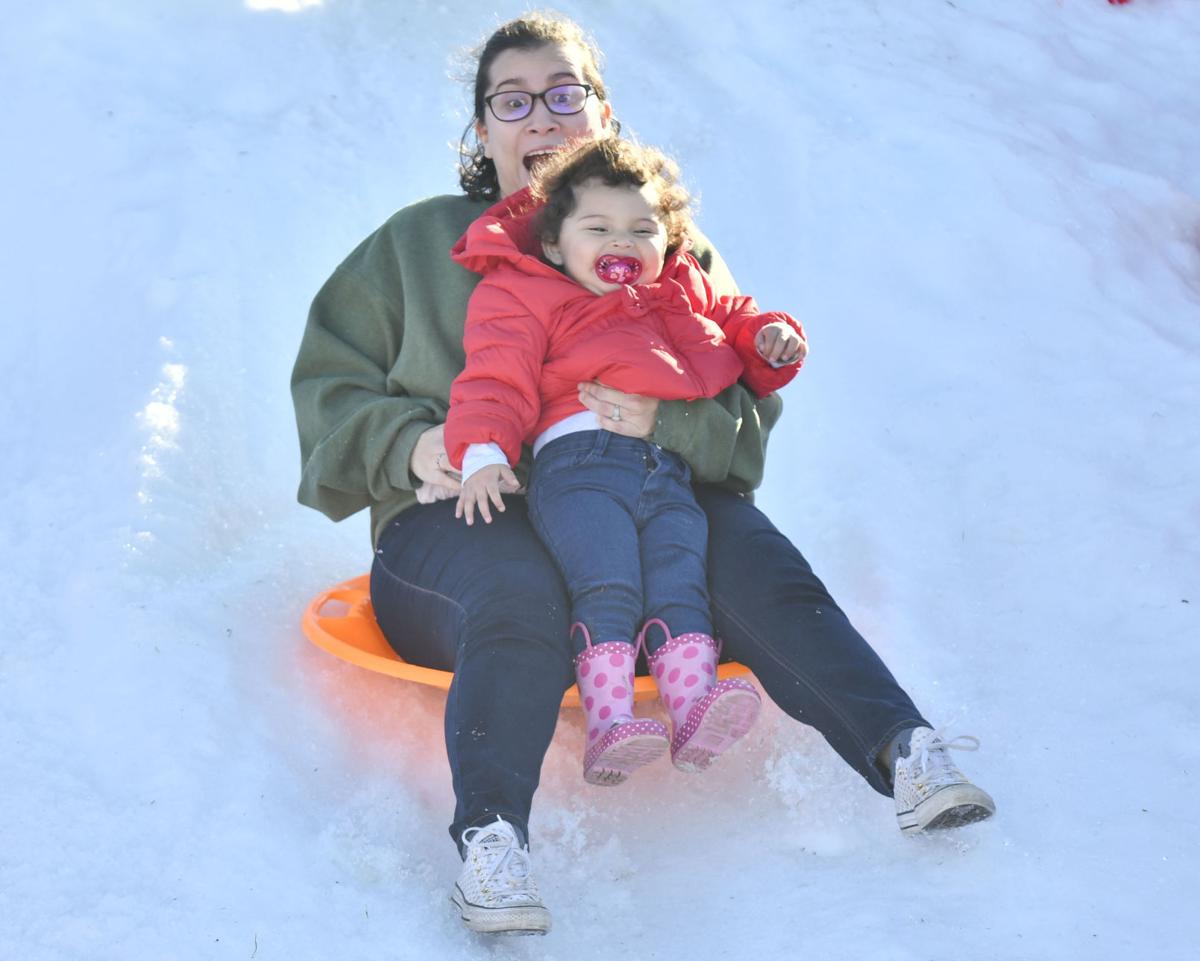 Despite Lompoc's normally mild climate, at least one portion of the city is expecting snow this weekend.
Members of the public are invited to attend the fourth annual Lompoc Community Snow Day, which is slated for Friday, Dec. 20, Saturday, Dec. 21, and Sunday, Dec. 22, at 2 River Road, near the entrance to River Park.
The event, which is free to attend, will be held from 3 to 8 p.m. Friday, and then from 10 a.m. to 8 p.m. on both Saturday and Sunday, weather permitting.
The celebration is once again being put on by Lompoc City Councilman Jim Mosby, who kicked off the first event in 2016. Mosby is getting an assist this year from the Lompoc Valley Festival Foundation, a nonprofit organization that is helping coordinate the 2019 festivities.
Mosby said he is looking forward to bringing back the young tradition, particularly after a tumultuous year in Lompoc that has been marred by violence.
An east Lompoc green-space was once again turned white — into a winter wonderland — this weekend, and several local children and families took…
"What keeps me doing this is the smiles we help to put on thousands of people's faces," he said. "Especially this year, Lompoc needs a happy, positive event. It's been a rough year for Lompoc."
Forty tons of snow, or pulverized cubed ice, will be trucked in for this year's celebration — 25 tons on Friday, and then another 15 on Saturday. Mosby said that organizers hope to make the snow last longer this year than in years past by covering it with tarps overnight.
Activities will include sledding, and snow-filled play areas will be set up for visitors to have snowball fights and build snowmen.
Santa Claus is scheduled to be on site from 4 to 8 p.m. Friday and then again from noon to 4 p.m. Saturday. Additionally, snow cones, coffee, hot cocoa and other refreshments will be available.
Mosby noted that this year's Snow Day was boosted by several contributors. He credited the new partnership with the Lompoc Valley Festival Foundation with increasing donations.
"More people were willing to donate with a nonprofit attached," he said, noting that the total cost for the celebration will likely be between $12,000 and $15,000.
The event, which is being held on property owned by Mosby, also will double as a voter education drive.
Anyone who would like to donate to the effort or volunteer their time can reach organizers through the event's Facebook page at www.facebook.com/events/544445679464242/ or by contacting Mosby at 805-801-2362.
"We'll take all the help we can get," Mosby said.
A Lompoc City Councilman is looking to sidestep Mother Nature this holiday season and help bring Lompoc its first known "Snow Day."
A Lompoc councilman is once again inviting the community to take part in a free "Snow Day" event at River Park.
Dozens of Lompoc children and families had some winter fun Saturday that isn't too common for the Central Coast.
For the third straight year, Lompoc City Councilman Jim Mosby is inviting community members to take part in a festive "Snow Day" experience ne…
Several hundred Lompoc community members marched three blocks Friday evening from the scene of Marlon Brumfield's murder just 12 days earlier to City Hall, where they staged a peaceful rally to remember and honor the fallen Army soldier and call for unity and change within the community. Brumfield, who was visiting home from his Army station in Germany, was shot and killed in the early morning of Sept. 8 while walking along North A Street near Ocean Avenue.
As Lompoc continues to deal with a surge in violence — evidenced by seven homicides this year — some city leaders are at odds over potential root causes, while those same leaders and many others in the community are hoping to affect change as soon as possible.
Willis Jacobson covers the city of Lompoc for Lee Central Coast Newspapers. Follow him on Twitter @WJacobsonLR.
Get local news delivered to your inbox!
Subscribe to our Daily Headlines newsletter.