Nineteen residents at the Golden Inn & Village were thrown a graduation ceremony of their own Friday to mark five years since the housing facility opened its doors and welcomed the senior group.
"We couldn't think of a better way to celebrate the fifth anniversary of the Golden Inn & Village than to honor the original residents who were here the day we opened our doors," said Rona Barrett, CEO and founder of The Rona Barrett Foundation.
The Class of 2016, made up of seniors ages 67 to 92, was joined by fellow residents, family members, the Rona Barrett Foundation team and special guests.
During the ceremony, Barrett presented each of the original residents — who were sporting grad-style caps — with a certificate of commencement.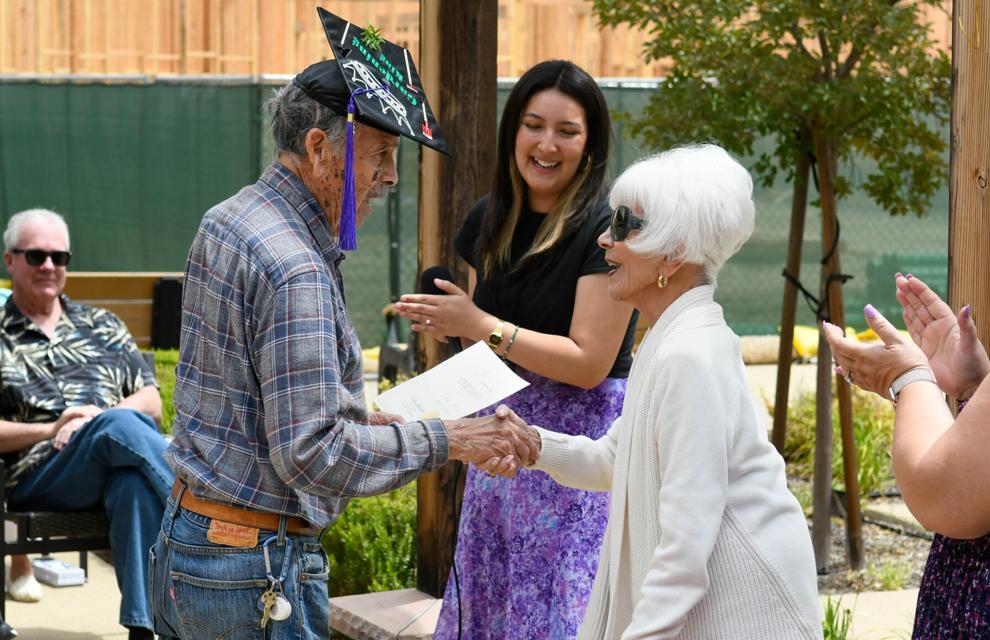 Barrett explained that creating a real home for seniors in need in the community was "a dream come true."
"And we're not finished yet, with Harry's House well on its way, we will have even more to celebrate," she added.
Harry's House is an affordable housing development and sister property to Golden Inn that will feature a two-story building with 60 studio apartments.
Construction of Harry's House broke ground in February and the facility could open its doors as early as summer 2023. 
The project will help fulfill Barrett's vision of building a community that makes accessible a continuum of care to meet the needs of seniors at every stage of aging.
"We're also reflecting on the early support that made it possible to open these doors," Barrett said of the Golden Inn & Village. "How grateful we are to everybody who believed in this vision then, and now for the continuing support that makes it possible for all of our residents to thrive."
The Golden Inn & Village is located at 890 Refugio Road in Santa Ynez, off Highway 246 at Refugio Road.