A 4.17-acre cannabis cultivation operation along Highway 246 just east of Lompoc sailed through the Santa Barbara County Planning Commission hearing on Dec. 1 when no one from the public spoke in opposition.
Commissioners voted 5-0 to grant a conditional use permit to Fullerton company 92nd G25 LLC for the cultivation project on a 10-acre site at 851 Highway 246, where the company plans to grow cannabis under hoop structures with four harvests per year.
Each harvest and replanting is expected to last 28 days, with the cannabis to be frozen or trucked off-site within four hours after harvest and odor controlled using a vapor-phase system combined with landscaping using fragrant plants, said 92nd G25 agent Troy White.
The company, a subsidiary of the large California-based Shryne Group cannabis business, met with neighbors and addressed their odor concerns before submitting the project application, White said.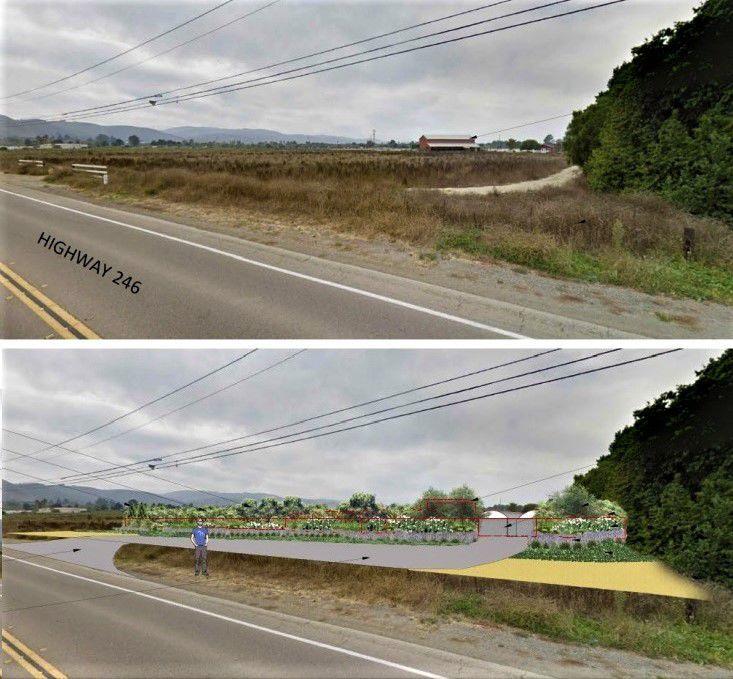 As a result, the plan calls for a 25-foot buffer of trees and fragrant plants on the north side plus the vapor-phase odor control line inside that buffer and a 100-foot buffer of fragrant plants and a vapor-phase line between the grow and Highway 246.
"The fact that we don't have anyone speaking against it says volumes …," 2nd District Commissioner Laura Bridley said about the project and its adaptive odor control plan.
First District Commissioner Michael Cooney said the project is consistent with what the commission wants to see in open cannabis cultivation operations.
"I'm willing to pass this project along and hold this applicant to its intended purpose of trying to eliminate all nuisances, including odor — and they seem to have the wherewithal and provisions in their application to do so — and I see no reason not to support the project," Cooney said.
Christie Alarcon, Lompoc Community Development Department director, said she was monitoring the hearing over concerns about the potential for odor complaints at the city's nearby River Park campground.
But she said the company seems to have an adequate odor control plan.
Commission Chairman Larry Ferini, whose 4th District includes the project site, said after seeing changes in the property's use over the years, he was concerned about the potential for creating traffic congestion at the entrance on Highway 246.
But he said the company's transportation plan that encourages carpooling and alternative transportation for its five regular employees and mandates it for the up to 50 temporary employees during harvest allayed his fears.
"I just wish we had more projects like this," Ferini said. "It makes sense to me."
Third District Commissioner John Parke noted that most outdoor cultivation operations expect one to two harvests per year, with a potential for three, of shorter duration and asked how the company could boost that to four apparently intense annual harvests.
Cooney also wanted to know whether the hoops would be left up year-round or taken down at certain times of the year.
White explained that the company won't start with small nursery plants grown in the ground because the site was previously used to grow flowers and the soil is likely contaminated with pesticides that would make the cannabis unsellable.
Instead, the operation will put down weed mats and begin each grow with more mature plants cultivated in pots or raised beds, he said.
The plan is to keep the hoops up all year, although the plastic might be removed in the summer to potentially boost THC content, and growers will be "messing with the [plant's] light cycles" to boost production to four crops a year.