Most of the numbers for tracking COVID-19 in Santa Barbara County show progress in the battle against the disease, according to a Public Health Department report delivered last week to the Board of Supervisors.
And while the number of vaccinated residents has climbed slightly, health officials are still urging everyone to receive the vaccine and now have added a push for influenza vaccinations.
During the Sept. 21 meeting, supervisors also received an update on the vaccinate-or-test policy for county employees and heard a greater percentage are fully vaccinated than what was reported last month.
Public Health Department Director Van Do-Reynoso said that as of Sept. 20, 76 new cases were reported, down from the two-week average of 105, and active cases numbered 473, a reduction from the two-week average of 554.
A total of 45 patients were hospitalized, down from the two-week average of 61, with 12 in intensive care units.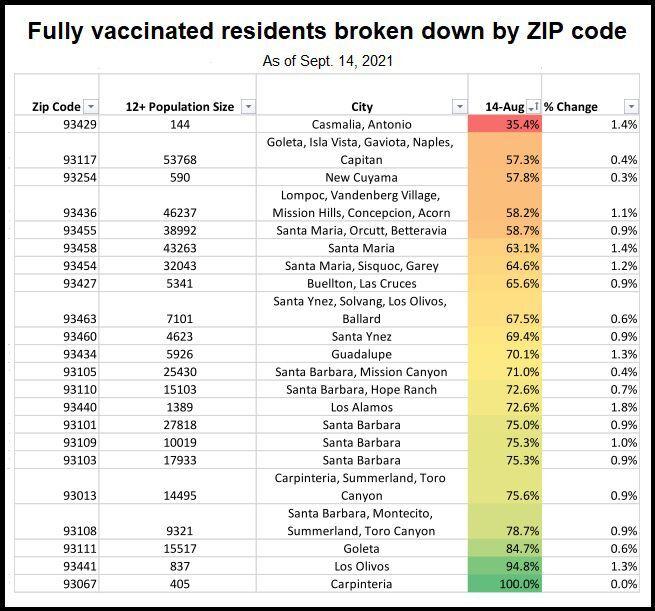 But she said unfortunately, three more people have died from the disease — two in the 50-to-69 age group and one in the 70-and-older group who were residents of Orcutt and Santa Maria.
The daily case rate has continued its decline, she said, falling by 35% to 16 per 100,000 population as of Sept. 16, but she noted the high rate of cases among unvaccinated residents is still holding up the average.
As of Sept. 9, the rate among vaccinated residents was 6.2 per 100,000, but the rate among the unvaccinated was 30 per 100,000, giving the county an overall average of 17 at that time.
"So as of 9/9, cases were 4.8 times more likely to be unvaccinated as vaccinated," Do-Reynoso said, noting the percentage of eligible county residents who are fully vaccinated has climbed slightly to 67.4%, still leaving 1 in 3 unvaccinated.
Do-Reynoso urged residents to receive flu vaccinations before that disease begins circulating in the county, as it requires two weeks after the injection for antibodies to develop.
"Flu vaccination will be very important, especially because we are still in a pandemic, to reduce flu and reduce the overall impact of respiratory illnesses on our community," she said.
Last year, the incidence of flu cases was low because of restrictions that kept people isolated, prevented large gatherings and required masks and social distancing, Do-Reynoso said.
But this year, she said, normal operations have resumed, for the most part, and there are no restrictions on gatherings and social distancing, making it more likely the flu will be more widespread.
Human Resources Department Director Maria Elena de Guevara gave supervisors an overview of the new policy for employees to show proof of full vaccination or submit to weekly testing.
"We're looking much better than we were in August," de Guevara said, noting 72% of the county's 4,480 employees have been verified as fully vaccinated, while at the end of August that number was just 43%.
However, she noted those who have received only one dose of two-dose vaccines are included in the remaining 28%, and she said four departments — including one that's large — have not yet provided that data, so she expects the numbers to change.
During public comment, Jennifer Smith spoke on behalf of an immunocompromised individual who received the Johnson & Johnson vaccine.

Smith said while booster doses are approved for immunocompromised individuals who received Pfizer and Moderna vaccines, no action is being taken for those who received the J&J vaccine, and she asked supervisors to make it available or use their legislative clout to influence upper levels of government.
Do-Reynoso said approval for J&J booster doses is expected from the U.S. Food and Drug Administration within the next few weeks, but she was reluctant to provide those doses without that OK.
"It's a difficult position to be in, knowing that a lot of our — some of our — immunocompromised community members are looking to the Johnson & Jonson second dose," Do-Reynoso said.
"However, the health-care community is quite uncomfortable doing [an] off-label use of the Johnson & Jonhson [vaccine]" she said, adding when that is done, it must be reported to federal authorities.