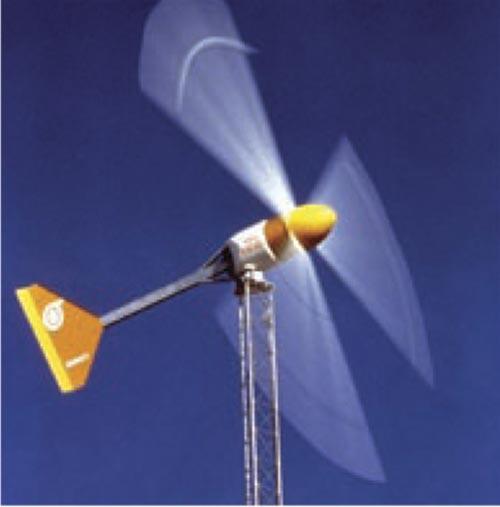 The breezy hills and passes of Santa Barbara County offer prime opportunities for generating small-scale wind power, but the growing industry could lose some air if regulations being considered by the county are passed this week, an advocate says.
In an effort to meet a Dec. 31 deadline — which if missed would allow applicants to develop such projects under less-restrictive state rules — county supervisors today are scheduled to consider changes that tighten noise and size restrictions for small wind-energy installations.
"We want to have some local control and not just rely on what the state thinks is appropriate for the county," said Noel Langle, a Santa Barbara County senior planner who is working on the amendments.
Langle said the county will likely take another look at the rules next year because the state rules haven't provided for emerging technologies such as small power-generation systems that attach to the roofs of houses.
"We want a more comprehensive amendment," he said.
The county's position doesn't sit well, however, with Alan Casebier, director of sales for Central Coast Prevailing Wind Power and a renewable energy resource advocate. Casebier said that while he's confident the county will readdress the issue, the regulations sought now would stall people's efforts to become part of the push for wind-driven energy.
"I think the county is missing the boat," said Casebier, who is working on two local projects including one on Highway 1 that involves a small wind turbine generator for pumping water, and another at a winery that's considering a wind turbine and several solar units. "They're (the county) missing the thrust of need at this time. We need more renewable energy resources on the ground, and wind happens to be one of them."
Essentially, a wind turbine or wind generator is an alternator attached to a propeller. When the wind blows, the propeller turns and the alternator begins producing electricity.
The amendments would modify county and Montecito land use and development codes for such power generators that were adopted in 2002.
Specifically, Casebier takes issue with the fact that while the state requires the noise from small wind-energy systems not to exceed 60 decibels, the county wants to keep the decibel level at 50 or less — the number cited in the county's existing noise element.
"It will be a deterrent in that it will require more scrutiny from a sound perspective than a diesel motor in town, or some other noise maker such as an auto parts shop," Casebier said.
And, he said, limiting turbines to 25 kilowatts as the county is proposing "doesn't make sense," when the state allows up to 30 kilowatts of generating power. Casebier contends the power should be based on the tower height and amount of wind.
Langle, however, points out that the standards are consistent with Article 2.11 of the government code and relevant county plans. He said it's hard to say whether the proposed standards will restrict growth.
"They're stricter than what the state will provide, but we feel they're more appropriate for Santa Barbara County," he said. "The state development standards didn't really have a whole lot regarding visual compatibility and noise for small wind energy with regard to neighbors, so we put those standards in. We felt it was appropriate."
The Board of Supervisors will meet at 9 a.m. today in the Betteravia Government Center at 511 E. Lakeside Parkway in Santa Maria.
The public can address the board in person or by using the remote audio and video equipment at the hearing room on the fourth floor of the county administration building at 105 E. Anapamu St. in Santa Barbara.
For those who cannot make it to either location, there is a live stream of the Board of Supervisors' meetings and copies of agendas and minutes of the meetings at www.countyofsb.org.
Get local news delivered to your inbox!
Subscribe to our Daily Headlines newsletter.