The Lompoc City Council voted 4-1 on March 1 to pursue the development of a regional broadband strategic plan with seven partner cities including Santa Maria, Solvang and Buellton in an effort to bring internet improvements to residents and businesses. 
The move forward represents the initial planning stages of introducing broadband technology — a subterranean network of fiber-optic cables — to the cities of Santa Barbara, Santa Maria, Goleta, Carpinteria, Guadalupe, Solvang and Buellton, in partnership with the Santa Barbara County Association of Governments and the county of Santa Barbara.
Councilman Dirk Starbuck dissented in the vote that gave Mayor Jenelle Osborne the go-ahead to sign a memorandum of understanding with agency partners. 
The plan is estimated to be complete by year-end or as soon as November, according to city broadband administrator Rich Gracyk, and will cost the city $27,608. The buy-in will be funded through the city's Capital Improvement Plan, which holds a portion of the $6.3 million of American Rescue Plan Act funds awarded by the U.S. Department of Treasury to help mitigate impacts from the city's economic downturn due to COVID-19.
Future costs for development will be brought to the council for further discussion, according to city staff. 
Starbuck raised the concern that the city's past efforts failed to result in internet improvements. He suggested that a private company specializing in broadband services would be a better option to achieving success.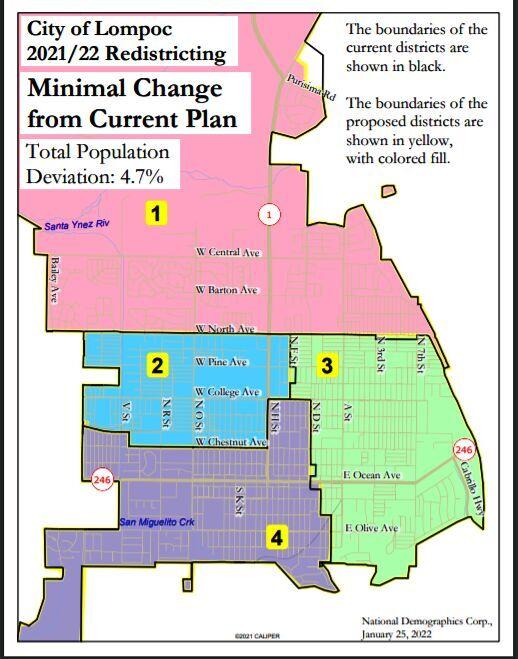 Osborne, who served on the former Economic Development Committee during the time when technology plans failed to launch, said the reason for Lompoc's inability to tackle the issue after a "start and stop" approach always has been about a lack of funding, staffing shortages and timing.
She noted that through her active involvement with SBCAG, specifically as a vice chair and an ad-hoc committee member driving countywide efforts to bring broadband access to all, it appears that Lompoc is better poised for success this time around.
"There are opportunities here that we have been struggling to connect and do. Finally, it's a right step to be in partnership, to look at it regionally," she said. "We can take advantage of it, and take a look at the local needs we have once the regional map and strategic plan is put in place."
Osborne also cited how relying on Comcast as the city's sole internet provider could prove problematic in the long run. 
"Because if Comcast goes down right now, pretty much we don't have internet" she said, adding that partnering with cities and agencies could help spread project costs. 
Councilwoman Gilda Cordova expressed strong support for the proposal. She also noted that cutting-edge internet access would help solidify Lompoc's economic viability into the future, especially as the community neighbors Vandenberg Space Force Base, which is seeking to ramp up space exploration from the Central Coast. 
"We have the need," Cordova said. "I'm not in favor of staying in the Dark Ages because we're afraid to tackle something or because it didn't work in the past."
In other business, the council:
— Presented Lompoc-Vandenberg American Association of University Women a proclamation in honor of National Women's History Month, which is celebrated each year in March.
— Adopted on a 5-0 vote a new City Council electoral map based on results of the 2020 census. In the final public hearing on Feb. 16, council members voted to approve Map Option 2 as proposed by Daniel Philips of National Demographic Corp. The new map includes minor changes to the current map to correct "small deviations." One change adds an empty lot north of Ocean along North D Street to the same district as all other lots along that eastern side of the street, thereby uniting the civic center in one district (District 3).
— Voted 5-0 to adopt an ordinance that implements Senate Bill 1383, a mandate that requires jurisdictions statewide to come up with a plan to divert food waste and organics from waste bins by 2024 to reduce landfills by as much as 75%. Solid Waste Superintendent Keith Quinlan said the cost passed down to residents has yet to be determined as it will include the furnishing of a green waste curbside container to each household for collection of food waste as well as services provided by city staff for monitoring and enforcing compliance of the state mandate.
Lompoc's voting precincts will get a slight tuneup but will see no major changes if the council votes next month to approve an ordinance propo…
Lompoc Unified School District is considering purchasing new materials for Lompoc and Cabrillo high school as part of a 2022-23 textbook adoption. 
The Lompoc Valley Community Healthcare Organization, which works to establish an inclusive culture of health and well-being for local resident…
Dean Albro, who previously held the title of management services director with the city of Lompoc for the past three years, was appointed to his new role by the City Council in a 4-1 vote during its regular meeting on Dec. 7.