Clerical and management workers make up the sector most responsible for driving Santa Barbara County's surge in COVID-19 cases during the first week of November, according to a report delivered Tuesday to the Board of Supervisors.
That group accounted for 19.1% of the 241 cases from Nov. 1 to 7 but only 10.4% of the 10,577 cases reported since the pandemic struck in March, according to a new graph displayed by Public Health Department Director Van Do-Reynoso.
In contrast, agricultural workers, who have been responsible for 18.7% of the cases since the start of the pandemic, contributed just 4.1% of the cases during the first week of November, which Do-Reynoso dubbed Week 45.
She attributed the reduction in agricultural worker cases to the collaboration of the growers, the agricultural commissioner, community groups and Public Health Department as well as the workers themselves.
"Why is it that we haven't had those kinds of partnerships with clerical and management?" asked 4th District Supervisor Peter Adam, who is a grower himself.

Do-Reynoso said the department had conducted outreach to all sectors and will be looping back through them all again, but she noted that a U.S. Centers for Disease Control and Prevention report said it is better for office workers to telecommute.
"I think what we're seeing in our contact investigation is that as people return to work, they are quite comfortable with their colleagues and some may … identify their colleagues as a stable cohort and take off their mask and not maintain the physical distance required, as well as not being diligent in washing hands and disinfecting their work environment," she said.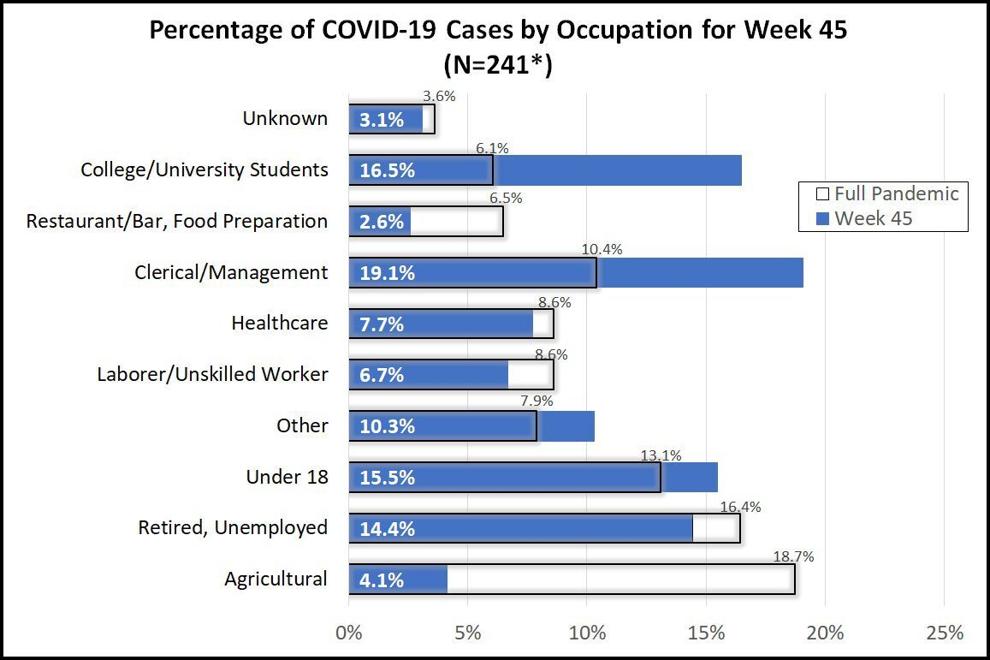 College and university students were a close second with 16.5% of the Week 45 cases, even though that sector has been the county's second-lowest source of cases for the entire pandemic at 6.1%, according to the graph.
The graph also showed those under age 18 accounting for 15.5% of the week's cases and 13.5% for the entire pandemic, and Do-Reynoso said the majority of those are teenagers, not small children.
The retired and unemployed made up 14.4% of the Week 45 cases and 16.4% for the full pandemic.
Do-Reynoso said the retired and unemployed have more discretionary time on their hands, and public health workers need to make sure they are getting the word about how to prevent the spread of the virus.
One of the sectors accounting for a low percentage of cases for both periods was that of restaurant, bar and food preparation workers, who made up 6.5% of cases since the start of the pandemic and just 2.6% for Week 45.
"I guess what's most dismaying about the increased rates that we have is that we haven't made any relaxation of our policies," said 1st District Supervisor Das Williams. "And we haven't even gotten to the holiday weekend yet, right?"
Williams said that's why it's incumbent upon the county to track cases and look for patterns.
Do-Reynoso said the county plans to track cases and provide such comparative graphs to the board on a regular basis.
Do-Reynoso also provided statistics for increases experienced in the county from Nov. 2 through 16, noting that the number of cases rose 6% to 10,577, active cases climbed to 255 for a 148% rise, hospitalizations rose to 13 for an increase of about 30% and deaths hit 133, an increase of 3%.
By community, some areas saw major increases in new cases during that same period, with Santa Maria jumping from 47 to 75, Orcutt rising from 14 to 22, and Santa Ynez Valley going from two to nine.
The North County unincorporated area, which includes the city of Guadalupe and communities of Sisquoc, Casmalia, Garey, Cuyama and New Cuyama, went from four to 11.
Lompoc was one of two communities showing a decrease in cases, falling from 25 to 20. The other was Isla Vista, where cases dropped from 37 to 13.