Santa Barbara County finally hit the state's metrics to move from the purple tier into the less-restrictive red tier under the state's Blueprint for a Safer Economy, officials said Tuesday, but the numbers must hold for another week before the change would become official.
Once it does, more businesses will be allowed to open indoor operations, with some modifications and restrictions, and after two weeks in the red, schools also could resume classes, County Public Health Department Director Van Do-Reynoso told the Board of Supervisors.
Among those able to resume indoor operations in the red tier are personal care services like massage parlors and nail salons, with modifications; museums, aquariums, places of worship, restaurants and movie theaters with a limit of 25% capacity; and gyms and fitness centers at 10% capacity.
If the county's metrics for the rate of new cases and the rate of positive COVID-19 test results stay in the red zone another week, the shift to the red tier would become official Sept. 29.
Schools would be able to resume in-person education Oct. 13, but in the meantime elementary schools can proceed with the process of obtaining the waivers needed to reopen classrooms.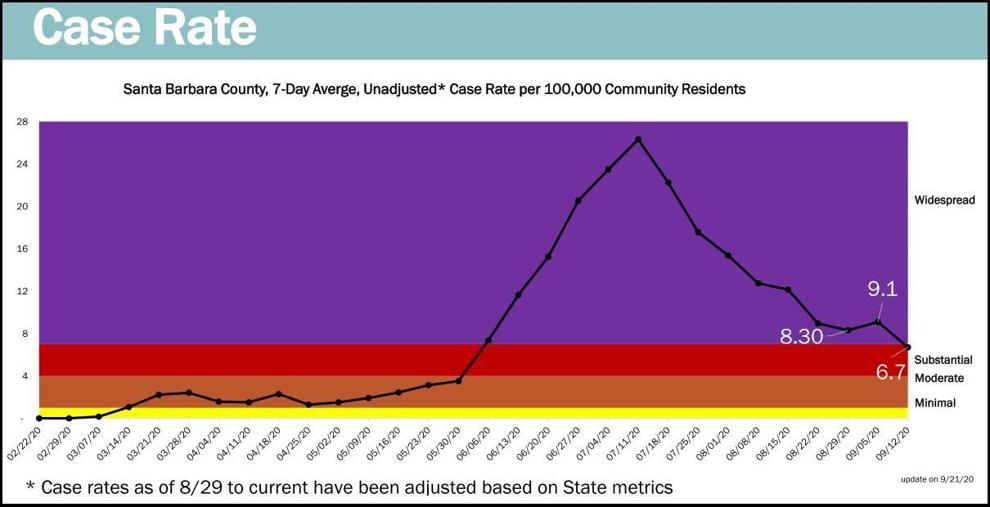 As of Tuesday, 20 schools and districts had received county and state approval for waivers, one application had been sent to the state for approval, five applications were awaiting additional information and one new application had been received.
Do-Reynoso noted that even if the county backslides into the purple tier, schools will not have to shut down again.
"Once they've opened, they can be open," she said.
To move from the purple tier, where the risk of disease transmission is "widespread," to the red tier, where the risk is "substantial," the county can average only four to seven new cases per 100,000 residents per day over a seven-day period and have only 5% to 8% of COVID-19 test results return positive.
Santa Barbara County's most recent adjusted rate of new cases was 6.7 per 100,000 population, and 4.3% of test results were positive.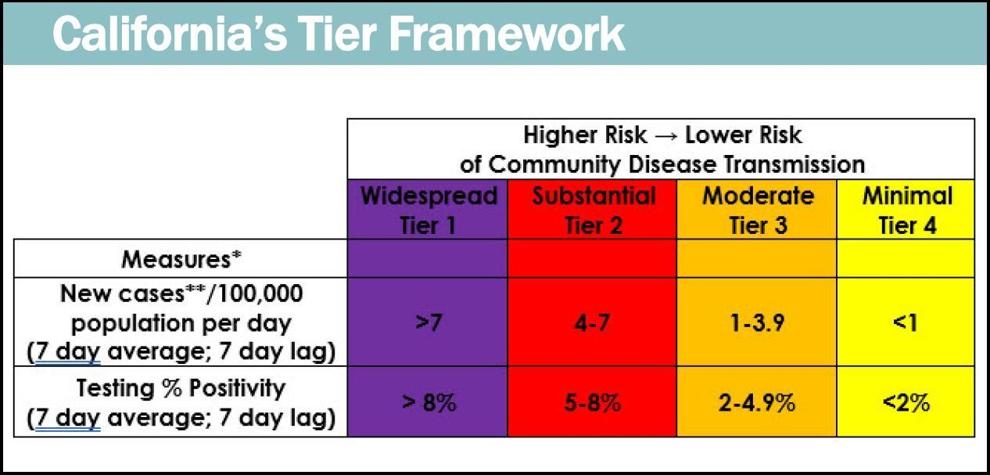 Board Chairman and 2nd District Supervisor Gregg Hart celebrated the news, noting "for the first time, we have a report card that shows red, so we are making significant progress."
"There's a lot of things more accessible in the red tier than in the purple tier, so this is really, really incredibly good news," Hart said.
But Do-Reynoso warned that if one of the metrics falls back into the purple zone for two weeks, the county would have three days to implement the previous restrictions on indoor business operations.
"My feeling is, let's not blow it," 1st District Supervisor Das Williams said. "Both the county and the public need to continue a level of vigilance to ensure that this positive trend continues."
He also said he hoped the Public Health Department would allow various sectors to reopen indoors in staggered phases, so officials could see if a negative trend was developing in the metrics and to give businesses a target reopening date so they could be prepared.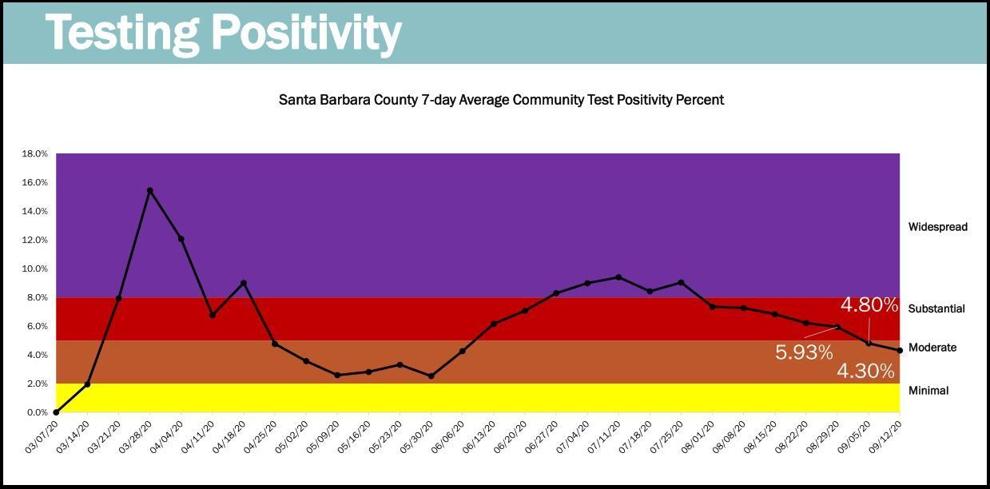 Hart disagreed with that position, however, saying he would hope to see businesses reopen as soon as possible.
One contributor to the county hitting the red tier metrics for new cases could be the decline in cases in Santa Maria, which has been the county's hot spot for COVID-19.
Do-Reynoso reported that although Goleta, Isla Vista and the unincorporated areas of the North County have shown a slight uptick in cases, both Santa Maria and Lompoc have shown a downward trend over the past two weeks.
She also said hospitalizations dropped 44%, use of medical/surgical beds is down 30% and the number of patients in intensive care units fell 71% over the past two weeks.
Concerned about COVID-19?
Sign up now to get the most recent coronavirus headlines and other important local and national news sent to your email inbox daily.