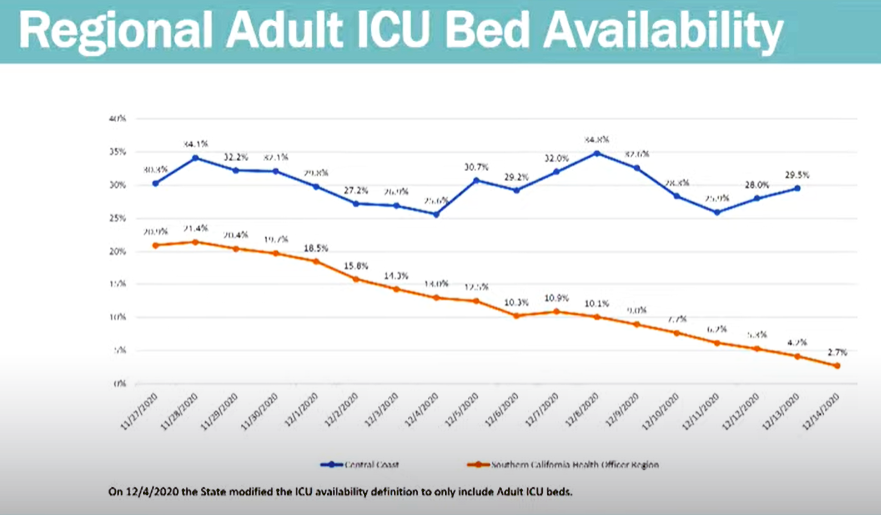 Santa Barbara County public health officials are blaming spikes in local COVID-19 cases and hospitalizations on Thanksgiving, with the county reporting its highest number of new cases — 360 — in a single day since the start of the pandemic, according to a report delivered Tuesday to the Board of Supervisors.
Neither the governor nor the California Department of Public Health have responded to the Tri-Counties' letters asking to be separated from the Southern California region in the governor's latest stay-at-home order, staff said.
The report did contain a bit of good news: Additional doses of COVID-19 vaccines are expected to arrive as early as next week, potentially providing enough to vaccinate about two-thirds of the county's 20,000 frontline health care workers who are at greatest risk of contracting the disease.
But still, the county's metrics under the state's Blueprint for a Safer Economy now have escalated beyond the range of getting back into the red tier anytime soon, county staff said.
"We are experiencing a steep rise in the case rate," Public Health Department Director Van Do-Reynoso told supervisors, noting the state Blueprint metrics for the week ending Dec. 5 showed an increase of 33.2% in the county's rate of new cases. 
Do-Reynoso said that during the two-week period from Nov. 30 to Dec. 14, the cumulative number of COVID-19 cases in the county rose 17% to 13,557, active cases rose 129% to 940, hospitalizations increased 127% to 75, the number of patients in intensive care units jumped 200% to 21 and the death toll hit 140, Do-Reynoso said.
The number of cases is increasing in all areas, she said, with the rolling seven-day sum of new cases from Nov. 26 to Dec. 10 showing a 76% increase in Santa Maria.
"It is directly related to gatherings of family and friends [at Thanksgiving], as we predicted," Do-Reynoso said of the increases.
Last week, supervisors authorized sending a letter to Gov. Gavin Newsom, as did the boards in both San Luis Obispo and Ventura counties, asking to be removed from the huge Southern California region.
Reynoso said the availability of adult ICU beds dropped to 1.7%, far below the 15% threshold Newsom set for implementing his stay-at-home order, but Santa Barbara County's availability is 38.4% and San Luis Obispo's availability is 37.9%.
Ventura County only has 1.4% of its adult ICU beds available, but the three counties combined have 30% of their ICU beds open to take COVID-19 patients.
While the continued increase in new cases, hospitalizations and ICU patients is disheartening, one increase is encouraging — the number of vaccine doses on the way.
Do-Reynoso said 3,900 doses of Pfizer's vaccine are expected in the next few days, with two boxes immediately going to Cottage Health facilities and two boxes to Dignity Health hospitals.
She said the county just received word Tuesday morning that 6,600 doses of Moderna's vaccine could arrive as early as next week — provided it wins federal Food and Drug Administration approval — and an additional 2,925 doses of Pfizer's vaccine are expected around Dec. 22.
Hospital and other health care workers at high risk of contracting COVID-19 will have priority for vaccinations, Do-Reynoso said, adding the county is still waiting on state guidelines for vaccinating essential workers.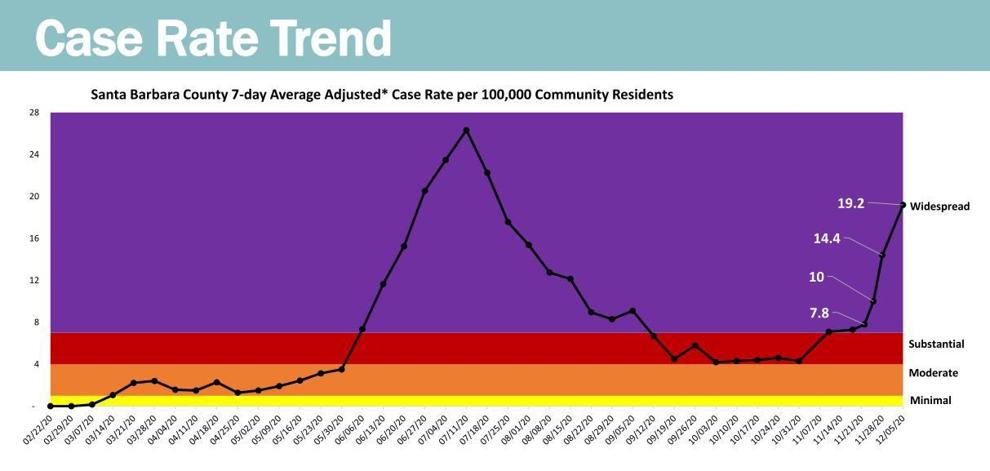 Concerned about COVID-19?
Sign up now to get the most recent coronavirus headlines and other important local and national news sent to your email inbox daily.