The update on the status of COVID-19 provided last week for the Santa Barbara County Board of Supervisors was light on the up-to-date statistics usually provided, as it was moved to the administrative agenda and did not include the usual presentation.
But it was still pulled into a discussion after 11 members of the public signed up to speak about the response to the pandemic, with most of them focusing on vaccines and what they claimed is false information, or no information, being provided by health officials.
Van Do-Reynoso, director of the County Public Health Department, said the number of new daily cases is running above 11 per 100,000 population, which under the old now-defunct state blueprint would put the county in the "widespread transmission" tier.
She said the Centers for Disease Control and Prevention had listed the county in the low-transmission category, but as of Oct. 12 the CDC had listed it in the "substantial" level with 50 to 99 cases per 100,000.
Do-Reynoso pointed out that was for a seven-day average with a four-day lag in data.
Chairman and 4th District Supervisor Bob Nelson noted the county's test positivity rate is 3%, which under CDC guidelines put the county at a low transmission level for zero to 5%, while 5% to 8% is moderate.
"So we're doing a great job on test positivity, and I think that's something that should be celebrated and recognized," Nelson said.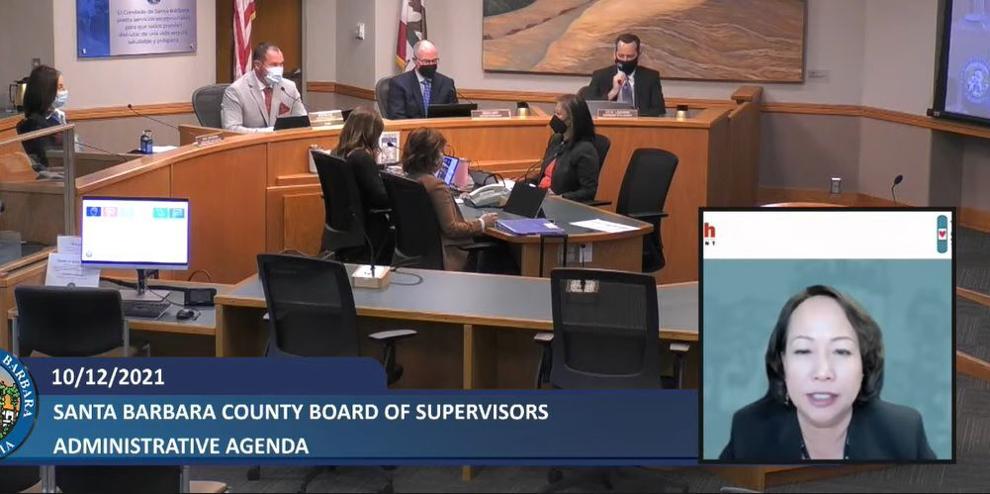 But public speakers found nothing good in the county's response to the pandemic, which has been based on California Department of Public Health and CDC guidelines, particularly questioning the vaccines.
Lisa Huff compared viruses to firebreaks, which firefighters cut to stop the spread of flames by taking away its fuel.
"Likewise, viruses take out the weak and sick," Huff said, which leaves the strong and healthy alive and removes an easy path of transition.
Like others, she said children should not be vaccinated because they are the only hope of creating herd immunity.
"It makes no sense to vaccinate a child who has zero chance to die of COVID," she said.
Some speakers said the vaccines are causing permanent damage to children's hearts while at the same time actually making them more susceptible to other diseases by compromising their immune systems.
One speaker challenged the supervisors to join a "food chain" providing meals to five people she knew who suffered severe reactions to the vaccine, one in a matter of minutes, leaving them incapacitated and unable to care for themselves.
Another speaker said a doctor had looked at the vaccine under a microscope and found tiny things moving around in it as well as shards of metal used in artificial intelligence.
Others said the CDC was not a reliable source of information; government agencies spread misinformation and fail to provide data to back up claims; and the U.S. Food and Drug Administration, health officials and doctors are influenced by money from the Big Pharma corporations and not serving the people as they should.
Do-Reynoso said she was not aware of any children in the county being harmed by the vaccine nor was she aware of the five people who allegedly suffered severe reactions that incapacitated them, noting that health-care providers would share that information with the Public Health Department.
She said the studies cited by the CDC have all been peer-reviewed, but those cited by public speakers had not been vetted by experts.
"I am dismayed by what I've heard this morning," Do-Reynoso said. "I do believe that you can make a false narrative based on some truths and linking them together to make a convincing story."
Nelson agreed, although he said his position has always been to respect opinions on both sides of the issue.
"We can create false narratives for ourselves, but also some of us suffer from confirmation bias," Nelson said, describing that as people accepting narratives that bolster the opinions they already have and ignoring those that don't.
He also said that since the state blueprint is no longer in effect, the county should link its COVID-19 information page to the CDC so people can see how the local statistics compare to the federal agency's guidelines.
"Hopefully, we can get to a place where we can begin to remove the masks and other mandates that are in place surrounding the pandemic," he said.