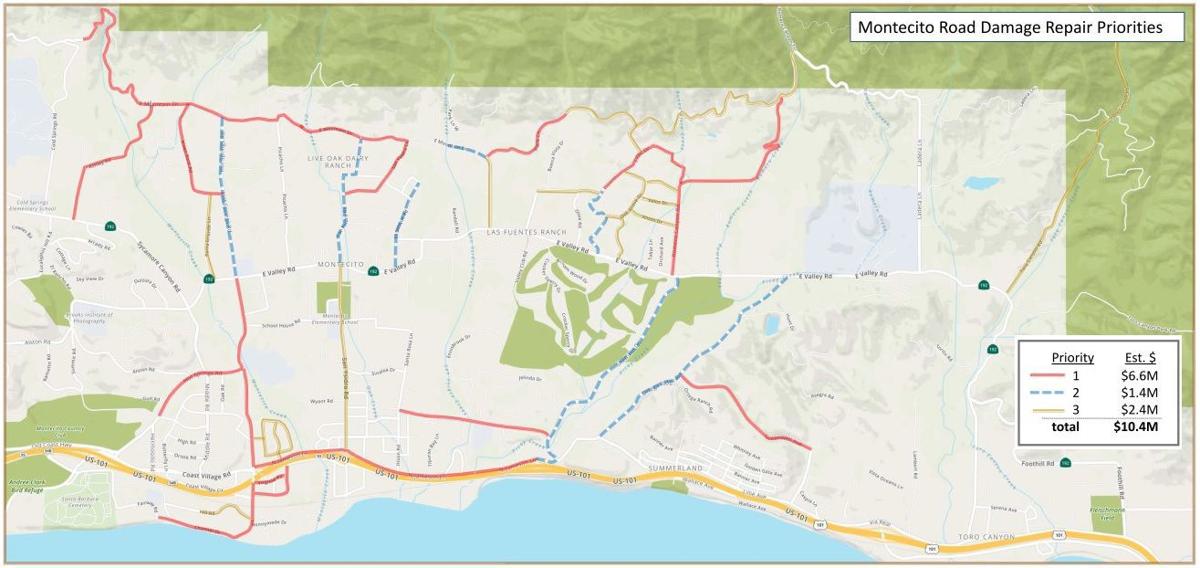 Montecito roads that were ravaged first by a flow of rocks, trees, buildings, cars and mud, then by tens of thousands of trucks hauling away the debris will be rehabilitated using $10.1 million of the settlement funds from Southern California Edison Co.
The Santa Barbara County Board of Supervisors on Tuesday unanimously agreed to the staff's recommendations for allocating $28.1 million resulting from litigation against the utility for impacts of back-to-back disasters.
Edison's settlement funds are intended as partial reimbursement for costs incurred by county departments responding to the December 2017 Thomas fire and the 1/9 Debris Flow it spawned in January 2018 and the subsequent recovery efforts.
The total represents about 30% of the county's losses.
"In total, the impact across our county agencies is in excess of $94 million," said Jeff Frapwell, assistant county executive officer.
After a 13-month investigation, the Ventura County Fire Department and Cal Fire determined one of the utility's power lines snapped in high winds, struck another energized line and caused an electrical arc that sent hot sparks into the brush below.
That ignited the Thomas fire that burned for 40 days, at its peak was battled by 9,000 firefighters and other personnel, charred 281,000 acres across two counties, destroyed 1,063 structures and led to the deaths of two people, one of them a firefighter.
With the slopes above the coastline stripped of vegetation, there was nothing to hold back nearly 4 inches of rain that drenched the hillsides in one night, unleashing rivers of mud, boulders bigger than cars, trees, buildings, vehicles and other debris.
The debris flow left 22 people dead and 28 injured, destroyed 65 homes and damaged 468, damaged 20 commercial buildings and closed Highway 101 for almost two weeks.
Photos: Rain prompts evacuations in Montecito, South Coast burn areas
Evacuated areas and roads below the Whittier, Sherpa and Thomas Fire burn areas were closed Tuesday morning as Santa Barbara County Emergency Management officials prepared for possible debris flows in the same areas that were heavily affected a year ago.
You have free articles remaining.
Damage could have been much worse, however, if county officials had not heeded a National Weather Service storm forecast and prepared by clearing debris basins and staging equipment and personnel, which also figured into the overall cost.
County Public Works Director Scott McGolpin said the debris flow left 500,000 of cubic yards of debris, which required about 50,000 additional truck trips to remove, further damaging roadways.
"The roads lost 10 to 20 years of service life in a few months," McGolpin said.
The Public Works Department put together a list of 60 road segments for repairs, assigned a priority to each segment and plotted them all on a map. The total expected price tag is $10.4 million.
McGolpin said the work will be done in three to four phases.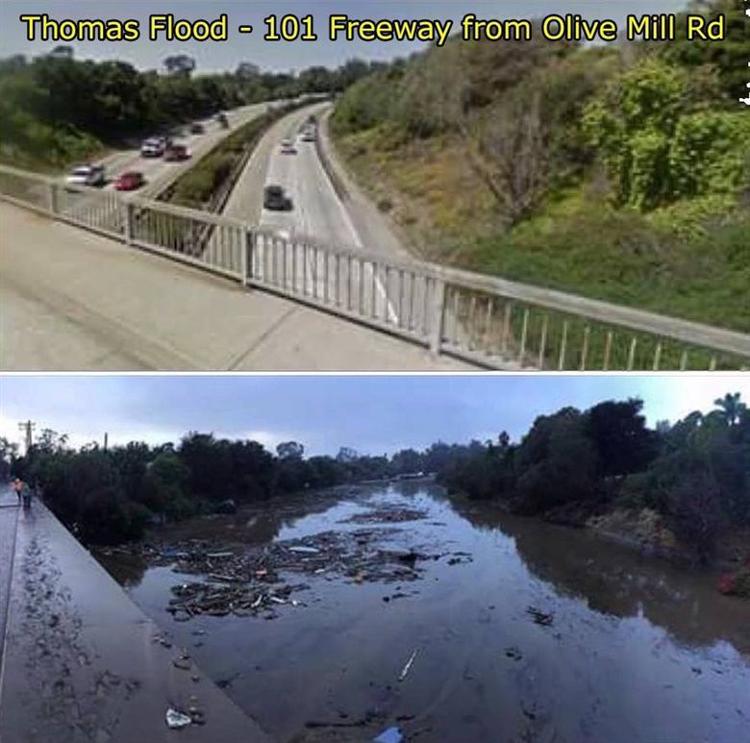 "The work this map indicates would be a tremendous step forward in the community," said Supervisor Das Williams, whose 1st District encompasses Montecito, adding it would help "get the community back together in a substantive way."
Fourth District Supervisor Peter Adam, who has consistently pushed for spending more money on road repairs, said he is "way supportive" of the allocation.
"I'm hopeful we can put this same kind of priority on all the roads in our county," he said.
The Public Works Department apparently wasted no time getting the projects underway, judging from a comment by 3rd District Supervisor Joan Hartmann.
"Apparently, their confidence in us is high," she said. "They already started work on one of those sections before we approved the allocation."
GALLERY: Flooding, mudslides cause destruction on South Coast
Twenty people are confirmed dead in Montecito and officials believe the deaths may be related to the storm that pummeled Santa Barbara County last Monday night and into Tuesday.
Numerous people are also missing in the Montecito area after mud and debris poured down from the hillsides charred by the Thomas fire. Heavy rains caused massive runoff in area, officials say seven people remain hospitalized a week after they were injured in the mudslides.
Santa Barbara Cottage Hospital says that as of Monday evening, two of the seven still undergoing treatment were in critical condition. Highway 101 will be closed in both directions for at least another week.