Creating a long-sought secondary access to the Elks Unocal Event Center took another step forward this week with an Orcutt Community Plan amendment to include the new section of road in its Transportation section text and circulation map.
But it will be several years before the first vehicles roll over a proposed new S-shaped roadway connecting Rodeo Drive to a short extension of Union Valley Parkway.
Santa Barbara County Board of Supervisors unanimously approved the amendment, as recommended by the Planning Commission in October, at its meeting Tuesday.
Not including the unknown cost of acquiring rights of way, the project is currently estimated at $5.51 million, including $3.8 million in construction costs alone, and those figures are likely to rise before work is completed.
The roadway is widely supported by residents in Orcutt and Santa Maria as well as Santa Maria Elks Recreation Inc. and Santa Maria Joint Union High School District trustees.
It's expected to alleviate traffic congestion and provide shorter emergency vehicle response times not only to the Event Center but also adjacent agricultural fields and to the school district's new Agricultural Education and Career Technical Education Center nearing completion just north of the rodeo grounds.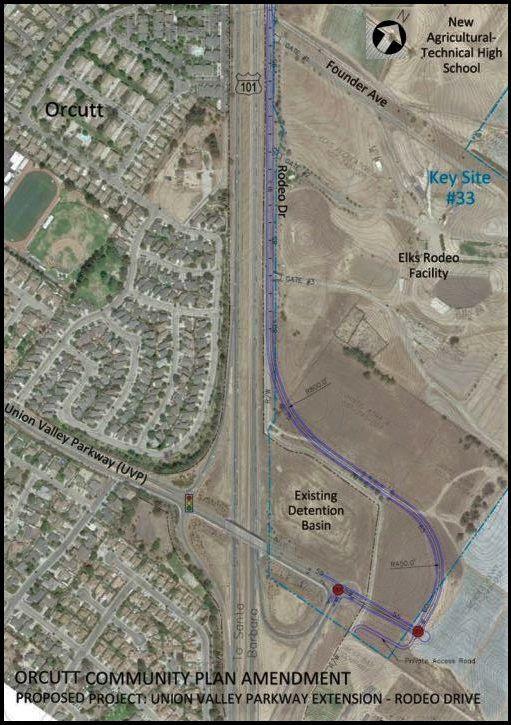 "This is an asset to the community, and we really hope the board will move forward with this project," said Laurie Tamura, a 35-year Orcutt resident who said she's been advocating for the extension for 15 years.
Gary Wuitschick, director of support services for Santa Maria Joint Union High School District, said the district also strongly supports the extension to serve the Education Center that's expected to be complete in January.
He said that next fall, the district plans to bring 252 students as well as teachers and visitors to the site on a daily basis, generating as many as 18 bus trips in addition to supply truck deliveries.
"This project has really been a long time coming, and a lot of safety aspects are coming with it," said eight-year Supervisor Peter Adam, whose 4th District includes the site. "I've been working on it the whole time I've been here."
The Rodeo Drive connection to an extended Union Valley Parkway was envisioned as far back as 1963, but when the Orcutt Community Plan was adopted in 1997, it was inadvertently left out.
It will still be at least another three years and possibly longer before the ribbon is cut to open the new route to traffic.
"The amendment is one step in a multi-step process," said Allen Bell, supervising planner for the Planning and Development Department Long Range Planning Division, noting approval of the amendment completes the tasks the Board of Supervisors assigned during the 2019-20 and 2020-21 budget hearings.
Bell said the project now will shift from the concept phase to the engineering phase, but his report shows eight more steps that must be completed.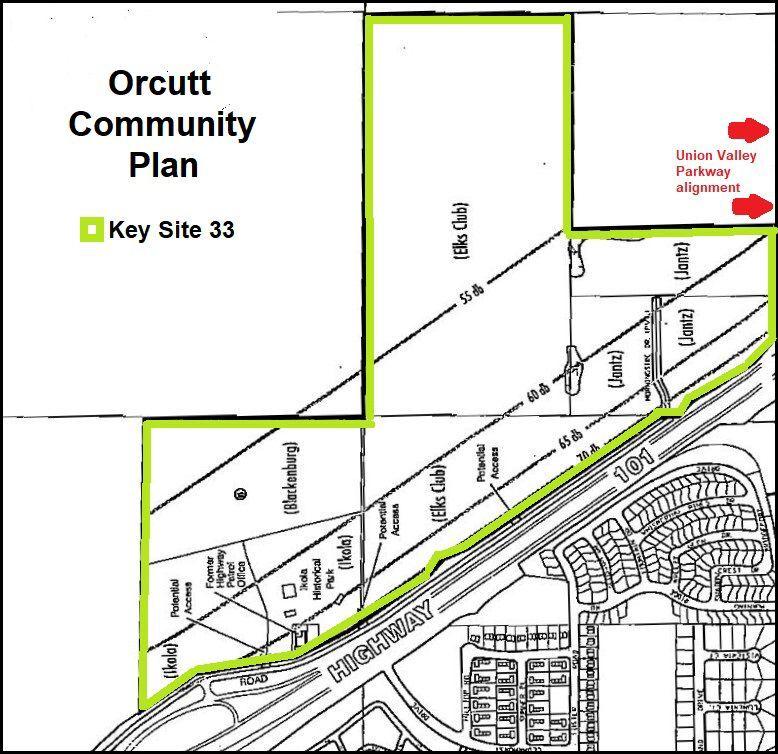 Those include doing a project study and developing environmental documents, obtaining the approval of Caltrans and the California Transportation Commission, acquiring rights of way and obtaining encroachment permits from Caltrans and the county.
He said the project development process will take two to three years, and construction could take up to another year.
The project also will be dependent on supervisors allocating all the necessary funds. Most of the work so far was covered by cannabis tax revenues.
The only question about the project was raised by 3rd District Supervisor Joan Hartmann, who asked if it would be growth-inducing. Bell said it would not.
"This road provides secondary access, so access already exists," Bell said, adding that any development in that area would be associated with the 195.5-acre group of parcels identified as Key Site 33 and evaluated in the Orcutt Community Plan for regional and site-specific impacts.
"What we see is this will serve existing development as well as planned development," Bell said.