Lompoc — and Santa Barbara County for that matter — has officially entered the retail cannabis market.
Leaf Dispensary, which offers a wide range of cannabis products, opened for business Friday morning at 423 W. Ocean Ave., formally ushering in a new era. The Lompoc business became the first adult-use recreational marijuana dispensary to open in the county, and a steady stream of customers filtered through its doors throughout the day to mark the milestone occasion.
The local history was not lost on David MacFarlane, owner of the dispensary, who noted that Friday was a "pretty historical day."
"Very excited," he said, opening the doors shortly after 10 a.m. for his shop's first day of business.
"We've been anticipating this for over a year now," he added. "It's been a long plan and a lot of hard work and a lot of dedication. The city has been fantastic. I think they've been very thorough — it's been challenging, but for good reason. They want to make sure they roll it out correctly."
Indeed, personnel with the Lompoc Police Department — including Chief Pat Walsh and Capt. Joe Mariani — made one final check of the building just prior to the opening.
To mark the occasion, the business had several merchandise and non-cannabis pastry giveaways, and it also hosted informational displays from cannabis-related vendors.
Lompoc resident Tony Velasquez said he has been looking forward to the opening of a local shop since the 2016 passage of Proposition 64, also known as the Adult Use of Marijuana Act that essentially legalized the substance statewide.
"It's kind of hard to constantly renew a medical card every year and I struggle with sleeping really badly," he said. "This is a more natural way to fall asleep than over the counter medication and stuff like that, so it's easy to just come here and get it. … It's nice that we have something like this on the Central Coast."
Fellow Lompoc resident Joe A. Garcia, who has taken on a role as one of Lompoc's leading cannabis activists over the past two years, was also on hand for the opening.
Garcia said the entire week has been exciting for cannabis enthusiasts in Lompoc, as Wednesday marked the one-year anniversary of the failure of a referendum that had attempted to block the industry from entering Lompoc. He also pointed to the "Cannabis Conversation" forum that was hosted by the Lompoc Valley Chamber of Commerce on Thursday, one day ahead of the opening of Leaf Dispensary.
"This is [an accumulation] of years of hard work that a lot of people put together, and today the people of Lompoc should be proud with today's opening of this business," he said.
Santa Maria residents Danielle Quiroga and Deanna Thorpe were also among the throng of customers in the first hour of the shop's opening.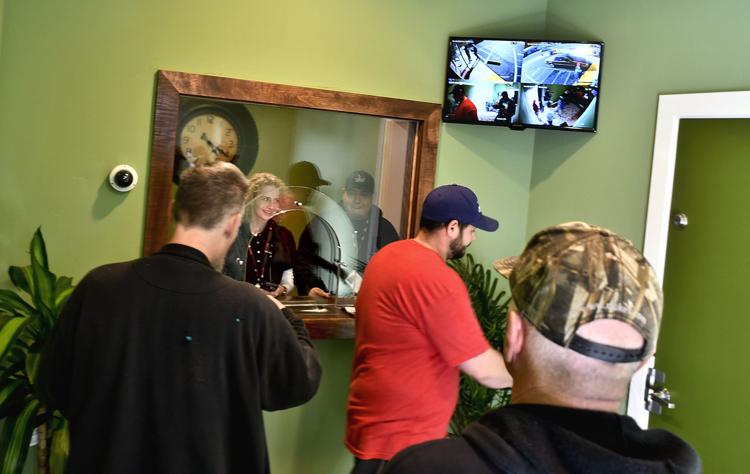 Thorpe said she was impressed by the knowledge of the staff as some of the store's "budtenders" helped her navigate the CBD oil products that she was looking to acquire for pain management.
"They have a lot of selection, whereas where I'm from, Santa Maria, there's really not a lot of places that you can go and get that," she said.
Quiroga said she felt like the business would aid Lompoc's economic growth. Anyone still opposed to cannabis businesses, she said, needs to "wake up."
"People drink and people do all kinds of different things," she said. "Pot has always been something I think that should be the least of people's worries."
Among the vendors at the shop was Erica Sommers, representing Kiva Confections, a company that produces cannabis edibles and sells them in dispensaries across the state and beyond. Sommers gave away samples of cannabis-free gummies as she interacted with customers.
Sommers, who traveled from her home city of Ventura for Friday's opening, said she was looking forward to helping Kiva Confections expand into Lompoc.
"Yes, we're absolutely excited to be here and to kind of educate the people on what we have to offer and to help them, whether it's recreationally or medically," she said.
MacFarlane said he would plan a more formal "grand opening" at some point in the near future, but noted that, more than anything, he was happy to finally have his business up and running. The shop's hours were advertised on its door as 10 a.m. to 8 p.m. daily.
MacFarlane, who previously opened a nonprofit medical dispensary in South County 13 years ago, said he never thought during the application process about being the first to open an adult-use, for-profit dispensary in the county.
"I was just excited to have a chance and (I'm) just happy that we were able to get the doors opened and provide a service to the community and create some tax revenue," he said. "We're thrilled."
Garcia, who helped establish the Lompoc Valley Cannabis Association and has been vocal at various meetings and forums regarding the city's cannabis regulations, shared a similar sense of joy at finally having a dispensary opened for business.
He was one of the shop's first customers after selecting a small bag of pre-rolled joints.
"I'm gonna head home and enjoy this responsibly," he said, smiling, as he held up his bag.
Willis Jacobson covers the city of Lompoc for Lee Central Coast Newspapers. Follow him on Twitter @WJacobsonLR.
Get local news delivered to your inbox!
Subscribe to our Daily Headlines newsletter.