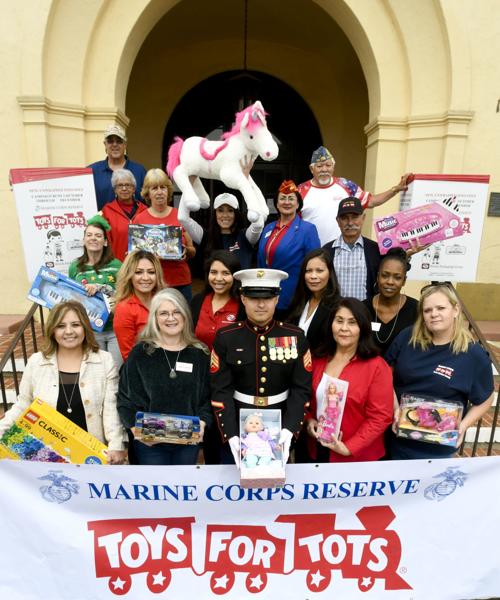 A local holiday tradition kicked back into full gear Wednesday as several supporters of the Lompoc Toys for Tots drive joined together to formally launch the 2019 campaign.
The kickoff event, held at the Lompoc Veterans Memorial Building, fell on the same day as registrations opened for the annual drive, which is sponsored by the U.S. Marine Corps Reserve and through which toys are collected in donation bins, then sorted and given to children from local families in need. Families interested in registering their children for toys were able to do so from 4 to 7 p.m. Wednesday at the Vets Building, and had another chance from 4 to 7 p.m. Thursday at the same location.
Maria Douvia, a program manager for the Community Action Commission, which is coordinating the Toys for Tots campaign, said after the kickoff that organizers had a simple target for donations this year.
"Every family that needs a toy — that's our goal," she said.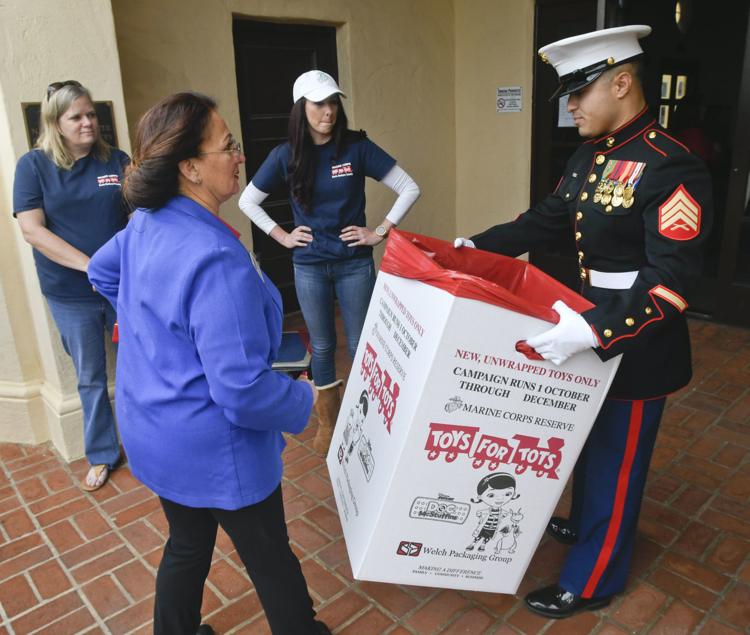 There will be many opportunities over the coming weeks for community members to make sure that goal is met.
Collection bins have been or will be placed at 30 locations around the city of Lompoc, including at city buildings, businesses, banks, apartment complexes and nonprofit agencies. Bins also were set to be placed at seven locations in Vandenberg Village and Mission Hills, and at six sites on Vandenberg Air Force Base.
All toys collected in Lompoc will be given to Lompoc-area children, according to organizers.
Additionally, several toy drives and fundraisers have been scheduled ahead of the Lompoc toy giveaway, which is slated for Dec. 14 and is set to include a visit from Santa Claus.
Toys for Tots season is officially underway.
Among the upcoming Lompoc events:
Dec. 6 through Dec. 8 — Lompoc Tsunami Aquatics will host a swim meet at the Lompoc Aquatic Center that also will serve as a benefit for Lompoc Toys for Tots.
Dec. 7 — The fifth annual Chasing Santa: Toys for Tots 5K Run/Walk will be held at River Park. Registration is scheduled to begin at 8 a.m., with the chase set to start at 9. The entry fee for the event is $5 plus an unwrapped $10 toy. For more information on the event, which is organized by the Lompoc Valley Distance Club, call 805-733-2255 or email iristocrat@gmail.com.
Dec. 7 — Barnstormers Aero Services Inc., will hold a "Marine Challenge" and airport display from 10 a.m. to 2 p.m. at the Lompoc Airport. The event is slated to include the Lompoc and Cabrillo high school cheer and drill teams.
Dec. 8 — The American Legion Post 211 will hold its Toys for Tots Run, a motorcycle ride to benefit the drive. Riders are asked to meet at Post 211, 634 North H St., to register between 8 and 9:45 a.m. The cost is $15 per rider and $5 per passenger, plus a new unwrapped toy. That event, which will include a barbecue, will be held in memory of the late George Beeghly, a former sponsor.
Families that would like to register to receive toys but could not do so by Thursday are encouraged to contact the Community Action Commission's Lompoc office at 805-740-4555. All registrations need to be completed by Dec. 6.
Soledad Kennedy, a Marine Corps Reserve member who has been involved in Lompoc's Toys for Tots campaign for more than two decades, said she still gets excited every year while helping to launch the Toys for Tots kickoffs throughout Santa Barbara County.
"It kind of brings the community together and gives you that holiday spirit, I think," she said.
She noted that fewer families registered to receive toys last year than in 2017. While that could be interpreted as a positive sign — suggesting fewer families were in need — she echoed Douvia's sentiment in saying that she hoped this year's drive helps everyone who needs it.
"It's nice not having to do it, but it's nice to do it," she said. "You're always going to have people in need, so it's nice that we're able [to help]."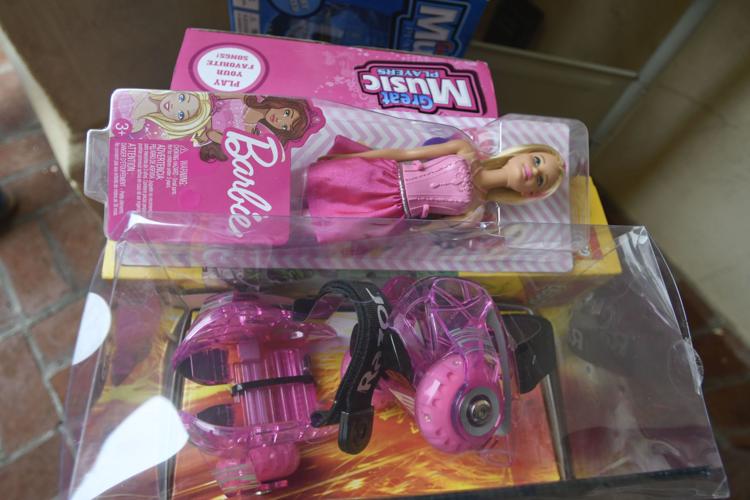 Willis Jacobson covers the city of Lompoc for Lee Central Coast Newspapers. Follow him on Twitter @WJacobsonLR.
Get local news delivered to your inbox!
Subscribe to our Daily Headlines newsletter.