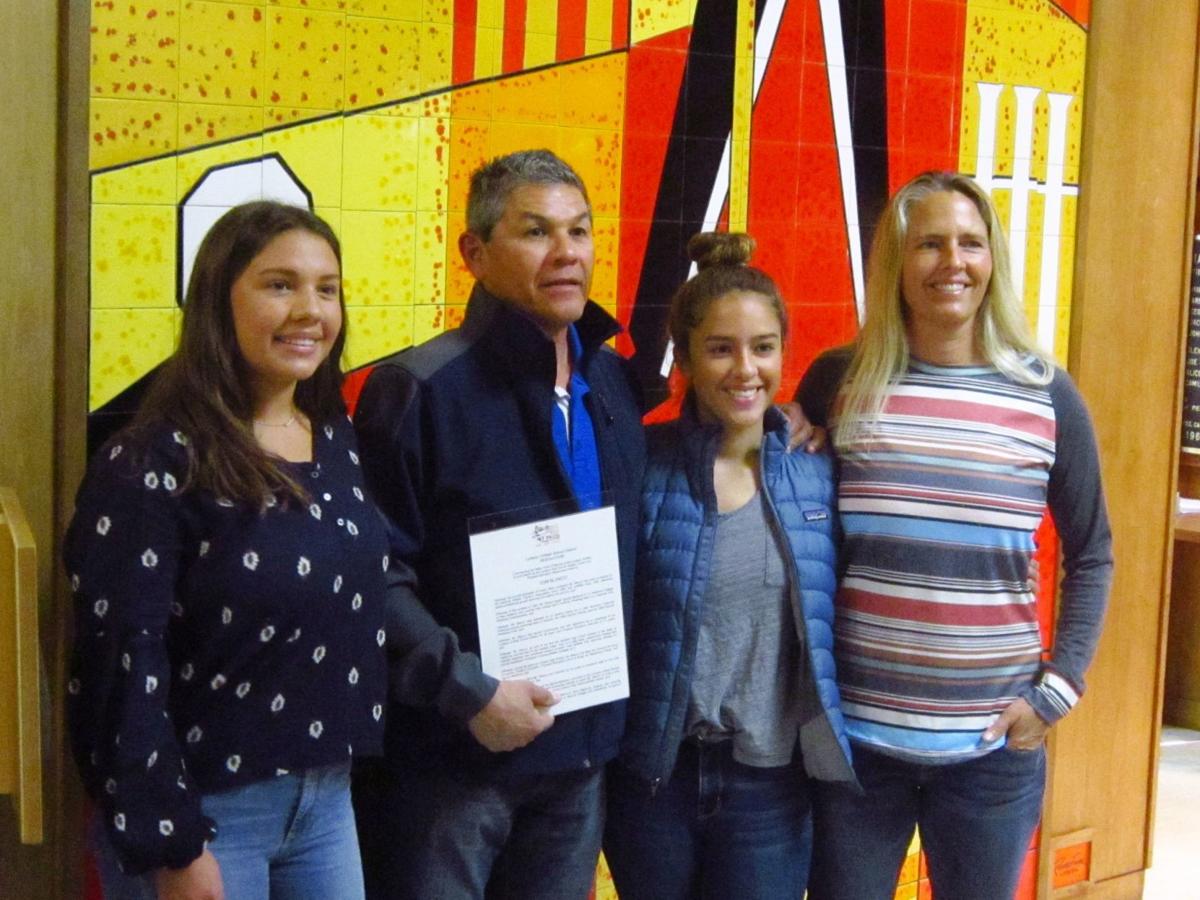 Over the course of his four-decade career as an educator and athletic trainer at Lompoc High School, Tom Blanco has aided and mentored an untold number of students and student-athletes while also managing to avoid bringing any attention upon himself.
On Tuesday night, however, the spotlight grew too large for even Blanco to escape.
Blanco was honored during a meeting of the Lompoc Unified School District board of education, which presented him with a resolution formally outlining its approval to rename the Lompoc High athletic center in his honor.
But the honors didn't stop there.
Shortly after Blanco was presented with that proclamation, Bob Boswell, a member of the audience, used his public comment time to reveal that Blanco had also been selected for the Servant's Heart Award, a national accolade given out annually by the National Athletic Trainers' Association (NATA). Blanco was chosen out of a district that includes all secondary school trainers in California, Nevada and Hawaii.
Blanco, who was surrounded by colleagues, family members and friends at the meeting, wiped away tears as he received a standing ovation from a packed house at the LUSD Education Center Board Room.
"I'm an emotional guy," Blanco said outside the board room after declining to speak during the meeting.
While Blanco was aware of the renaming of the Lompoc High training center, which was first approved by the LUSD board at its Jan. 9 meeting, he said he had no idea about the NATA honor, which he will receive during the organization's annual expo scheduled for June 26 through 29 in New Orleans.
"It's a huge deal," Blanco said of that honor, keeping with his understated personality.
While Blanco was short on words, others at the meeting-turned-celebration had plenty to say about what Blanco has meant to Lompoc High School and the surrounding community.
You have free articles remaining.
The resolution adopted by LUSD was read in full by board member Dick Barrett.
It noted that Blanco, a Fresno State alumnus, was one of the first 10 certified school athletic trainers in California and the first on the Central Coast. It also recounted that, in addition to Blanco's work at Lompoc High School, where he has been a trainer for 36 years and a teacher for 31, Blanco has also trained and coached wrestlers in New Zealand and was selected as a trainer for the 1982 Southern California Wrestling cultural exchange team, which competed in Sweden, the 1984 Olympic Games in Los Angeles and the wrestling trials for the 1996 Olympic Games.
"I've known him long enough to know he's very deserving," said Boswell, who called Blanco a friend.
Lompoc High football coach Andrew Jones said he has known Blanco for much of his life. Jones, who also played football at Lompoc High, noted that his father had to frequently leave the country for work and he said that Blanco quickly became "another father figure for me."
"I tell that guy everything," he said of Blanco, whom he described as humble and hardworking. "He's somebody that I look up to for advice, for raising kids, for parenting, anything. I go to him for just about everything. He's taught me how to be not only a better educator, but just a better person. He's a good example for how you should approach each day."
No timeline was given for when the Lompoc High training center will get a new sign to mark its new name as the Tom Blanco Sports Medicine Center.
Jones, who noted that Blanco is "out there teaching every day and going hard," said the new name is a perfect fit.
"I think that something that may be overlooked or undervalued at a high school is an athletic trainer," he said. "Just in my short time of being a player and a coach, he hasn't changed. Every day he comes to work and he makes our high school better and safer. We're really lucky to have someone like that because he could easily be a trainer for a professional team."
Lompoc High Principal Paul Bommersbach and Athletic Director Don Cross, among others, played big roles in both of Blanco's honors that were celebrated Tuesday night.
The Servant's Heart Award is given annually by the NATA to "deserving secondary school (athletic trainers) in each district for their service to the athletic training profession, their schools and their communities," according to the organization's website.
Blanco, again showing his reticence to be the center of attention, was brief when asked if he felt the honors were a testament to his lengthy career in Lompoc.
"I hope so," he said. "Lompoc's a good spot."
Willis Jacobson covers the city of Lompoc for Lee Central Coast Newspapers. Follow him on Twitter @WJacobsonLR.