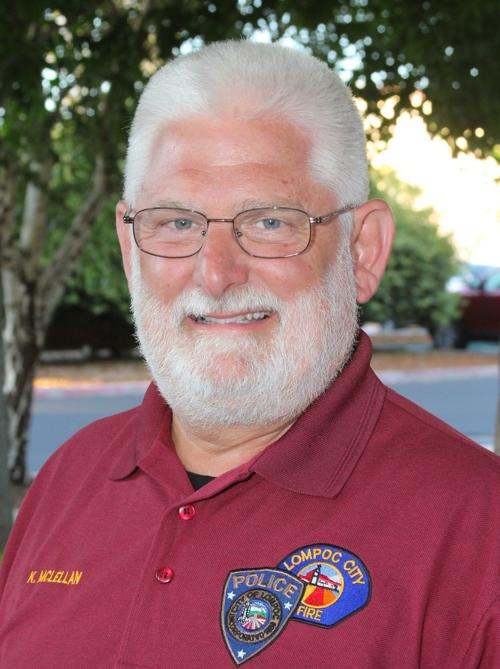 Keith McLellan, a chaplain for the Lompoc police and fire departments and Red Cross liaison, is the sixth nominee for this year's Valley of the Flowers Peace Prize.
"While Keith may not be well-known [to everyone], he is to those in time of need," said Steven Alburton, who nominated McLellan.
Alburton went on to note that McLellan served hundreds of hours in the Red Cross shelter during the Thomas fire and Montecito mudslides, and, in Lompoc as the police and fire chaplain, he has brought comfort and peace to families of homicide and suicide victims. He further pointed out that McLellan does not discriminate on the basis of faith, color, or economics and no one is turned away, and he very often serves without pay.
McLellan started a group in Lompoc called Prepare2Care, an organization that trains people in disaster preparedness.
He pointed out that when a disaster strikes, the government cannot take care of people. Volunteers want to help, but there needs to be an organization to direct them, and they need training in what to do. Prepare2Care trains volunteers in nine critical areas, including skill in moving and assisting people, basic First Aid, caring for people with dementia and infection prevention.
You have free articles remaining.
"The biggest disaster risks," McLellan said, "are active shooters and natural disasters."
Churches usually want to help, so McLellan recently conducted a Prepare2Care training session in disaster preparedness for 30 people from 15 different churches.
In an effort to help the city clean up the Santa Ynez Riverbed and assist the homeless, McLellan not only volunteered at the triage center in River Park, he also provided the fencing for the triage center, as well as generators, tents and cots for the homeless people.
McLellan's assessment of homeless people: "There are three groups of homeless: (1) those who want help, (2) those who want help but are not able to accept it because of mental or physical problems, such as being addicted to drugs, and (3) those who do not want help because they love living like that."
McLellan offered a vision statement that encapsulates his philosophy: "Lompoc is a caring community. Regarding the homeless, we need to eliminate talking about 'those people.' Instead, we need to talk about 'our people.'"
The Peace Prize Recognition Ceremony, an event to honor all the nominees who have contributed to peace and understanding in the Lompoc community, will be held at 3 p.m. Saturday, Jan. 26, at the Valley of the Flowers United Church of Christ, 3346 Constellation Road in Vandenberg Village.
The community is invited to attend the free ceremony.