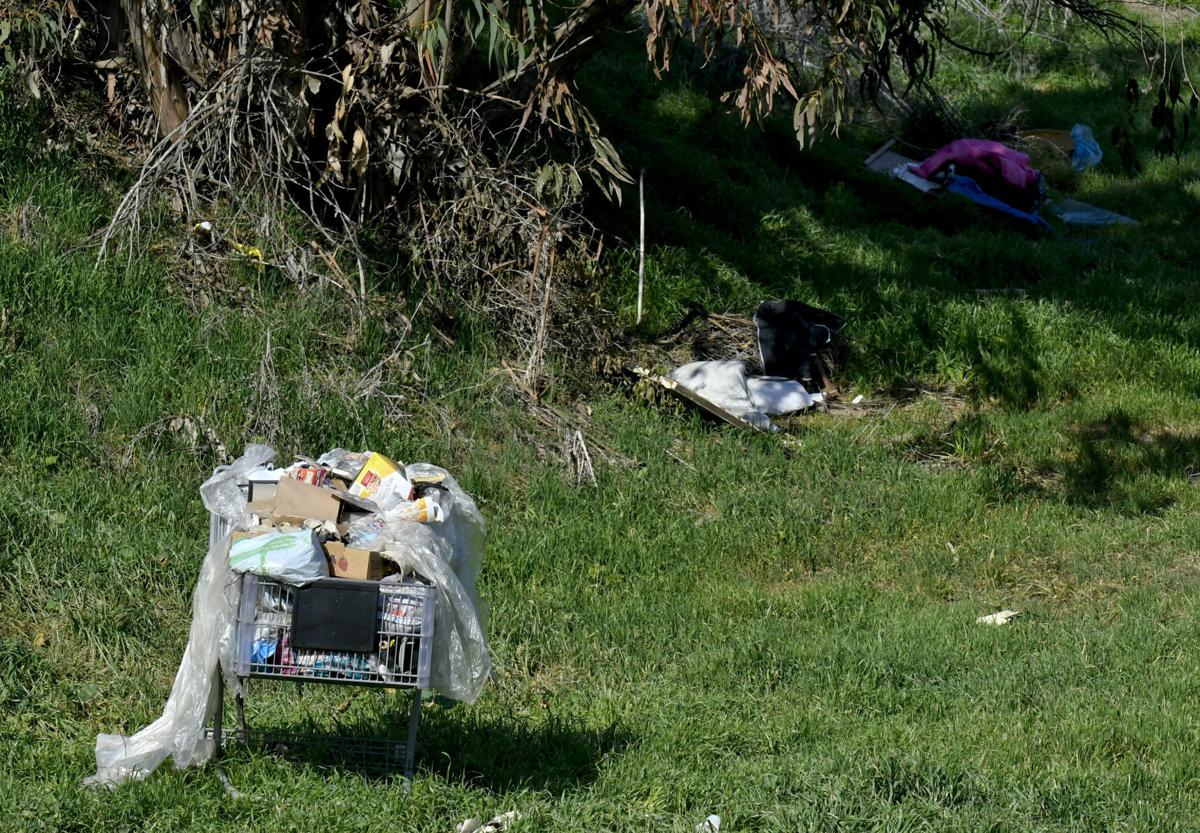 Installing fencing, hiring a private security firm, or even developing a volunteer citizen group to maintain the Santa Ynez Riverbed were among the ideas explored by the Lompoc City Council on Tuesday as homeless encampments and piles of debris have returned to the waterway.
The status and future of the Santa Ynez Riverbed, which runs along Lompoc's eastern and northern borders, was a major topic of discussion for the City Council during a meeting that lasted more than five hours.
The issue was back in the forefront a little more than a year after the city concluded a massive cleanup of the riverbed that involved evicting about 75 homeless people and removing more than 460 tons of garbage at a cost of about $500,000 to the city.
Lompoc Community Development Director Christie Alarcon opened the discussion with a presentation that went over details of the 2018 cleanup, included pictures of camps and trash piles that have returned, and outlined challenges facing the city as it looks to get a handle on the situation.
"While I was bummed about this, I felt better knowing that ... we're getting a jump-start on this and taking a look at it early," Alarcon said. "And if it can be addressed early, it's not going to get as far away from us as it did when we did the initial cleanup."
While all accounts point to the riverbed not being close to the state it was in two years ago, Alarcon's presentation did not paint a positive picture.
The city, based on a count conducted last month by the Lompoc Police Department, is estimating there are 10 to 15 homeless encampments back in the riverbed with about 20 people residing in them.
The cost to re-clean the waterway, which would involve vegetation management as well as the removal of hazardous items like needles, is estimated by the city to be about $129,000, plus another $300,000 in annual costs for ongoing maintenance and patrols. Much of that latter cost would go toward two full-time Lompoc Police officers to patrol the area.
"I think what's important is we catch this before it gets worse," Mayor Jenelle Osborne said. 
Osborne went on to suggest that the city should look into the legality and feasibility of training a citizen volunteer group to maintain and patrol the riverbed.
"It sounds to me like it's something we could get worked out if Council wants us to work on that," Jeff Malawy, the city's attorney, said in response to Osborne's suggestion.
Councilwoman Gilda Cordova expressed reservations about sending volunteers into the riverbed, and asked Lompoc Police Chief Joe Mariani for his thoughts on the city contracting with a private security firm.
Mariani noted that private security could end up costing as much or more than the allocations to the Police Department and pointed out that the city would still incur liability if an incident were to occur with a private security officer and a member of the public.
Mariani instead pushed for the city to make "a holistic, ongoing commitment" by allocating funds for the Lompoc Police Department.
"If we're ever going to make a dent or a change — we're talking about human lives — we have to have an ongoing, sustainable program to deal with a variety of needs," he said.
Councilman Jim Mosby, who said he recently went into the riverbed with a social worker to talk to the people living there, suggested that the city work more closely with the riverbed inhabitants. Some of them, he said, indicated they'd be willing to help keep the space clean if the city were to provide some assistance, such as by placing a dumpster in the area or by installing restrooms or power strips they could use to charge their phones.
"Some of them are really looking to try to find a way out of there, as well," Mosby said. "So if we can maybe open the doors a little more … maybe we can get there easier — for a lot less money."
Osborne said she was opposed to providing amenities like restrooms or charging stations, noting that those are available at other city facilities, like the library.
"I don't want to do anything that encourages an ongoing stay," she said.
Councilman Dirk Starbuck reiterated some of the same frustrations he expressed two years ago regarding the city being forced to take on the riverbed challenge on its own with no financial assistance from Santa Barbara County or the state. The city paid for the 2018 cleanup out of its water utility reserve funds, a move that was deemed legal since the riverbed is part of the city's aquifer.
Starbuck went on to decry the "idiocracy" of the County Sheriff's Office for what he deemed as it allowing homeless people to use drugs, commit rapes, defecate and live in the riverbed, but yet not allow certain vehicles into the waterway.
Starbuck suggested that Lompoc residents might be well-served to participate in some motorsports in the riverbed illegally.
"Let's just go down there and ride a motorcycle," he said. "The Sheriff's [Office] will respond if your kid is down there on a quad … but somehow they're able to not look to the left or right when they're down there, and that's very discouraging.
"I don't have the answer, but let's go ahead and open it up for recreation," he added. "If that's what it takes, to put people down there recreating and doing things to get attention, well so be it."
Given that the 2018 cleanup was funded by water reserves, the chair of the Lompoc Utility Commission also presented some suggestions that were approved by the full commission at its most recent meeting. Those included contacting other cities for ideas, considering private security firms until the Lompoc Police Department has adequate funding, and installing cameras and fencing in areas that would make sense and be cost-effective.
The City Council ultimately voted unanimously to have city staff investigate the suggestions made at the meeting, as well as possible financing options, and to return with another report.
City Manager Jim Throop noted that if the council decides to initiate another cleanup, the funds could once again be taken from the city's water reserves, or from the general fund's "limited" reserves.
The next regular meeting of the Lompoc City Council is scheduled for 6:30 p.m. Tuesday, March 3.
Willis Jacobson covers the city of Lompoc for Lee Central Coast Newspapers. Follow him on Twitter @WJacobsonLR.
Get local news delivered to your inbox!
Subscribe to our Daily Headlines newsletter.