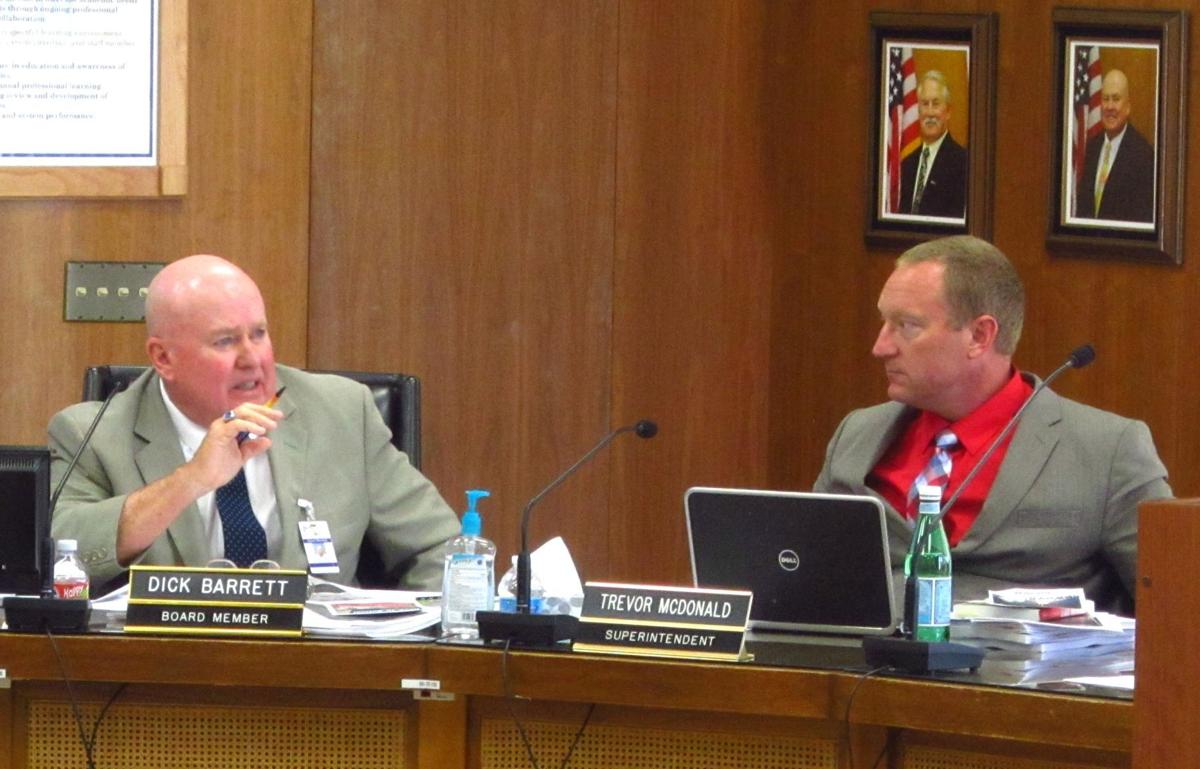 Less than a month after a Lompoc school bond failed in the California primary election, the Lompoc Unified School District board of education voted Tuesday night to give the measure another go.
The board voted 4-0, with board member Bill Heath absent, to place what will essentially be the same $79 million bond measure on the upcoming Nov. 6 ballot. The move came exactly three weeks after Measure Q narrowly failed in the June 5 election after getting support from just 50.3 percent of voters. That bond needed 55-percent approval to pass, just as the new bond in November will.
Of the six members of the public who addressed the board at Tuesday's meeting, which also included the board adopting the district's 2018-19 budget, all of them encouraged the board members to give a bond measure another shot.
"I know a lot of times with these measures that politics kind of get wrapped up in all of it, but I'd like everyone to remember that this is about real kids," said Dr. Shannon Olson, a dentist who said she attended Lompoc schools as a child and currently has her own children enrolled in Lompoc schools.
"One of the things that I learned as a student in this school district is that you try hard, and if you fail you don't give up, you try again," she later added.
Heath, who wasn't involved in Tuesday's discussion due to his absence, was the only board member last September who voted against putting Measure Q on the ballot.
Board members Dick Barrett and Jeff Carlovsky both spoke strongly in favor of putting another bond on the ballot during a brief discussion among the board members.
Like Olson and other speakers, Barrett also encouraged community members to focus on students when assessing the necessity of the bond, rather than on personalities. He pointed to anti-bond attacks leading up to the June 5 election that were aimed at LUSD Superintendent Trevor McDonald, specific board members and/or other LUSD administrators.
"All they did was screw over the kids and the teachers that work in our district," Barrett said. "That pained me quite a bit."
Following the board vote, McDonald acknowledged that he was the target of some of the anti-bond sentiment.
"There was some negative stuff about Person X and Person Y, and most of the time Person X and Y was me," he said, drawing some laughs.
"I'm not that important," he added. "We're talking about 10,000 kids here that deserve the same opportunities that every other kid in Santa Barbara County has, period. Every other K-12 (district) has a bond and when our kids go to not only compete with them in athletic events and academic events, but just compete with them in the world when they're going to college and things like that, we want our kids to have the same experience that everybody else had, and, frankly, we want them to have a better experience."
The bond language that was approved by the board at Tuesday's meeting (which can be found on Page 20 here) was basically the same as the language used for Measure Q on the primary ballot.
Again, the district is proposing that the money would be used "to repair or replace leaky roofs; upgrade inadequate electrical systems; construct/modernize classrooms, restrooms/schools; replace outdated heating, air-conditioning systems; (and) upgrade P.E. fields/facilities for school and community use."
Also, just like Measure Q, the bond would be repaid through Lompoc property taxes at a rate of about 6 cents per $100 of assessed value. Those repayments would generate about $7 million annually and last through about 2054, according to the approved bond text.
Some of the speakers at Tuesday's meeting, including board member Barrett, suggested that a higher voter turnout, which is expected in November, could lead to a different result.
In this month's primary election, just 6,494 Lompoc Valley residents cast a vote on Measure Q. By contrast, Measure L, the Lompoc school bond that was unsuccessful in the 2016 general election, drew a total of 18,321 votes.
McDonald noted that district leaders had been reviewing the Measure Q failure, "just kind of seeing how we got beat."
"We learned some things along the way that it's easy in hindsight to look back, but that's OK," he said. "I congratulate the board for doing it again. I'm gonna give a better effort this time. We know where we can fill in some of the gaps."
Those gaps, as he called them, were the information voids that he said likely contributed to some of the popular complaints against Measure Q, such as a lack of specific detail regarding exactly how bond funds would be spent.
McDonald and members of the board stressed Tuesday that the campaign ahead of the November election would include more of those specifics.
"We're going to do our best to get it out there — not only what we're gonna be doing, when we're gonna be doing it, (and) what schools we're gonna be doing it at," McDonald said. "And we're gonna publicize that, which we necessarily didn't this last time."
Barrett said he was confident that November would yield a different result, in large part because of his faith in the Lompoc community. He pointed out that both Measure L in 2016 and Measure Q this month received approval from a majority of voters. (Measure L garnered 58-percent support, but needed 67.)
"It's all about the kids," he said. "It's not about politics; it's not about this board, the superintendent, or anybody else's job; it's about making sure we take care of the kids…"
In other action Tuesday, the board voted 4-0 to adopt its 2018-19 budget, which continues a trend of decreasing revenue for the district.
In a presentation at the board's June 12 meeting, Assistant Superintendent John Karbula noted that the district was continuing to experience declining enrollment, which has had an adverse effect on the level of funding the district receives from the state. The 2017-18 average daily attendance in LUSD was 9,134, a drop of 39 students from the 2016-17 school year, and a drop of 188 from 2015-16.
The projected enrollment losses total about $3.3 million, Karbula said, while at the same time the district is projected to add about $4.6 million in expenses for employee pensions and benefits.
"That is a difficult financial picture," he said.
Karbula said he would press again, like he did last year, for a demographic study to help the district better gauge its future.
"I will be coming back to you in August with a recommendation for a demographic study to help us understand what is happening with our demographics and allow us to plan for whatever eventuality that might bring," he told the board on June 12.
Overall, the adopted budget includes about $111,229,000 in revenues and $109,492,000 in expenditures. While that leaves a net balance of more than $1.7 million, the projections for the next two fiscal years show a deficit of $93,000 in 2019-20, and a deficit of $743,000 in 2020-21.
The next regular meeting of the LUSD board of education is scheduled for Aug. 13.
Willis Jacobson covers the city of Lompoc for Lee Central Coast Newspapers. Follow him on Twitter @WJacobsonLR.
Get local news delivered to your inbox!
Subscribe to our Daily Headlines newsletter.