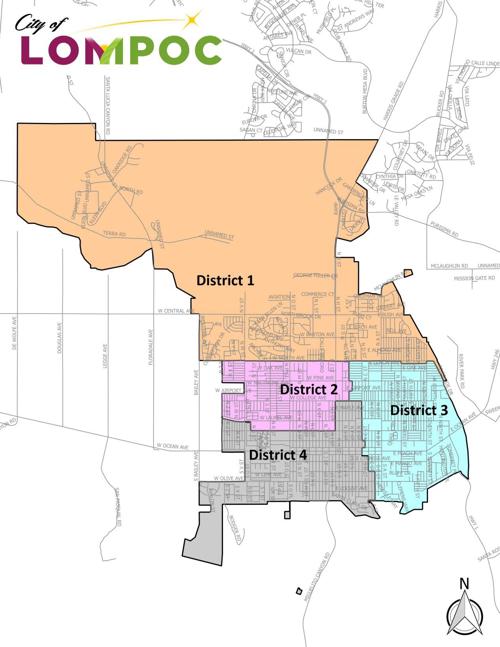 This November's election will mark Lompoc's first under a district-based format, so to help voters prepare for the new system, the city has scheduled a series of public information sessions.
Beginning with the Nov. 6 election, Lompoc City Council members will be elected by voters in a particular district, rather than under the citywide at-large system that had been used in the past. In an effort to familiarize residents with the change, which was enacted late last year, the city has scheduled four open meetings in each of the four districts over the next three weeks.
The schedule for the meetings is as follows:
District 2 — Wednesday, June 6, from 3:30 to 4:30 p.m. in the Lompoc High School Cafeteria, 515 W. College Ave.;
District 3 — Wednesday, June 13, from 6 to 7 p.m. in the La Honda Elementary School Multipurpose Room, 1213 North A St.;
District 1 — Wednesday, June 20, from 6 to 7 p.m. in the Lompoc Public Library's Grossman Gallery, 501 E. North Ave.; and
District 4 — Thursday, June 21, from 6 to 7 p.m. at the Dick DeWees Community & Senior Center, 1120 W. Ocean Ave.
Two City Council seats, representing Districts 2 and 3, will be up for grabs Nov. 6. Those seats are currently occupied by Victor Vega and Dirk Starbuck, respectively.
You have free articles remaining.
The other two districts will vote on City Council representatives in 2020.
The mayor's seat, which will also be up for election this year, will remain at-large and will be voted on by the entire city. That position is currently occupied by Bob Lingl.
The Lompoc City Council began its voluntary move toward district-based elections in September 2017. Like many other municipalities around the state, the move was spurred by the threat of a lawsuit alleging that the old at-large system was in violation of the California Voting Rights Act.
While the city of Lompoc did not admit to any violations of the Voting Rights Act, the City Council was presented with information showing that other municipalities who fought the litigation in court ended up spending significant sums of money and changing to district-based systems anyway. This seemingly helped the council reach its decision to voluntarily change its elections.
Among other things, the change aims to bring more representation to racial groups that have been historically underrepresented.
Anyone interested in running to be a City Council member or mayor is encouraged to contact the Lompoc City Clerk's Office at 805-875-8241 or s_haddon@ci.lompoc.ca.us. 
The filing period for nomination papers and candidate's statements runs from July 16 to Aug. 10.
Willis Jacobson covers the city of Lompoc for Lee Central Coast Newspapers. Follow him on Twitter @WJacobsonLR.