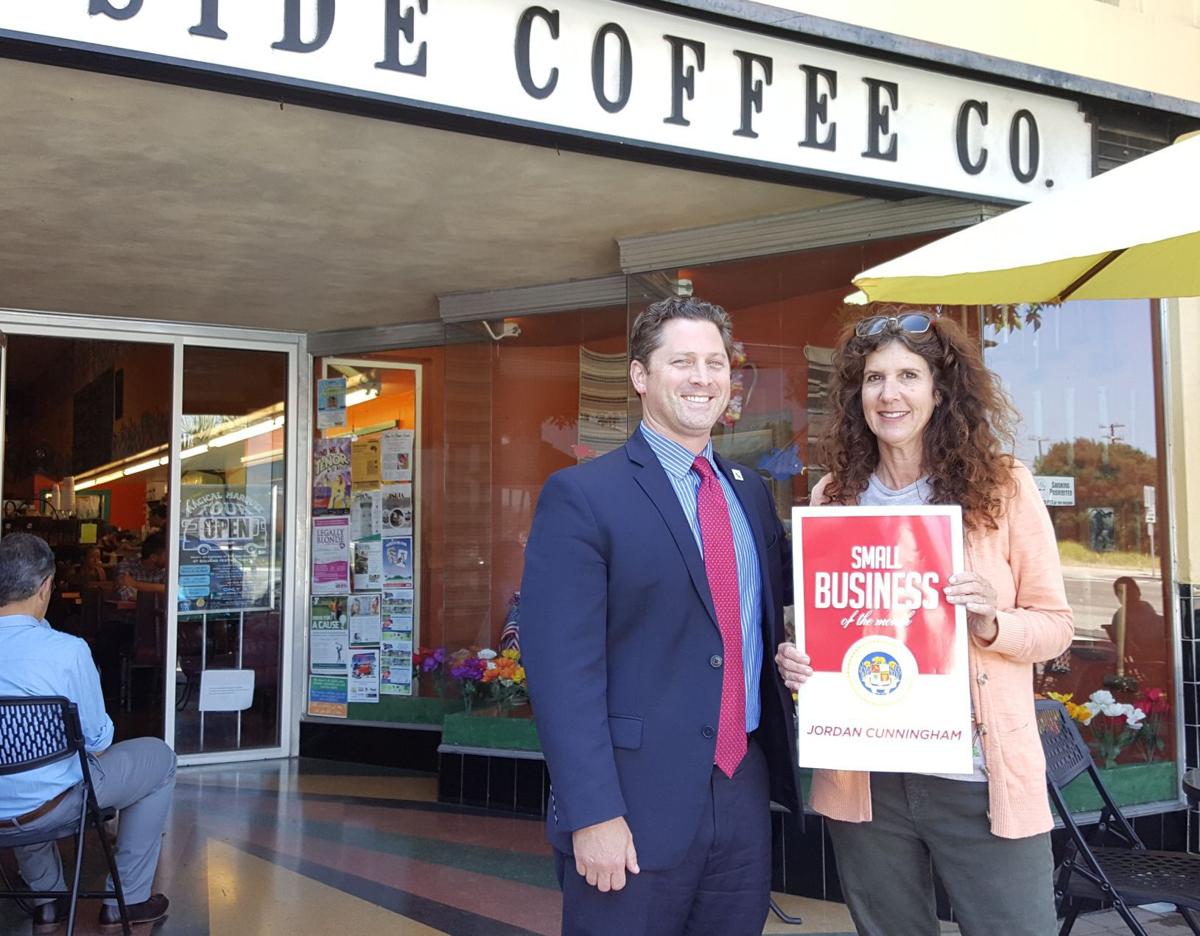 A downtown Lompoc coffee shop and gathering spot was honored last week by 35th District Assemblyman Jordan Cunningham as the district's small business of the month.
South Side Coffee Co., located at 105 South H St., was selected as the July recipient of the award, which Cunningham began giving out in March. South Side was chosen "for its commitment to quality food and beverages and its role as a community hub for the city of Lompoc," according to Cunningham's office. 
Julie Biolley, who co-owns South Side with Stacy Lowthorp, learned about the selection just before receiving the award July 25 from Cunningham.
"I was pleased, very pleased," she said of hearing about the honor.
Biolley was one of the original owners of the shop and has seen it grow since opening in 1994. She said she is encouraged by the overall growth downtown over the last few years. There are three relatively new businesses near South Side, including one that opened this month, to complement the other nearby attractions, like the Lompoc Museum.
"It's a really neat little area," Biolley said. "And then having the Old Town Market here in the summer is really great, too. It brings all kinds of people together and that's the main important thing."
Teresa Gallavan, Lompoc's economic development director and assistant city manager, said she was thrilled to see a Lompoc business receive the award.
"The more recognition that we can have for all that Lompoc has to offer, for our residents and for our visitors, is great for our economic vitality and the quality of life here in our community," Gallavan said. "And it's good for our business community."
Biolley said she views South Side as Lompoc's melting pot.
"Everybody is welcome here," she said, noting that customers are like extended family. "It doesn't matter about age or political beliefs or any of that — everybody's welcome.
"As long as they buy something," she added with a laugh.
Willis Jacobson covers the city of Lompoc for Lee Central Coast Newspapers. Follow him on Twitter @WJacobsonLR.
Get local news delivered to your inbox!
Subscribe to our Daily Headlines newsletter.