One of the best rodeo photographers on site at the 76th Santa Maria Elk Rodeo didn't grow up in the sport. He's not a cowboy, mud doesn't run through his veins, and heck, he didn't even learn to ride a horse until last year.
But Matt Cohen's photos are making the circuit, including an action-packed, snortin' bull shot on the cover of ProRodeo Sports News, January edition.
"It's been a tough ride getting into rodeo. There was a way rodeo was shot for years, and I shoot it differently," Cohen said.
The San Francisco Bay-based sports photographer has shot plenty of baseball, basketball, football, ice hockey and tennis, but he's specialized in rodeo since catching the bug from a pro rodeo poster at his neighborhood Jamba Juice.
"I'd been shooting high school sports and whatever I could get into. When I saw the poster, I called my editor and asked to shoot it for one night. It was something different for the website I worked for that covered San Francisco news and events," Cohen said.
But that single-night assignment wasn't enough.
"I fell in love with it from that first night. I went back the next seven nights on my own," Cohen said.
He laughed as he recalled those early days.
"I didn't know the difference between bareback and saddle bronc, the difference between tie-down and team roping. I didn't get any of that at all," Cohen said.
It took him four years and a fair bit of hazing before he gained enough knowledge and made enough connections to really get into rodeo.
"When my friends found out I was shooting rodeo, they didn't believe that I'd willingly subject my gear to that, but the variety of the access rodeo provides — in the shoots, back to the trailers, in the arena — it's that access that really roped me in. You're never getting closer than 15 yards from any player at an NFL game, closer than the end of the dugout in baseball and you'll never get close to a pro golfer, but rodeo provides its photographers all kinds of access," Cohen said.
For a man who doesn't particularly care for using the long lens or zoom lenses that trade image sharpness for range flexibility, that close-up access is key.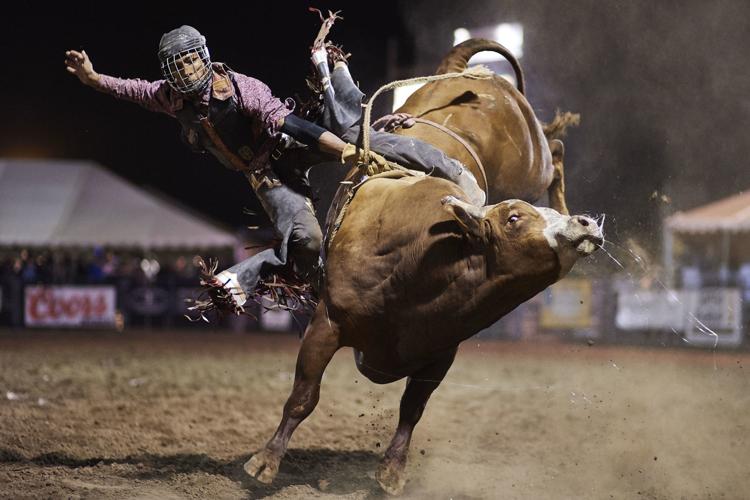 "For me, longer lenses are a crutch. I try to do as much as I can to get as close as I can. Whenever I'm shooting, I'm thinking about how I can safely get as close as possible to whatever I'm shooting," he said.
As his rodeo knowledge has increased so have his rodeo images matured. His portfolio shots convey the story through spot-on focus, artful use of light and reflection, and views both inside the arena and behind the scenes.
His work has appeared with ESPN, 20th Century Fox, Wrangler, Cinch, Best Ever Pads, CSI Saddle Pads, Yeti Coolers, Cactus Ropes, the Discovery Channel, the Denver Post, Vespa/Piaggio, the San Jose Mercury News, Resident Advisor, among others. His pictures regularly run in ads, major magazines, newspapers and websites worldwide.
The bull shot on the cover of ProRodeo Sports showcases a ride at the 75th Santa Maria Elks Rodeo.
"This one was straight up, taken at 3 p.m. with the sun high. When a bull blows up like that right in front of you, that means you've done the planning appropriately, you've put yourself in the right spot, and all you need to do is make a picture," Cohen said.
Shooting the circuit, he focuses his efforts on rodeos that offer morning slack time and evening performances to catch the best light of the day. He also studies the animals and the riders.
"There are certain bulls and certain horses I know will do the same thing every time they come out of the chute, so I can plan to be in place when that happens," Cohen said.
And he spends more time in the dirt than behind the computer.
"My little secret is: I don't know much about post processing at all. The action you see is whatever I get, maybe cropped with some white balance or contrast correction. I don't know how to do any of these elaborate Photoshop things. Never learned. I shot for newspapers, magazines and websites where it wasn't allowed, and I'm not particularly interested in learning it," Cohen said.
Twenty of the Central Coast's most talented young performers belted out songs and burned up the dance floor Saturday afternoon, hoping to be among the 10 acts chosen to perform May 30 on opening night of the Santa Maria Elks Rodeo.