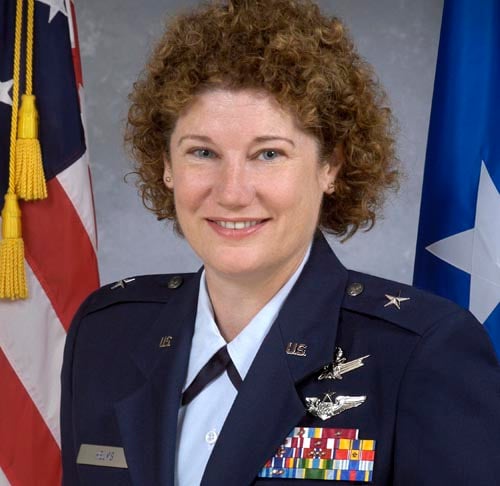 With her career stalled after a U.S. senator placed a hold on a job change, Lt. Gen. Susan J. Helms intends to retire, Air Force officials confirmed Friday.
Helms, a former astronaut who logged 211 days in space on five missions, leads 14th Air Force and Joint Functional Component Command for Space, both of which are headquartered at Vandenberg.
Defense officials announced her new job earlier this year, saying Air Force Lt. Gen. John E. Hyten had been nominated as her replacement. It essentially would have been a job switch since he currently holds the No. 2 slot at Air Force Space Command.
But the job change has been in limbo since the spring when U.S. Sen. Claire McCaskill, D-Missouri, placed a hold on Helms' nomination to become vice commander at Air Force Space Command in Colorado.
While confirming Helms has filled out paperwork to retire, Air Force officials Friday remained mum about other details, including the date it becomes effective.
A 1980 graduate of the Air Force Academy, Helms became an astronaut in July 1991. Two years later she landed in the history books as the first U.S. military woman in space. She also conducted a spacewalk of eight hours and 56 minutes, a world record. She has been stationed at Vandenberg since January 2011.
McCaskill, a member of the Senate Armed Services Committee, said the action came because of Helms' decision in February 2012 to overturn a jury conviction in a Vandenberg Air Force Base sexual assault case.
In February 2012, Helms rejected the recommendation of legal counsel and overturned the conviction of an Air Force captain who had been found guilty of aggravated sexual assault of a female lieutenant.
The court-martial occurred in October 2011 and Helms, as the convening authority, reviewed the Vandenberg jury's decision a few months later.
Helms concluded she could not be satisfied the prosecution met the beyond-a-reasonable-doubt burden of proof and thus declined to approve the conviction, Lt. Col. John Dorrian, an Air Force spokesman, said last spring.
McCaskill's action against Helms came after another controversial case. In that one, Lt. Gen. Craig Franklin, commander of the 3rd Air Force at Ramstein Air Base in Germany, overturned the conviction against Lt. Col. James Wilkerson, a former inspector general at Aviano Air Base in Italy. Wilkerson had been found guilty of abusive sexual contact, aggravated sexual assault and three instances of conduct unbecoming of an officer and a gentleman.
The Wilkerson case prompted lawmakers to review the military justice system and led to proposals to strip military commanders of their ability to reverse criminal convictions.
Be the first to know
Get local news delivered to your inbox!