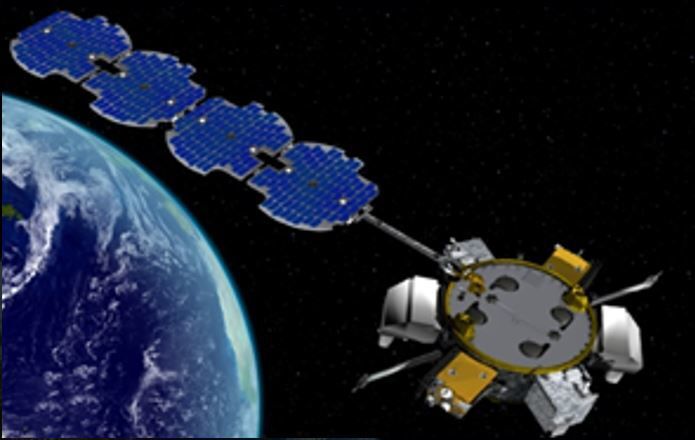 CAPE CANAVERAL SPACE FORCE STATION, Fla. -- The U.S. Space Force's Space and Missile Systems Center (SMC) successfully delivered the Long Duration Propulsion ESPA - 1 (LDPE-1) space vehicle, to Cape Canaveral Space Force Station, Florida on Dec 7, 2020. LDPE-1 is the first of two spacecraft on the Space Test Program 3 (STP-3) mission, slated to launch on February 26, 2021.
LDPE-1 was safely transported from Northrop Grumman Space Systems in Gilbert, Arizona, to Cape Canaveral Space Force Station, Florida. The delivery of LDPE-1 marks a milestone for the STP-3 mission, leading to the scheduled launch date of February 26, 2021. The satellite will be processed at the Astrotech Space Operations facility in Florida to ensure full functionality and prepare for propellant loading. At the completion of these activities, the satellite will be mated to the STPSat-6 satellite and the two space vehicles will be integrated to a United Launch Alliance Atlas V 551 launch vehicle.
"The delivery of the LDPE-1 satellite is a great accomplishment and puts our team one step closer to fulfilling our mission," said Col. Timothy Sejba, SMC's Program Executive Officer for Space Development. "The LDPE-1 team members have displayed professionalism, hard work and dedication from across all parts of the country. The delivery of LDPE-1 brings us another step closer to advancing rideshare capabilities."
LDPE provides a standardized, satellite bus that can host multiple payloads on any National Security Space Launch mission with available mass margin. This platform extends the United States Space Force's standard service policy for affordable rideshare and provides the DoD with the capability to leverage available mass margin with minimal non-recurring engineering between each launch on which it is utilized due to its modular bus design and standard interfaces.
The Space and Missile Systems Center is the U.S. Space Force's center of excellence for acquiring and developing military space systems. SMC's portfolio includes space launch, global positioning, military space vehicle communications, defense meteorological space vehicles, range systems, space vehicle control networks, space-based infrared systems, and space situational awareness capabilities.
Be the first to know
Get local news delivered to your inbox!