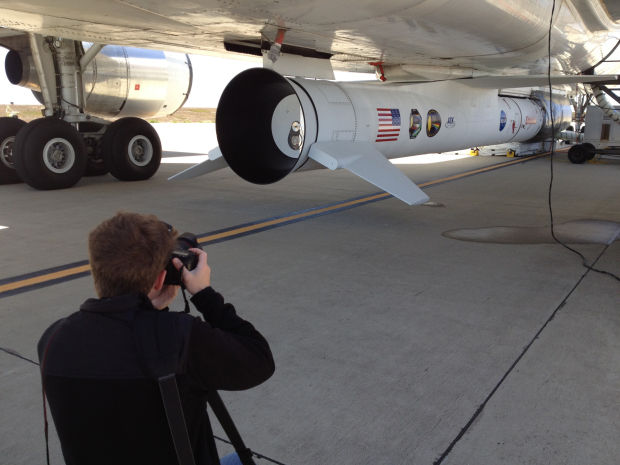 With successful repairs made to faulty electrical equipment at Vandenberg Air Force Base, a Pegasus XL rocket has permission to proceed with today's countdown.
Managers met Wednesday for the launch readiness review to assess the status of the mission to carry NASA's Interface Region Imaging Spectrograph into space.
"As its conclusion all Pegasus and IRIS systems were declared ready for flight," NASA officials said in a statement.
The air-launched rocket will ride under the belly of a modified L-1011 aircraft scheduled to take off from Vandenberg's runway just before 6:30 p.m. today.
The airplane will fly to a spot over the Pacific Ocean to release Pegasus some 100 miles northwest of Vandenberg. The drop is planned for 7:27 p.m.
Originally scheduled for Wednesday evening, the departure was delayed due to electrical troubles linked to the widespread power outage that affected northern Santa Barbara County on Sunday night.
You have free articles remaining.
Repairs included having a copper piece fabricated in Los Angeles and sent to Vandenberg for installation.
Crews have successfully restored power to the Western Range systems responsible for monitoring rockets to ensure they don't veer from their planned flight paths.
The repair work and testing was to be completed Wednesday night.
"The Range does not anticipate any issues in finishing the activation and at this time, the work is going smoothly," the NASA statement said.
The launch weather forecast calls for only a 20 percent chance of not meeting the criteria. Low cloud conditions for the L-1011 departure at the runway are the main concern.
Because this launch occurs off the coast, it's unlikely Central Coast residents will see or hear the rocket as it races into space. If the marine layer remains off the coast, the contrail might be visible from some locations.
The IRIS spacecraft will study the sun and scientists hope it will deliver details other craft aren't equipped to capture.