As a kid growing up in San Antonio, Texas, Michael Hough had dreams of one day making it as a Major League Baseball player.
Hough, who grew to be 6-foot-4, was a catcher on his high school's baseball team and he recalls catching the eye of at least one West Texas college — Sul Ross State — that showed interest in having him play first base.
Hough acknowledges that he didn't possess a rocket for an arm — "I can throw straight but not very hard," he said — but that didn't matter much after he ultimately chose to change direction and follow his other dream, one that not only continued a family tradition but ended up having Hough work with actual rockets.
Hough, now a colonel in the U.S. Air Force, took over command of the 30th Space Wing and Western Range at Vandenberg Air Force Base on June 9. The 24-year Air Force veteran sat down recently for a wide-ranging conversation, in which he reflected on some of the highlights of his first few months on the job, such as witnessing his first rocket launch, as well as some of the things that have him excited about the near future at the base, including a scheduled mission to Mars, a solar field that will change the way portions of the base receive energy, and a potential drone program that could bring more than 1,000 jobs to VAFB.
"It's one of those amazing things," Hough said of being back at VAFB, where he began his Air Force career as a missile training recruit in 1993.
"That was nowhere near on my mind," he said of one day becoming a wing commander at the very base where his career started. "And frankly, up until about two years ago, it really wasn't on my mind — being a wing commander, much less a wing commander at Vandenberg Air Force Base. So it's a shock. Even today I have to kind of remind myself of my position and what I'm doing."
It didn't take long for Hough to get a taste of some of the more exciting aspects of his position. He took part in his first launch just a few weeks after taking command, though he noted that he was inside a console where he watched the rocket — a SpaceX Falcon 9 — on video, not in person.
When another Falcon 9 rocket was launched from the base on Aug. 24, as part of the Formosat-5 mission, Hough said he made sure to remain outside for that one.
"That was the first one that I got to witness coming up off the ground and taking off into the air," he said. "It was spectacular.
"If you've never seen one, there's really nothing quite like it," he added. "The sound, and plus knowing what goes into it. That's something new."
Hough has also now been a part of a different kind of launch that is drawing perhaps more attention than ever to the base.
That launch took place less than a week after North Korea held its own nuclear missile test. That timing, combined with the increased concern surrounding North Korea as it continues to test nuclear weapons, led many to correlate the separate events.
Hough said the missile tests at VAFB aren't related to anything being done by North Korea or any other country. Further, he said the North Korea tests haven't had any effects on the day-to-day operations at VAFB.
"Obviously, we're in tune to what's going on," he said.
"There's never a hidden message behind it," he added, referring to the ICBM test launches from VAFB. "I think a lot of times people want to go, 'Oh look, they launched a missile; that's in reply to what North Korea did.' No. If it happens to coincide with something, then it's just a coincidence. What it takes to launch these things, it is years out in planning."
Hough noted that there are several reasons for him and others within the 30th Space Wing to be excited about what's ahead at the base.
Chief among them, he said, is the Wing's continued collaborations with launch companies like SpaceX and United Launch Alliance. He said other companies, such as Blue Origin, are also planning to potentially launch from the base, and that the commercial providers have been beneficial in helping the Wing re-look at ways to do things.
"We can't stay in the same mindset," Hough said. "So, having commercial launches come to the Wing is very good for innovation. They're exciting to work with."
In what would be a launch-related first for VAFB, SpaceX is still working toward performing its first boostback landing — in which the rocket's main stage will land safely back on land — at the base. The company has landed boosters on drone ships in the Pacific Ocean but has never attempted a land-based landing on the West Coast. Hough said that first attempt should occur in the "not-too-distant future."
The base is also set to host its first mission to Mars next year. NASA's InSight spacecraft was initially planned to launch in 2016 as the first Mars-bound craft ever to take off from California but was delayed due to a problem with one of the craft's instruments.
"We're real excited about that one," Hough said.
Hough also said he is also looking forward to the completion of the solar farm that is being constructed across from the base's north gate on VAFB property near Manzanita Public Charter School.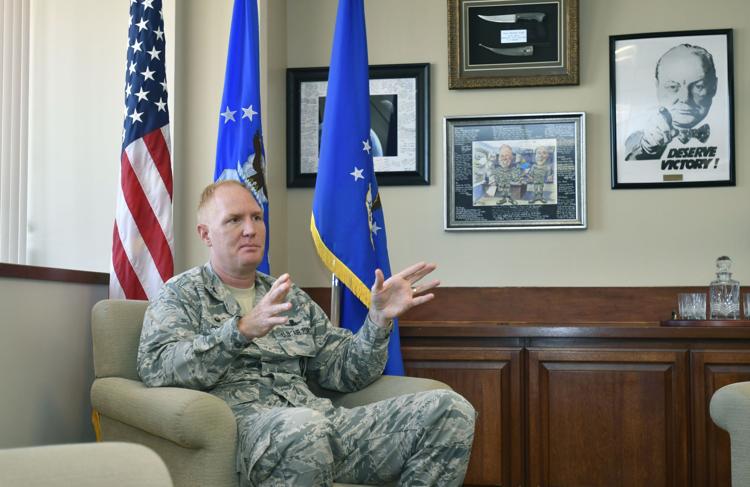 You have free articles remaining.
"I know that doesn't sound too exciting when we're talking about space launch, but we've got a solar farm that's gonna be operational, we think, here in December, but no later than January," he said. "That's gonna provide 35 percent of the base power. So that's nice to have."
That power could be especially fruitful if the base grows with the expansion of a new drone unit.
VAFB was placed on a shortlist a year ago as a potential host site for the Air Force unit that operates remote drones. Hough said a decision was initially expected this summer, but that deadline has since moved to mid-October. If VAFB is chosen, Hough said about 1,500 to 1,800 additional personnel would be stationed at the base.
"If it comes out here, there's a lot of things we're gonna have to do; a lot of building is gonna have to take place if that does come out here," Hough said. "So we're still waiting on a decision. We're excited. We hope it does come out here."
He noted that "quality of life" is one of the considerations for where the new unit is placed.
"It's hard to beat this area when you're talking about quality of life," he said.
The base is also looking at having a company come in to remodel and reopen the base's golf course, which was closed down last summer due to rising water costs. Hough said that a commercial contractor is "very interested" in the project and considers it "some of the best land they could have to build a golf course."
The 18-hole course, if everything goes as planned, would be open to the public.
Hough, who was born in Niagara Falls, New York, and lived in Florida and even Tehran, Iran, during his childhood before settling in San Antonio as a second-grader, said he and his family are adjusting well to the Central Coast.
Hough's father and grandfather, whose portrait hangs in Hough's office, served in the Air Force, and he said his great-grandfather served in a flying squadron in World War I. He said it was those elders, and the chance to travel and see the world, that provided the main motivation for him wanting to join the Air Force.
Over the past two decades, he noted that he and his family have lived in several cold regions — including on bases in Alaska, Montana, Massachusetts, Rhode Island and Colorado — so this assignment has been a welcome change.
"We've experienced the harsh winters, (so) I'm looking forward to this climate here," he said.
His two sons attend Cabrillo High School and are adjusting well, he said, and he and his wife enjoy exploring the local communities around the base.
"What's not to like?" he said. "There's wine, there's the ocean, this climate. I also remind people, too, that it's not high altitude like it is in Colorado Springs, so you can go out and exercise without your lung collapsing."
Hough said he likes to spend his spare time fishing, often with some of the friends that he made in his first stay at VAFB 24 years ago. Two of those friends, he said, are retired from service and currently work on the base as government civilians.
"That's a great added benefit," he said. "It's nice. It takes me back to my youth."
While still getting settled and learning the ins and outs at VAFB, Hough has also spent time getting to know leaders and other residents from the communities surrounding the base.
He said he is appreciative for all the support he has received from people and groups in Lompoc and Santa Maria, especially.
That support will be on display Sept. 29 when the Lompoc Chamber's Military Affairs Committee hosts its annual "Military Appreciation BBQ."
Hough also recently had an opportunity, along with other base and civic leaders, to tour the new Hilton Garden Inn that is set to open soon near the intersection of West Barton Avenue and North H Street in Lompoc. One of his most memorable takeaways from the tour, he said, was learning that the hotel's suites will be named after rockets, such as a Delta Suite and a Falcon Suite.
"I thought that was a nice little touch to make that connection between the community and the base," he said.
Lompoc Mayor Bob Lingl said he's chatted with Hough during at least three ceremonies since June and that he's come away impressed by the commander each time.
"He's got high-level professionalism and I believe he's gonna be another great leader for our military men and women out at the base," Lingl said. "He comes from a good background in space technology, and he's eager to be involved (locally) and that's good for our community here in Lompoc."
Hough said part of the reason he turned down the offer to play college baseball was because the school that was interested in him didn't offer an ROTC program. He ended up going to Texas Tech University, where he earned a bachelor's degree in business administration and participated in ROTC.
While he said he's looking forward to getting to know many Central Coast residents during his stay at Vandenberg, he said he's especially excited to spend time with the airmen serving under his command, many of whom presumably share his long-held passion for the service.
"I really am a people person," Hough said. "I enjoy sitting down and talking to the troops, the personnel here. I always learn something. I'm always amazed by their enthusiasm for the job."
Willis Jacobson covers the city of Lompoc for Lee Central Coast Newspapers. Follow him on Twitter @WJacobsonLR.
"That was the first (rocket launch) that I got to witness coming up off the ground and taking off into the air," he said. "It was spectacular."

-- Col. Michael Hough