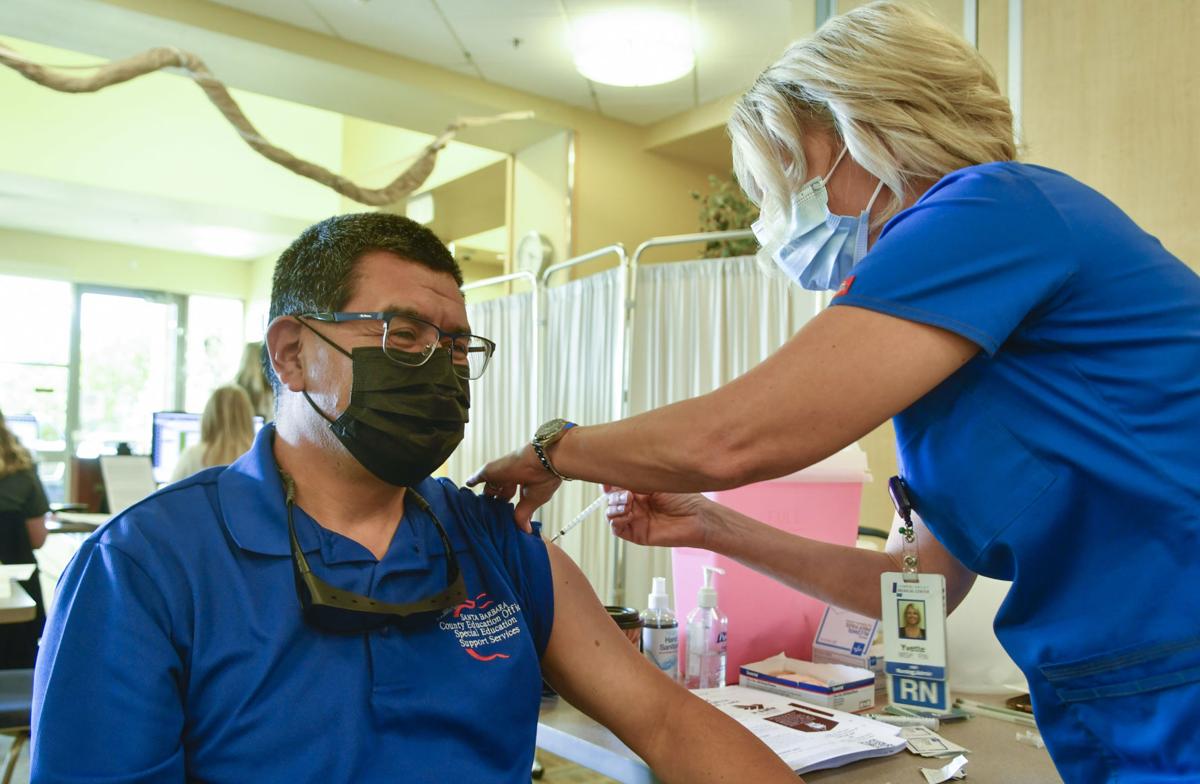 Next week could be eventful for Santa Barbara County residents, with the strong likelihood of more business resuming indoor operations in the red tier and vaccine eligibility opening to individuals ages 16 to 64 with comorbidities. 
According to public health officials, Santa Barbara County could move into the second-most restrictive red tier on Tuesday under new vaccine equity guidelines that broaden the metric threshold for less-restrictive tiers, public health officials said Friday.
State officials said last week that once 2 million vaccines have been provided to the 400 ZIP codes in the state's lowest health equity quartile, four of which are in Santa Barbara County, the needed metrics to enter the red tier will be loosened from 7 cases per 100,000 people to 10 cases.
According to county Public Health Director Do-Reynoso, the state has reached that goal, bringing the county's current case rate of 9.6 in line with requirements for the newly defined red tier. 
"We have met the red tier metrics for one week. If we maintain these good numbers for an additional week … we are in the red tier," Do-Reynoso said.
This move would allow restaurants, fitness centers, movie theaters and museums to reopen indoors at 25% capacity, and allow students in grades 7 to 12 to return to in-person learning.
When it comes to vaccines, the newly eligible group includes residents ages 16 to 64 who are at higher risk for severe COVID-19 illness due to existing comorbidities such as debilitating cancer, kidney disease and other severe illnesses, officials said.
A full list of qualifying conditions is provided by the California Department of Public Health. Individuals will be asked to self-attest to their qualifying condition when making an appointment or at an appointment, officials said. 
These individuals will be added to a growing list of people awaiting vaccines, allocations of which have not grown at the same rate. 
"Availability is still low," Do-Reynoso said. "Please be patient as we open up vaccine opportunities to the remaining categories in our community." 
Vaccinations also are continuing for recently eligible groups like agriculture and food workers, emergency personnel and those in the education and child care sectors. 
At this time, appointments for education and child care workers are being organized through the county Office of Education in partnership with Lompoc Valley Medical Center and Marian Regional Medical Center, with some appointments also available at local pharmacies.
Those with comorbidities, along with agriculture, food and emergency workers, can schedule appointments at public health point-of-distribution sites in Santa Maria, Lompoc and Santa Barbara when they become available at 9 a.m. on Mondays via publichealthsbc.org/vaccine.
According to Health Officer Dr. Henning Ansorg, approximately 15% of the population has received at least one dose of the vaccine, including 10% that is now fully vaccinated. 
For more information about COVID-19 vaccines in Santa Barbara County, visit publichealthsbc.org/vaccine or call the county vaccine hotline at 211 and select option 4.
Daily COVID-19 cases
The Santa Barbara County Public Health Department reported 54 new COVID-19 cases and two deaths from the illness on Friday.
According to county public health data, 32,573 total cases have been confirmed, and 255 cases remain active. 
The two additional deaths were of a Santa Maria resident and a Lompoc resident, both over the age of 70, according to county data. COVID-19 deaths confirmed in the county now total 428.
As of Friday, 43 individuals were hospitalized for COVID-19, including 15 individuals in the intensive care unit, according to county data.
In Santa Maria, 82 out of 10,987 total cases remain active and 150 individuals have died.
In Orcutt, 16 out of 1,722 total cases remain active and 28 individuals have died.
In Lompoc, 20 out of 3,413 total cases remain active and 48 individuals have died.
In the Santa Ynez Valley areas of Solvang, Buellton, Los Olivos, Los Alamos, Santa Ynez and Ballard, 10 out of 971 total cases remain active and 17 individuals have died.
In the North County area of Sisquoc, Casmalia, Garey, Cuyama, New Cuyama and Guadalupe, six out of 1,244 total cases remain active and 21 individuals have died. 
The San Luis Obispo County Public Health Department reported 24 new COVID-19 cases on Friday. Out of 20,041 total cases, 334 remain active, according to county public health data.
Concerned about COVID-19?
Sign up now to get the most recent coronavirus headlines and other important local and national news sent to your email inbox daily.