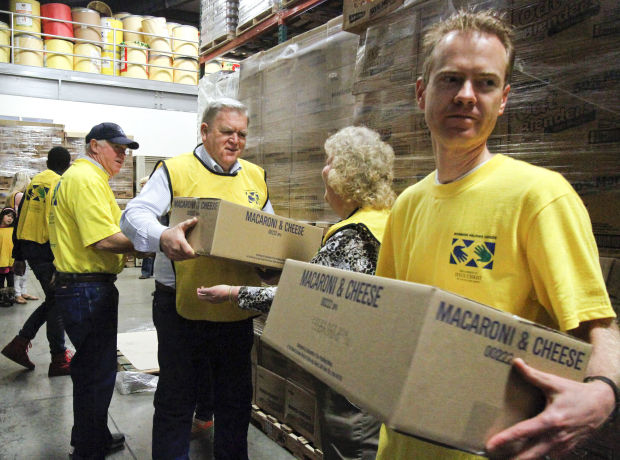 Mormon Helping Hands is teaming up with Foodbank of Santa Barbara County and the 5Cities Homeless Coalition to stock the two organization's shelves with food and much-needed first-aid supplies this weekend. 
Wearing their trademark yellow T-shirts, the volunteers from the Church of Jesus Christ of Latter-day Saints will collect and sort food donations at two locations Saturday.
Mormon volunteers are asking the public to donate nonperishable goods, with peanut butter, jelly and canned tuna, chili and stew at the top of the priority list, said health educator Carly Neubert, a spokeswoman for Mormon Helping Hands.
Food donations will be accepted from 8:30 a.m. to 12:30 p.m. at the Santa Maria church, 908 Sierra Madre Ave.
Donations also will be accepted during the same hours at the Arroyo Grande church, 751 S. Traffic Way.
Neubert said people dropping off donations are invited to stay to help sort the food and put together first-aid kits.
She said volunteers hope to collect 15 to 20 tons of food Saturday to add to the 17 tons delivered Thursday evening to Foodbank of Santa Barbara County's North County location in Santa Maria.
The Church of Jesus Christ of Latter-day Saints welfare department donated the semitruck-and-trailer load of food that included beef stew, tuna, chili and dried goods.
In preparation for the food collection and sorting on Mormon Helping Hands Day, members of the church's community service program have already spent weeks making physical improvements to the Foodbank facility on Foster Road and two churches in Santa Maria that provide food distribution programs .
They also have made improvements to the 5Cities Homeless Coalition facilities in South San Luis Obispo County, Neubert said.
"Summer tends to be a time of lower food and financial contributions," said Judith Monte, development manager for the Santa Barbara County Foodbank.
"The assistance from Mormon Helping Hands, and other community members who are joining this special endeavor, will make a huge difference for those needing food," she said.
Monte noted the Foodbank currently provides some level of assistance to one out of every four people in Santa Barbara County.
In recent years, volunteers with Mormon Helping Hands have performed clean-up and improvement projects at Las Flores Ranch Park near Orcutt, Nipomo Community Park and Lopez Lake east of Arroyo Grande.
For more information about Mormon Helping Hands, contact Neubert at 354-0861.
For more information about Foodbank of Santa Barbara County, contact Monte at 937-3422, ext. 106.
For more information about the 5Cities Homeless Coalition and its services, contact Janna Nichols at 574-1638 or visit http://5chc.org.
Get local news delivered to your inbox!
Subscribe to our Daily Headlines newsletter.