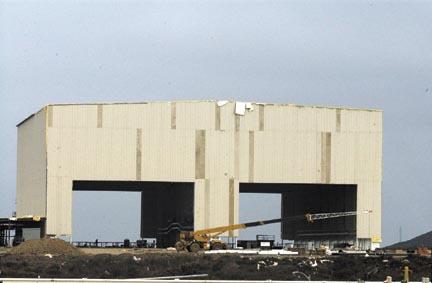 It/s been home to a pair of ill-fated manned space programs, both canceled before any blastoffs from Vandenberg Air Force Base.
It was eyed as the home for a huge unmanned rocket.
It has housed a small rocket program that racked up a shaky record before economics doomed its future.
But this weekend, Vandenberg/s notorious Space Launch Complex-6 hopes to stand in a brighter light as the West Coast/s first Delta 4 rocket 7 a space booster built by Boeing 7 ushers in a new era.
Backers hope it will mark the end of the rocky road that spans parts of five decades at SLC-6.
"I just hope Slick Six finally gets its due," said Don Smith, a Vandenberg Village resident and long-time space advocate who worked on two earlier programs linked to the site.
Space Launch Complex-6 is known as much for what didn/t launch as for what did.
In the mid-1960s, President Lyndon Johnson approved development of the Manned Orbiting Laboratory (MOL) program. A site on today/s South Base was picked as the home for the military space station.
On March 12, 1966, construction began for Space Launch Complex-6 on the former Sudden Ranch property.
"This was one of the most complex construction projects ever attempted by the Air Force at Vandenberg," Steven R. Strom wrote in a summer 2004 article for Aerospace Corp./s publication "Crosslink."
While MOL made slow progress on technical challenges, it continued to wrestle with funding issues amid a Defense Department also paying for the Vietnam War. Officials began debating MOL/s value.
"Funny thing about MOL, it never seems to get any nearer to fruition despite the passage of time …. For every year of its existence, MOL has slipped about a year, like a man walking on a treadmill, because of re-study, re-programming, and budget cuts," The Journal of Armed Forces reported on June 29, 1968.
By the time President Richard M. Nixon took office in 1969, MOL was reportedly close to a maiden launch. But to the surprise of the MOL team, Nixon axed the program mid-year.
MOL would become an asterisk of history, though Strom, Aerospace Corp./s corporate archivist, noted the vital role that had been envisioned for the program.
"Had it not been terminated, MOL would have been the first U.S. orbital space station, and its crews would have been the first to reach space from the Western Test Range (a feat still unaccomplished)," he wrote.
Essentially overnight, Space Launch Complex-6 went from a bustling work site to a ghost town.
Just months later, Nixon launched an effort for a less costly and less complicated road to space. The solution: a reusable shuttle.
An appointed board identified Cape Canaveral, Fla., and Vandenberg Air Force Base as launch sites.
Meanwhile, SLC-6 sat in mothball status, the military term for low-level caretaking. But reincarnation would come after a study revealed that using the nearly completed pad for the new shuttle could save ,100 million.
"That was a driving factor, a selling point," Jeffrey Geiger, a base historian, said in 1995.
MOL/s unused structures served as a foundation. New equipment was added along with a Shuttle Assembly Building meant to provide shelter from the South Base/s powerful winds.
"Under construction since 1979 and now nearly four-fifths complete," a Time magazine article said in March 1985, "(SLC-6) is a prodigious arrangement of lofty mobile towers and gaping tunnels, ragged bunkers and squat tanks, covering 150 acres."
To get ready for the pad/s first shuttle mission, Enterprise, an inert version of the orbiter, was positioned on the site. The Air Force dedicated the facility Oct. 15, 1985, and astronauts and others believed the first launch was near.
But on Jan. 28, 1986, a tragedy a continent away signaled the beginning of the program/s end.
The explosion of the space shuttle Challenger changed everything.
"It was not until later that we understood the implication that would have on our flight," Edward "Pete" Aldridge said 10 years ago. At the time of the program/s cancellation, he served as Secretary of the Air Force and was scheduled to fly on the first Vandenberg shuttle.
The program/s end wouldn/t come for months, and when it did, it occurred in stages seen at SLC-6, which was first put into operational caretaker status, then minimum caretaker status, then mothball.
Vandenberg/s historians believe that the Air Force learned an important lesson from MOL/s overnight termination 7 after which the Central Coast/s economy took a nosedive. Some people employed in the MOL program lost their homes as they were forced to abandon their debts and start over elsewhere, so the shuttle program was abandoned in phases.
By 1988, the man-who-would-be astronaut from Vandenberg instead issued the command to mothball SLC-6, followed 18 months later by the cancellation.
"That was kind of an emotional experience … The idea we put ,3 billion into the facility and it/s not being used is just devastating," Aldridge said.
In the 1990s, the Air Force briefly eyed Vandenberg for a Titan 4/Centaur launch pad. Initially they planned to build a new SLC-7, but Congress ordered a cheaper plan 7 reusing SLC-6.
But the military quickly abandoned this plan, citing budgetary constraints and a changing world order 7 the fall of communism in Eastern Europe.
SLC-6 remained an empty shell, populated by herds of deer where workers once parked their cars.
In the 1990s, enthusiasts saw visions of commercial satellites by the hundreds needing rides to orbit, to support a new generation of space-based communications satellites. One firm planned 77 spacecraft to create a satellite phone system, another had a similar plan. A third entrepreneur team 7 Microsoft/s Bill Gates and cellular phone pioneer Craig McCaw 7 envisioned up to 900 satellites for an "Internet-in-the-sky."
Lockheed Missiles and Space Company in Sunnyvale entered the fray, developing a small launcher hoping to fill the commercial niche.
The company picked SLC-6, moving onto the site in 1993 and moving out the critters and rust that had crept onto the facility. The 27-story, 7,430-ton mobile service tower, which is rolled back before liftoff, had rusted to its rails.
A huge launch pad overshadowed the new seven-story rocket 7 named initially Lockheed Launch Vehicle (LLV). A merger meant a new moniker 7 Lockheed Martin Launch Vehicle, or LMLV, before the firm settled on Athena.
Athena/s rocky record 7 only one complete mission success after both booster and spacecraft issues led to failures 7 revived reports of a Chumash curse on the site and rumors of plans to hold an on-site ceremony to end it.
As Athena arrived, the small-satellite market ran into economic reality. Companies that pioneered space-based phone systems wound up in bankruptcy.
But this tiny rocket went where no other had gone before 7 flying from Space Launch Complex-6, after four decades, three programs, and billions of dollars.
A changing world order and new push to simplify launching rockets spawned the Air Force/s Evolved Expendable Launch Vehicle program.
Another new mission would mean another new use for SLC-6 as Boeing picked the launch pad for its EELV entrant and moved onto the pad in 2000.
Boeing dredged the harbor on South Base 7 removing some 16,000 cubic yards of material 7 to accommodate a ship to carry its rockets to the base.
It also increased the height of the mobile service tower that shelters the waiting rocket, adding what officials call the "penthouse," to accommodate bigger Delta rockets.
A huge new building on site serves as the rocket hangar where last-minute processing occurs.
But among the modifications, one well-known aspect of SLC-6 remains 7 a huge American flag.
During a spring ceremony this year, Boeing and defense officials heralded the pad/s readiness for launch.
In the audience, new workers mingled with others who had seen the pad/s evolution over the decades.
In SLC-6/s many incarnations, thousands of Central Coast construction workers, sometimes several generations of the same family, have put their touch on the legendary pad.
/I/m glad they/re making use of this tremendous facility. It/s been a long time," Smith said this week. And, he added, he plans to stake out a place to view the long-awaited launch from the legendary pad.
Janene Scully can be reached at 739-2214 or janscully@
Get local news delivered to your inbox!
Subscribe to our Daily Headlines newsletter.