When Keri Schrader took her 6-year-old son Mason to the Lompoc Skate Park this past weekend, she figured it would provide a nice respite and an outlet for Mason to burn off some energy.
Instead, she was confronted with some questions she wasn't expecting.
"We got here and there was just all this horrible stuff, drug stuff painted everywhere," Schrader said Tuesday, near one of the park's cement decks. "He was asking me, 'Mom, what does that mean?' It just wasn't good, so I wanted to do something."
It turned out she wasn't the only one who felt that way.
Schrader ended up reaching out to the Lompoc Valley Festival Foundation, a nonprofit that supports various community causes, and together they were able to connect with other residents and organizations to jump-start a volunteer cleanup effort at the park.
About 20 volunteers, who also received support from the Lompoc Parks Division, began repainting much of the park in bright new colors Tuesday evening, with an eye on completing the renovation by Wednesday evening.
"There are so many kids in this town that use this park, so we just wanted to clean it up so kids can come back and not have to look at that," Schrader said, referring to the graffiti that included a large illustration of a syringe with the words "Slam Dope" written above it.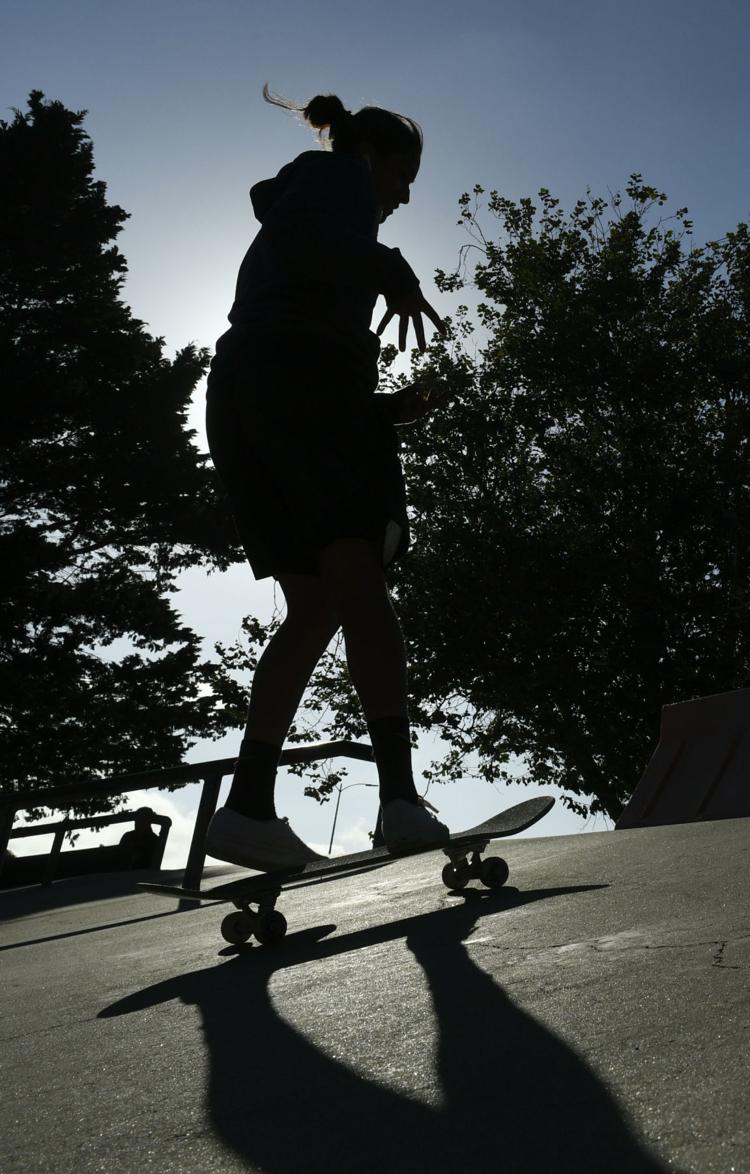 Several different entities played a part in making the skate park cleanup happen.
Tina Mercer, president of the Lompoc Valley Flower Festival Foundation, got approvals for the cleanup from the city's Parks Division, which sent employees to pressure-wash the graffiti before the volunteers began painting. The volunteers also received support from companies, including Sherwin-Williams, which donated paint; Fastenal, which donated supplies; and Wild West Pizza, which provided enough food to keep everyone going.
"There's no Flower Festival this year, so we have a lot of energy," Mercer said, laughing.
While it is true that the 2020 Lompoc Flower Festival was canceled this year due to the COVID-19 pandemic, it was not completely excluded from the skate park cleanup.
Dallas Bedrosian, a member of the 2020 Flower Festival Queen court, was among those getting dirty while painting, even as she wore her sashes and a tiara.
Bedrosian said she was inspired to volunteer after seeing the effects the skate park had on her brothers, whom she estimated spent "99.9%" of their lives at the park, at one point.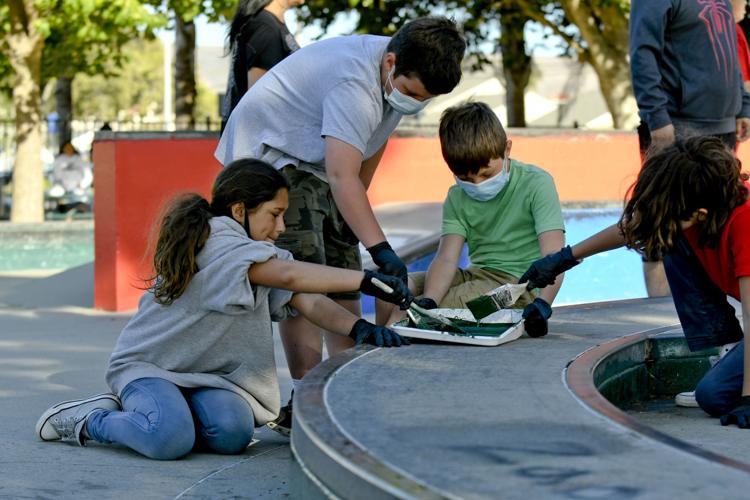 "I can truly say this park has saved my brothers' lives, 110%," she said. "They've been in numerous situations with their mental health, and they came here and they came home that night. That's what made me more driven to come out here and help."
Ernesto "Neto" Garcia, 34, also credits the park, which opened in 2000, for having a major positive impact on his life.
Garcia said that he and his friends, while growing up, would often skate in the streets. They were excited, he said, when they learned that the city was planning to build a skate park, and he said they even got ran out of the park several times for trying to skate while it was still under construction.
He said when he heard about the recent vandalism at the park, it reminded him of past park closures and the anger he would feel, and it "sparked something" within him to volunteer.
"This is the only thing we've got," he said, as small bits of paint splatter melded with beads of sweat on his face. "They shut down a lot of the after-school programs and they don't have much sports going on anymore, so this is the only spot where parents can bring their kids and just let them have fun and take their energy out."
Garcia frequently referred to the park as "home" for many of the people who use it, though that descriptor was especially true for him. He said he spent nights sleeping at the park while experiencing homelessness.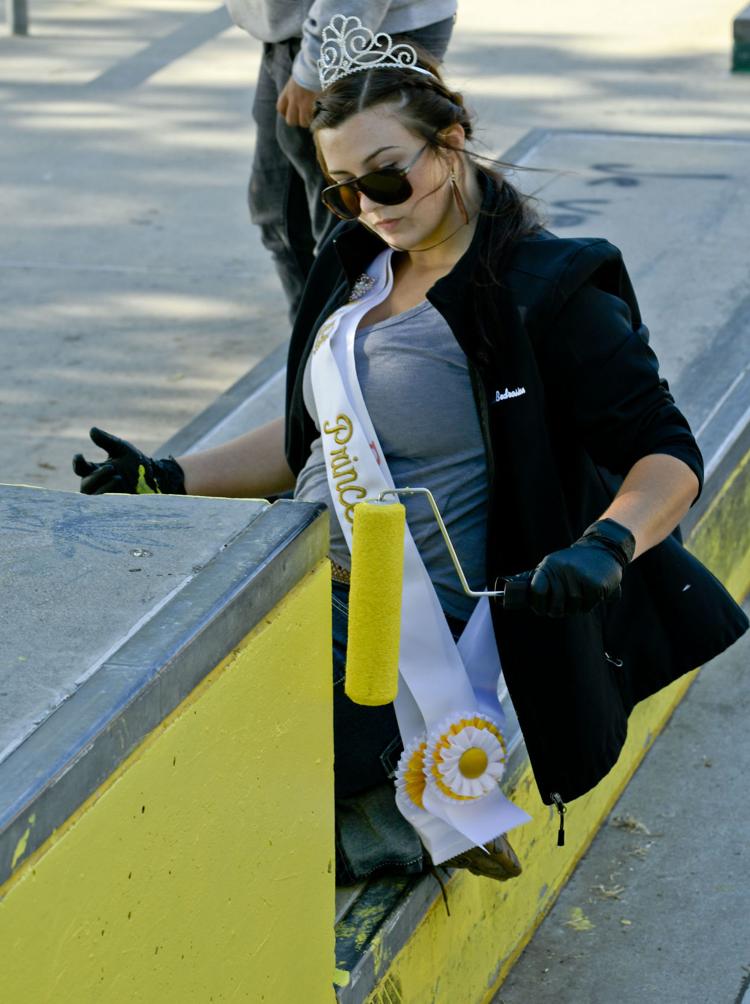 "This is where we grew up, where we learned how to respect people, how to be polite, basically how to communicate with people," he said. "A lot of kids have been taken under wings here. I've got a bunch of little homies, they're all in their 20s now, but when they were young nobody tried to teach them. We did. We taught them. Whether they were bikers, roller-bladers, even scooters, we did whatever we could to keep this place alive and thriving, because this is our home. This is the only place we've got."
Lompoc resident James Hernandez was also a big part of the effort.
Hernandez used the 1,000-member "Let's help – Lompoc" Facebook group, which he created last year, to solicit volunteers.
Hernandez said he was inspired to launch the group after seeing an argument on Facebook that was started when someone complained about a car parked in front of their home. Rather than argue, Hernandez reached out and offered to tow the car for its owner, and his new group was born.
The "Let's Help – Lompoc" group — which describes itself with: "It's often said it takes a village; well, we are that village" — has also helped with various other causes, including having a barber give a haircut to a veteran, at the veteran's family's request, who was on hospice in Vandenberg Village.
Hernandez said he wasn't particularly shocked to see so many people helping to clean the skate park.
"This is kind of how I've always envisioned Lompoc being," he said. "When something's needed, there's people that will come out and help. … So it's surprising, but at the same time it's not. This is Lompoc. Lompoc's always done really well rallying together for each other."
That sentiment was shared by Dirk Ishiwata, the city's parks manager.
Ishiwata, who designed the city's volunteer program four years ago, said he was dismayed by the initial vandalism.
Leaders at Elevate Lompoc, a cannabis dispensary at 118 South H St., marked their store's one-year anniversary by working out an agreement last month that will allow the dispensary to use the small lot immediately to its south for a wide range of events and promotions. When not in use by the dispensary, the new-look pocket park will be open to the public as a community garden, or simply as a green space for relaxation.
Although the skate park, which is 10,000 square feet, has posted hours from 7 a.m. to dusk, he noted that the entrance gate is not typically closed or locked. While that makes the park a bit more accessible to vandals, he said he felt it was the safest way to operate, "because the way the fence is designed, kids can hop the fence anyway."
"My personal belief is I would rather leave the gate unlocked than have somebody hurt themselves," he said. "I have witnessed kids jumping the fence, and once you're standing on top of the fence, you're at least 6 and a half or 7 feet off the ground. If you fall or if your pant gets caught on one of the prongs, you can hurt yourself. Unless we come up with a different means of securing the area, it really doesn't make sense (to lock the gate). If people want to get in, they can get in."
Ishiwata said the park is slated to remain open, even with the newest round of pandemic-caused closures, unless Santa Barbara County directs that it be closed, or if people don't follow the suggested guidelines to wear face coverings, socially distance, and limit groups to six people or fewer.
Ishiwata said he was fully supportive of the volunteer-led cleanup effort.
"In Lompoc, whenever there's an issue or a problem, we seem to be one of the few communities where everyone kind of comes together and makes things happen, so I welcome that with open arms," he said. "The more volunteers, the better."
Schrader said she was proud to be a part of the effort and hoped it would inspire others.
"The city's busy with all kinds of other stuff, and a lot of people aren't working right now," she said, describing the conditions for her grassroots activism. "We just want to get out here and make a small difference. Maybe if people see us, they'll take care of it better."
Willis Jacobson covers the city of Lompoc. Follow him on Twitter @WJacobsonLR.
Concerned about COVID-19?
Sign up now to get the most recent coronavirus headlines and other important local and national news sent to your email inbox daily.