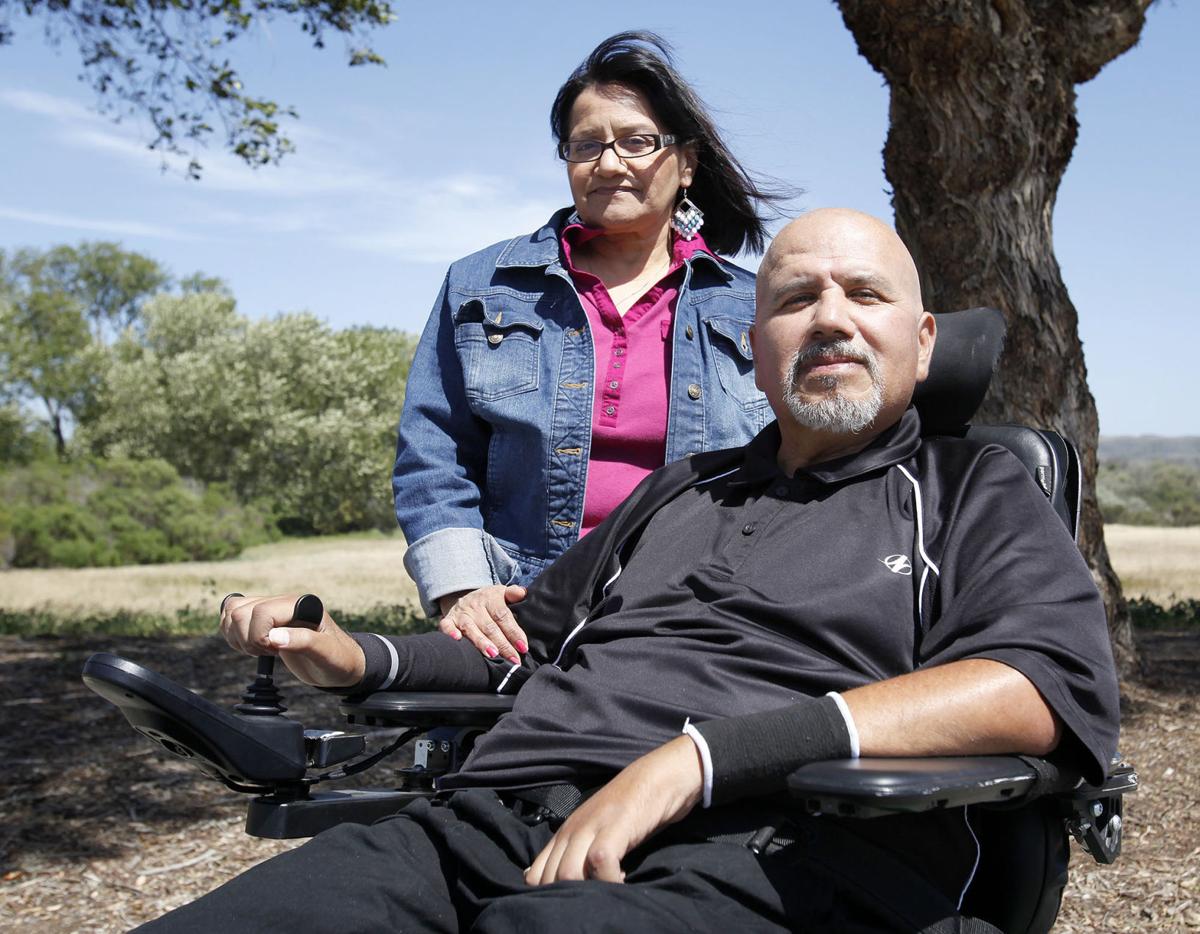 Conrad Gonzales Sr., a longtime pastor and youth advocate in the Lompoc Valley who was the first recipient of the Valley of the Flowers Peace Prize, has died after an extended battle with Lou Gehrig's disease.
Gonzales died surrounded by family on Dec. 27 at Cottage Hospital in Santa Barbara, according to his daughter Missy Morales. He was 58 years old. A public service will be held on Sunday, Jan. 6, for Gonzales, who is survived by his wife Rachel, daughter Morales, sons David and Conrad Jr., and nine grandchildren.
Gonzales, who earned a nickname as Lompoc's "Kid Whisperer," was known by many throughout the Lompoc Valley for his work mentoring troubled and at-risk youth and teens, both at The Cornerstone Church he founded in Lompoc in the late 1990s and at the Boys and Girls Club of Lompoc, where he worked for 13 years overseeing teen programs.
It was because of his efforts to positively impact local youth that, in 2011, Gonzales was awarded the inaugural Valley of the Flowers Peace Prize, which is given out by the Valley of the Flowers United Church of Christ.
Among other honors: In 2014, he received a Distinguished Service Award from the Kiwanis Club of Lompoc in recognition of his community service, and in 2017 the Boys and Girls Club of Lompoc renamed its teen center "The Conrad Gonzales Teen Center" in honor of his leadership and outreach.
"His legacy was just to help out families and youth and teens," Morales said Thursday. "All those kids loved him and he ran all those successful programs because of just the way he was with them; he knew how to interact with them."
Morales said her family was particularly proud of the renaming of the teen center at the Boys and Girls Club because "it let us know that [his work] wasn't for nothing."
"There are a lot of club kids that still contact us to this day and they were very upset to hear about his passing," she said.
It didn't take long for that sense of sorrow to spread throughout the Lompoc community and beyond, Morales said, noting that she posted a message about her father's death on a social media page that had been set up to support him as he battled his illness.
Soon after, messages started flooding in, with many people offering condolences to the grieving family and also sharing stories about how Gonzales had impacted their own lives.
"There were stories from people I don't even know," Morales said. "It was kinda like, 'Wow, I didn't know he knew all those people.'"
The grieving also spread to Gonzales's extended family at the Boys and Girls Club of Lompoc.
De'Vika Stalling, the club's current unit director, said she didn't have the privilege to work alongside Gonzales, but noted that "I share his faith in Christ and his passion to provide a safe haven for the youth in our community, while instilling in them the desire to reach beyond their circumstances to reach their full potential."
"It is my goal to ensure Conrad's legacy of dedicated leadership in the advancement of teen outreach will forever be the driving force of The Lompoc Boys & Girls Club's Conrad Gonzales Teen Center," she said.
A native of Santa Paula, Gonzales moved with his wife Rachel to Santa Barbara in the late 1970s, and in 1984 they made their way to Lompoc, where they remained.
After three decades of ministerial work and outreach efforts, Gonzales began to experience trouble walking in 2013. After a battery of tests, he was ultimately diagnosed with Lou Gehrig's disease, which is also known as amyotrophic lateral sclerosis, or ALS.
The disease attacks the nerve cells in the brain and spinal cord that control voluntary muscle movement. The condition progressed rapidly and left Gonzales wheelchair-bound with speech problems and the inability to move his arms and legs.
Following the diagnosis, Morales said her entire family rallied behind her father.
That included around-the-clock care, a public fundraising campaign to purchase a van that would accommodate Gonazales' wheelchair, and efforts to raise awareness of ALS, including Conrad Jr. putting his father's story on bottles of wine that he produced.
"We were there from day one of his diagnosis to the very end," Morales said. "We never left his side; we took care of him as a family 24 hours a day, seven days a week, so my dad was never alone. For somebody with that diagnosis, you kinda need that — that 100-percent family support, or otherwise it's not going to be an easy road."
The family will host a Celebration of Life service for Gonzales at 2 p.m. Sunday, Jan. 6, at the Lompoc Hilton Garden Inn, 1201 North H St.
"I would love to see everybody there," Morales said.
Services will continue Monday in Gonzales' birth city of Santa Paula.
Morales said her father's caring nature is what she'll remember most about him.
"If you knew my dad, you were just blessed to know him," she said. "He was kind, generous and his smile and his laugh were just contagious; everybody wanted to be around him. He was always happy to offer counseling and guidance — like no matter what, he'd just leave and go and be happy to do whatever he can.
"He was just very kind, overly kind I would say," she added. "But that was just my dad: He was a giver, he was not a taker. That's why we did everything for him — he deserved it all. He was a great person and our family is going to miss him every day."
Willis Jacobson covers the city of Lompoc for Lee Central Coast Newspapers. Follow him on Twitter @WJacobsonLR.
Get local news delivered to your inbox!
Subscribe to our Daily Headlines newsletter.