Flames and heavy smoke clouded the northeastern horizon near Lompoc on Friday afternoon as at least two separate brush fires burned more than 600 acres and threatened about 100 structures in the Mission Hills and La Purisima areas.
Evacuations were ordered for the affected areas, including the neighborhoods near Rucker Road and La Purisima Mission, and road closures were quickly put in place.
As of 10 p.m. Friday night, no injuries had been reported as a result of the fires, and while reports of a car dragging a chain had been put out via emergency radio traffic earlier in the day, the cause of the nearly simultaneous blazes had not been confirmed.
The fires burning in the Mission Hills and Burton Mesa area, called the Rucker incident, had grown to 600 acres and were at 10-percent containment Friday night, according to County Fire Capt. Mike Eliason. 
No structures had been destroyed Friday, Eliason said. 
Mandatory evacuation orders, issued for areas including Cebada Canyon and Mission Hills, all were lifted Friday night. 
Soon after sending out evacuation notices to approximately 890 phone lines, the Red Cross opened its first shelter to evacuees at Lompoc High School, 515 W. College Ave. 
The city of Lompoc also announced around 5:30 p.m. that the Lompoc Airport was closed to general traffic so that it could be used to support firefighting operations.
Road closures were issued for Harris Grade from Highway 135 to Burton Mesa Road, Purisima Road from Highway 246 to Highway 1, and Mission Gate from Purisima to Highway 246, according to Santa Barbara County officials.  
The county also issued an Air Quality Watch through the weekend due to the smoke caused by the Rucker fire, as smoke drifted into the Santa Ynez Valley and regions southeast.
The fires began to lick at the western edge of Mission Hills just after 2 p.m., threatening homes and other structures in the area. Many residents in the neighborhood scrambled to pack up possessions and evacuate as soon as possible, while others watered down their lawns and homes.
Heavy ash continued to fall throughout the area into the evening, as crews battled the fires, and long lines of cars made their way either into Lompoc or onto Highway 1.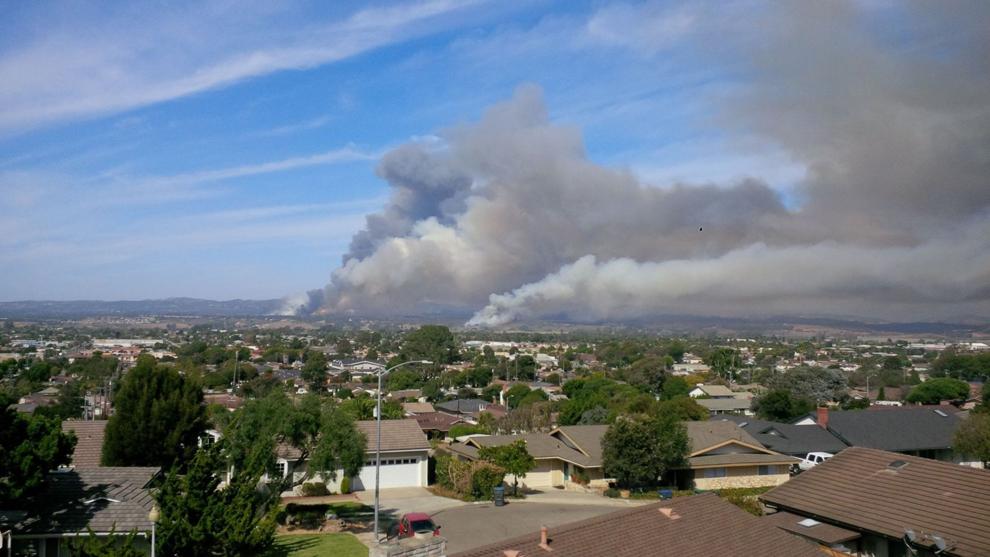 The Lompoc Police Department sent an alert around 4:50 p.m. advising motorists to avoid Santa Lucia Canyon Road, and for people traveling to Santa Maria to take Highway 246 east to Buellton and then to Highway 101.
Officials also shut down the right lane on northbound Highway 1 at Harris Grade.
County Fire crews, along with Lompoc City Fire, were initially dispatched to the 2000 block of Purisima Road to a report of what could be six brush fires possibly sparked by a vehicle dragging a chain, according to California Highway Patrol traffic logs.
A suspect vehicle was reportedly spotted in the area, described as a black and white police car without emblems, that was seen traveling to each fire at a high rate of speed, the CHP said.
Vegetation #fire in Mission Hills area of #Lompoc causing massive smoke plumes/ash... pic.twitter.com/4uVjTy7fxr

— Willis Jacobson (@WJacobsonLR) September 29, 2017
There were indications that the fires could have been arson, according to officials.
Lompoc Police Chief Pat Walsh posted a message on social media, asking if anyone had information about "who would do such a cowardly thing" and encouraging people with information to call the Lompoc Police Department at 875-8115.
At the height of the firefighting effort Friday afternoon, there were 270 firefighters and 11 aircraft assigned to the fires, according to Lompoc city officials. 
Smoke from the fires originally was spotted on Purisima Road, but within minutes, fire was also seen on Harris Grade Road at Rucker Road, according to emergency dispatch reports. Within an hour of the call, the fire moved into Rucker Road, and all fire personnel were advised to immediately evacuate the area. 
Multiple aircraft, strike teams and bulldozers from different agencies, including Santa Maria Fire and Cal Fire San Luis Obispo, were requested to help in battling the blazes.
Lompoc High now helping provide shelter for the evacuees of the #RuckerFire https://t.co/Oll6EctLGc

— Lorenzo J Reyna (@LorenzoJReynaSM) September 29, 2017
Y'all heard the chief. #RUCKERFIRE #Lompoc https://t.co/VDhArn2jkt

— Gina Kim (@gina_k210) September 29, 2017
More from #fire in Mission Hills area of #Lompoc... pic.twitter.com/6DbEB25Zxk

— Willis Jacobson (@WJacobsonLR) September 29, 2017
Flames moving closer to homes in Mission Hills... pic.twitter.com/DRq4jfvyJT

— Willis Jacobson (@WJacobsonLR) September 29, 2017