The homeless population in Santa Barbara County fell slightly in 2019 compared to 2017, but more were unsheltered than sheltered, according to a summary of results from the Point in Time count conducted Jan. 24.
Those were just two of the statistical comparisons in the preliminary report from the Point in Time count that also found 118 of the county's homeless are veterans, 93 are unaccompanied youths and young adults and 60 percent have lived in the county more than 10 years or most of their lives.
The Point in Time count was undertaken by 449 community and agency volunteers, assisted by 32 homeless guides, who fanned out across 89 county census tracts.
Santa Maria/Santa Barbara County Continuum of Care conducted the count mandated by the U.S. Department of Housing and Urban Development and serves as a snapshot of homelessness in the county on a single night.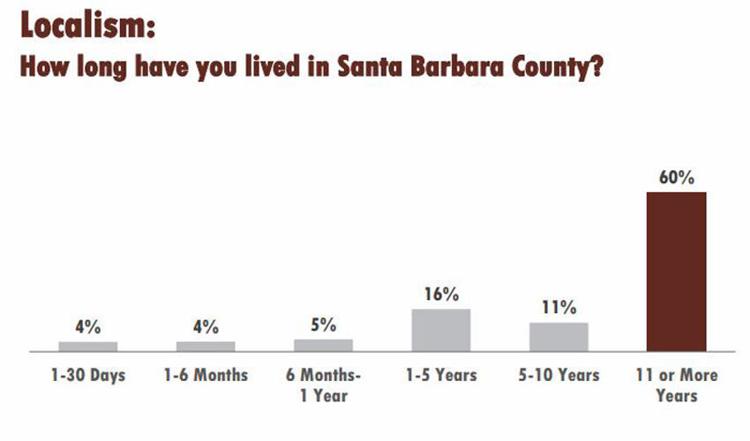 The 2019 count will serve as a baseline for future data comparisons and may shape how future homeless assistance programs are structured.
A complete report is scheduled to be released later in the year, but the preliminary results showed a number of changes from the last estimated count in 2017.
This year, a total of 1,803 homeless individuals were counted compared to the 2017 estimate of 1,860, which represents a drop of 3 percent, said Kimberlee Albers, homeless assistance program manager for the County Housing and Community Development Division.
However, the report notes that in 2017 numbers were not reported from five of the smaller communities, although the total number of homeless counted in those areas this year was small — a total of 25, or a little more than 1 percent of the 2017 estimate.
"There was a notable shift between sheltered and unsheltered persons between 2017 and 2019," Albers noted.
In 2017, the number of homeless who were sheltered totaled 967 compared to 893 who were unsheltered.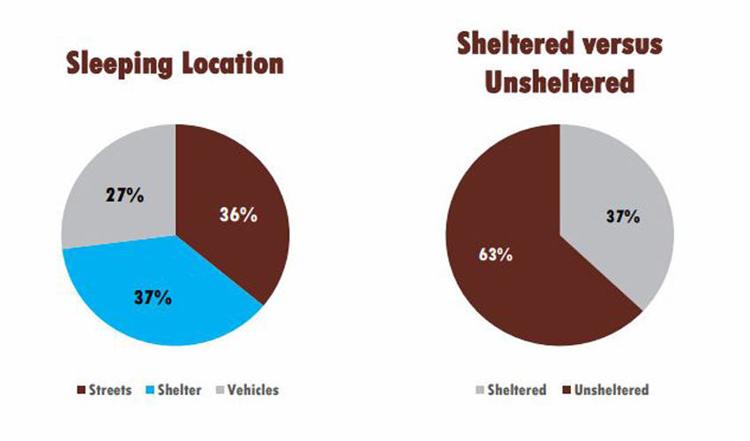 But in the 2019 count, only 670 were sheltered while 1,133 were not. That represented an increase in unsheltered homeless of 27 percent, Albers said.
The summary report didn't indicate why such a greater percentage of homeless are unsheltered when the overall homeless population has declined, but the reasons could be many and may require considerable analysis to determine.
Of those who were unsheltered, 42 percent, or 479 individuals, were living in their cars.
The places where homeless individuals reported sleeping were nearly equally split, with 37 percent spending their nights in shelters, 36 percent sleeping on the streets and 27 percent staying in their cars.
Not all homeless counted Jan. 24 were individuals. Volunteers found 115 families — consisting of a total of 368 individuals, 226 of them children under the age of 18 — were experiencing homelessness in Santa Barbara County.
Those families were literally homeless on the night of the count and did not include families who were doubled up, paying for a motel room or at risk of homelessness, Albers noted.
In addition, 423 individuals were experiencing chronic homelessness, based on the survey conducted by the volunteers.
That represented an increase of 87 percent from the 2017 count, Albers said.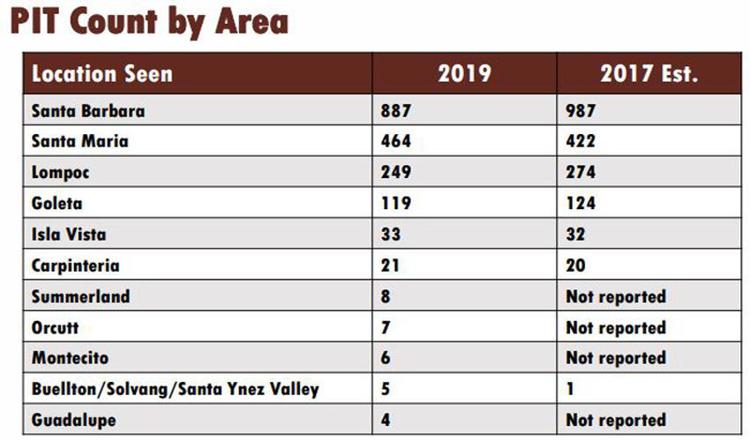 As in 2017, the greatest number of homeless were found in Santa Barbara, where 887 were counted, followed by Santa Maria with 464, Lompoc with 249 and Goleta with 119.
In Isla Vista, 33 homeless were counted, while in Carpinteria the count was 21.
Other communities were in single digits, with eight in Summerland, seven in Orcutt, six in Montecito, five in the Santa Ynez Valley and four in Guadalupe.
No homeless individuals were found living in Cuyama.
In 2017, numbers were not reported from any of those areas except Santa Ynez Valley, where just one homeless person was counted.
Survey results indicated Santa Barbara County's homeless population is localized.
The survey included questions regarding last permanent residence and how long a person had lived in the county.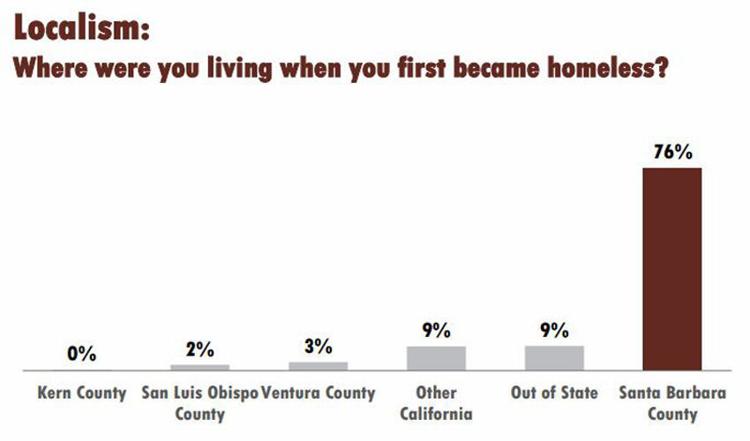 "The results supported data collected in the Homeless Management Information System that the population experiencing homelessness is largely part of the community and not those who have relocated from other regions," the spokeswoman said.
The vast majority — 76 percent — were living in Santa Barbara County when they became homeless, and 77 percent reported their most recent permanent address was in this county.
Most of them — 60 percent — had lived in Santa Barbara County 11 or more years, while 11 percent had lived here five to 10 years and 16 percent had lived in the county for one to five years.
Get local news delivered to your inbox!
Subscribe to our Daily Headlines newsletter.