As COVID-19 vaccination efforts continue in Santa Barbara County, public health officials are opening new distribution sites for those in high-risk sectors and seeking more people to administer vaccines. 
The Public Health Department is now operating three point-of-dispensing sites in Santa Maria, Lompoc and Santa Barbara for frontline workers in phase 1A, which includes staff in acute care, psychiatric, and correctional facility hospitals, staff and residents in long-term care settings, paramedics, lab and clinic workers, and dentists. 
Around 2,800 of the 16,775 total doses received by the county are being distributed at these sites by Public Health, with the other 13,975 doses allocated to hospitals, pharmacies and clinics, according to Public Health Director Van Do-Reynoso. 
Wednesday marked the first day of operation for the Santa Maria site at Hancock College, staffed by a mix of community volunteers, public health staff, state-contracted nurses, college staff and nursing students, according to county Disaster Preparedness Manager Jan Koegler. 
"Getting a large vaccination site up and staffed with trained personnel is a tremendous lift," Koegler said. "It's a real combination of folks."
Since vaccines are still unavailable to the general public, vaccination sites have implemented a verification process to ensure that only qualifying personnel with appointments are receiving doses, Koegler said. 
Ashley Tran, a dental hygienist at Smile Santa Maria Dental, registered for an appointment through her workplace, and was permitted to receive her vaccine after site staff reviewed her identification and proof of employment.
"Thankfully, it was pretty easy," said Tran, whose close contact with dental patients puts her in a high-risk group. 
During Phase 1A, sites can be operated by 50 to 60 workers, with an estimated 650 doses administered during the first day at the Hancock site. However, as doses arrive and demand grows, many more people are needed to administer the vaccines, according to Koegler.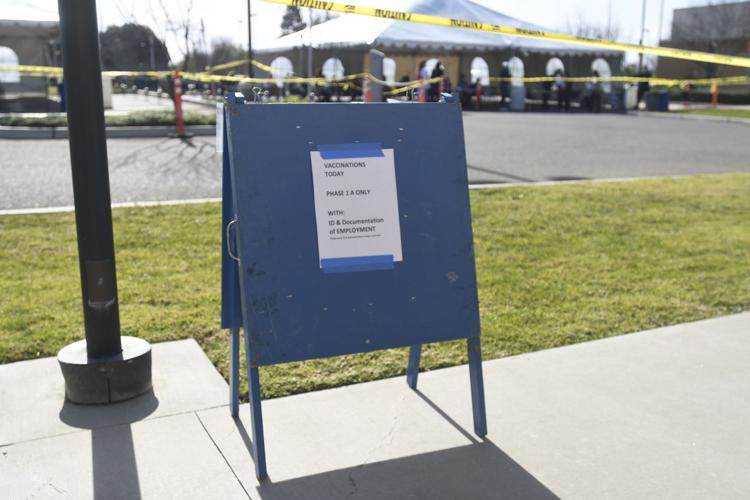 By next week, she said, the county is hoping to expand some of the sites from one to two days a week, and administer up to 1,000 doses a day.
"We are in special need of volunteers in Santa Maria," she said. "We encourage any medical professional or logistics-type person, as well as people with bilingual skills … to volunteer and serve the community."
While the county is seeking volunteers through the county Medical Reserve Corps, interested individuals also can register via the state Disaster Healthcare Volunteers program​, Koegler said. 
Dr. Emile Waked, a dentist at Smiles on Clark in Santa Maria, said he has volunteered to administer the vaccine through the Medical Reserve Corps, and is eager to help. 
"I joined when they asked for help at the beginning of the pandemic," Waked said. "As far as dentists giving the vaccine, it's a good idea. I signed up and I hope I get some action."
Rollout is also advancing at county hospitals and congregate living facilities, with doses being administered on-site rather than at community sites. 
Since Marian Regional Medical Center received its first round of vaccines in December, around 1,680 health care workers have received both needed doses, with around 700 others awaiting a second dose, hospital spokeswoman Sara San Juan said. 
At Merrill Gardens, a senior living and assisted living community in Santa Maria, administrator Audie Sherberg said residents and staff were over the moon about receiving vaccines on Tuesday through a pharmacy partnership with CVS. 
With around 230 at-risk residents and 130 staff in close contact at the facility, the potential for COVID-19 spread is high. 
"We're excited, we really are. There's no question this is gonna be critical to eradicating this virus," Sherberg said. 
Vaccines are currently being administered to tiers 1, 2 and 3 of Phase 1A in Santa Barbara County. Phase 1B, which includes education, child care emergency services, food, grocery and agricultural employees, along with those over 75 years of age, is expected to begin as soon as early February and last through late March. 
However, changing guidelines on both the federal and state level could shift the layout of this schedule.
County Public Health officials said they are awaiting further guidance after Gov. Gavin Newsom announced Wednesday that California will immediately begin vaccinating those over 65 years of age. 
Concerned about COVID-19?
Sign up now to get the most recent coronavirus headlines and other important local and national news sent to your email inbox daily.