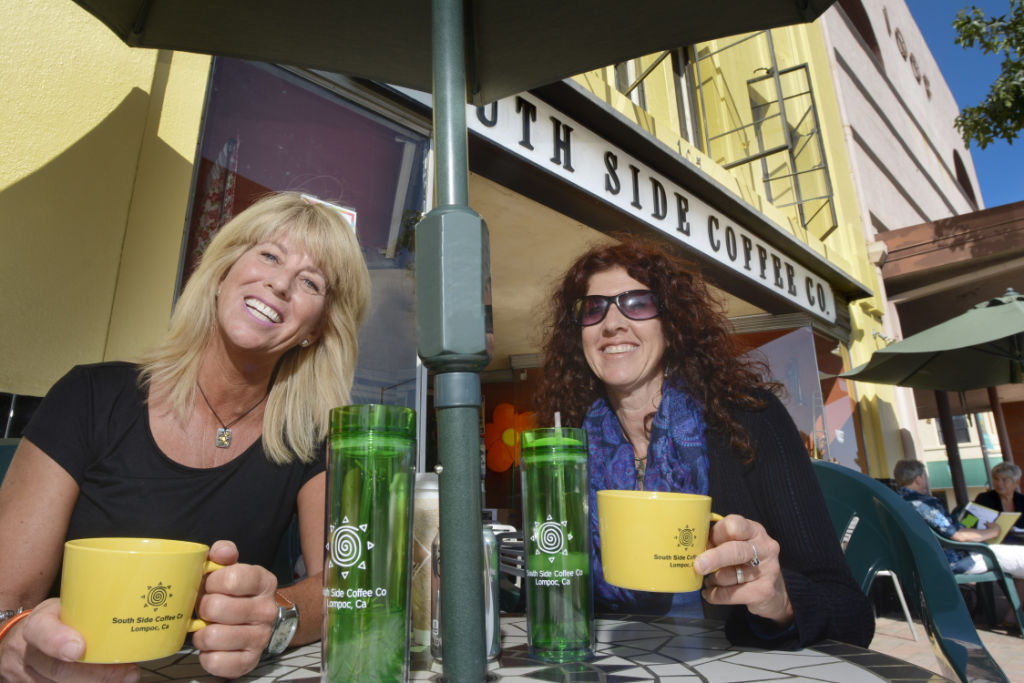 Over the past 20 years, residents and visitors alike have consistently passed through the doors of Lompoc's South Side Coffee Company to grab a cup, snack on a sandwich or enjoy some music or conversation.
This weekend, the diner's management is hoping that many of those visitors return.
Beginning with a ribbon-cutting today, South Side Coffee, located at 105 South H St., will celebrate its 20th anniversary with three days of special events and appearances.
"It's huge how supportive the community has been for 20 years," said Stacy Lowthorp, a co-owner of the business. "We hope that everyone comes by and lets us know that they're still here. And primarily we want them to come by so we can thank them."
Lowthorp had been an employee at South Side, off and on, for 17 years. She recently gained a stake in the shop and now co-owns it with Julie Biolley.
As she worked Thursday to prepare the shop for this weekend's events, Lowthorp said the business couldn't have made it without the local community.
"I think it's a big deal for a coffee shop to make it this long," she said. "I think it's because it's been oriented around being the community's coffee shop. For a lot of people, they're not just customers anymore, they're family."
The series of events will kick off with a ribbon cutting today at 4:30 p.m., which will be followed by a performance from the Southside Bluegrass jam band at 7 p.m. On Saturday, musicians Tony Botello and Jerry Stickel will perform. Sunday will feature the local band St. Anne's Place.
Throughout the weekend, the business will also host drawings for prizes and giveaways, and handmade jewelry from local artist George Thompson will be on sale Saturday morning. On Sunday, former employees are asked to stop by and share their memories.
Lowthorp is excited to see all the former employees return. Many of them, she noted, worked at South Side to help pay for school, so a lot have moved away from the area. Still, she said she has heard from several who are excited to return to their old stomping — and coffee — grounds.
More than anything, though, it's about the customers.
"We're hoping to see all the new faces we've become friends with and all the longtime friends we've been with forever," Lowthorp said. "For so many people, this place is more than just coffee."
Get local news delivered to your inbox!
Subscribe to our Daily Headlines newsletter.