A pair of ground-based interceptors were launched from Vandenberg Air Force Base on Monday morning as part of a "successful" test of the U.S. missile defense system, according to the Missile Defense Agency.
The interceptors were launched at 10:32 a.m. from North Vandenberg, according to the 30th Space Wing. They were trained to destroy a pair of Intercontinental Ballistic Missile (ICBM)-class targets, according to the Missile Defense Agency.
"The [first interceptor] destroyed the re-entry vehicle, as it was designed to do," reported the Missile Defense Agency. "The [second interceptor] then looked at the resulting debris and remaining objects, and, not finding any other re-entry vehicles, selected the next 'most lethal object' it could identify, and struck that, precisely as it was designed to do."
The threat-representative ICBM target was launched from the Reagan Test Site on the Kwajalein Atoll in the Republic of the Marshall Islands, more than 4,000 miles away from where the interceptors were launched at Vandenberg Air Force Base.
The military provided no advanced notice of the test, so the sight of the missile contrails surprised many in and around the Lompoc Valley.
Typically, the missile tests are scheduled months in advance, and notice is provided in the days leading up to the tests.
Initial indications show the test met requirements, the Missile Defense Agency reported, though it noted that officials will continue to evaluate system performance based upon data obtained during the test.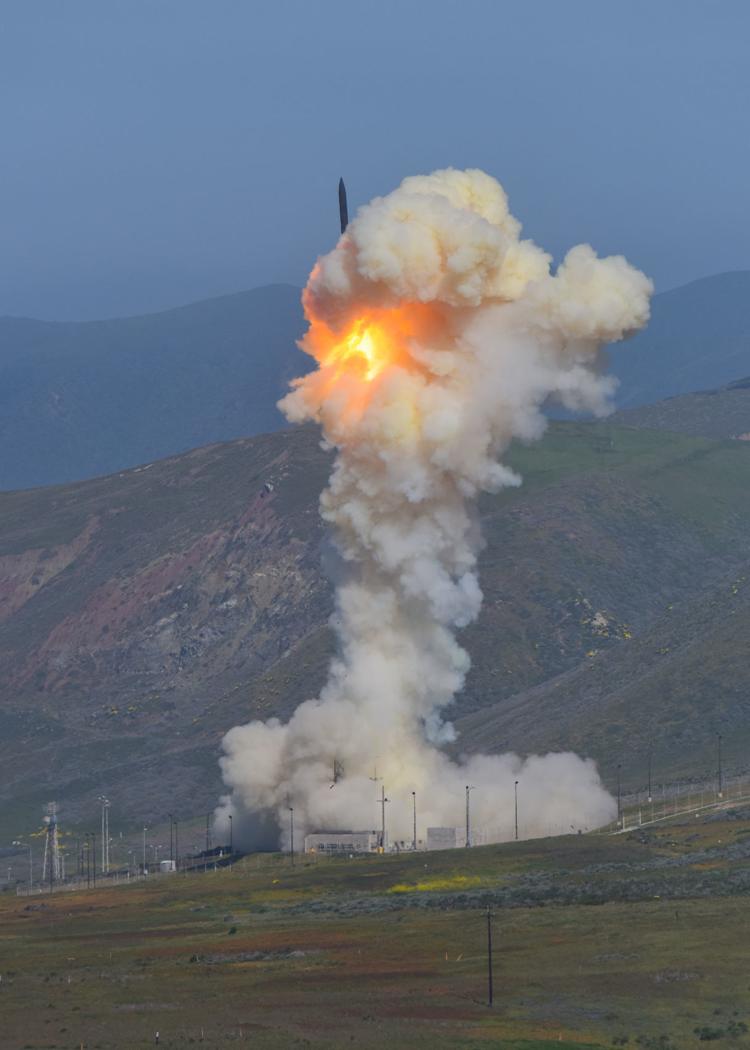 "This was the first [ground-based interceptor] salvo intercept of a complex, threat-representative ICBM target, and it was a critical milestone," said Air Force Lt. Gen. Samuel A. Greaves, the director of the Missile Defense Agency. "The system worked exactly as it was designed to do, and the results of this test provide evidence of the practicable use of the salvo doctrine within missile defense.
"The Ground-based Midcourse Defense system is vitally important to the defense of our homeland, and this test demonstrates that we have a capable, credible deterrent against a very real threat."
Col. Bob Reeves, 30th Space Wing vice commander, was the launch decision authority.
"Both the 30th Space Wing and the Missile Defense Agency worked hard to get the team ready for today's launch," Reeves said, according to 30th Space Wing public affairs. "I am impressed by the professionalism each member of this team embodied."