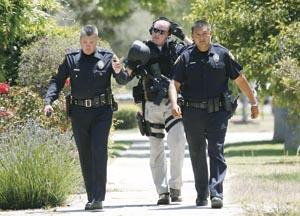 The suspect in an armed bank robbery in Santa Maria remained at large late Tuesday, and police were asking for the public/s help in identifying the man.
The culprit, described as a white man in his late 20s or early 30s, entered the Los Padres Savings Bank at 402 E. Main St. around 11 a.m. and robbed the bank of an undisclosed amount of money, according to Santa Maria police.
The man brandished a black, semi-automatic handgun at tellers, jumped over the counter and retrieved money before fleeing the business on foot, police said, adding that no one was injured.
Police officers, aided by the Santa Barbara County Sheriff/s Department and the California Highway Patrol, searched the area around the bank for the suspect.
Armed officers guarded a perimeter around the area police believed the suspect to be in, but he apparently escaped, said Santa Maria police Lt. Dan Ast.
BWe know the path that he took,C Ast said.
St. Mary of the Assumption School was briefly locked down while officers searched the area near the bank.
Once it was determined the suspect was not inside the perimeter, officers got in their patrol cars and left to look for anyone matching a description of the gunman.
Ast said it was possible the suspect changed his appearance shortly after the robbery.
At the time of the robbery, he was described as wearing a black hooded sweatshirt with an orange design on the back, light gray or tan shorts to his knees, a black baseball cap, dark sunglasses. He reportedly was carrying a black leather case.
The suspect was reported to be about 6 feet tall and between 200 and 220 pounds.
Ast said it was rare to catch a bank robbery suspect right after the incident.
The FBI was inside the bank investigating the robbery soon after it was reported.
Ast said there was no indication that the robber was known to have committed other bank robberies in the area.
Anyone with information on the suspect is asked to call the Santa Maria Police Department at 928-3781.
Samantha Yale can be reached at 739-2159 or syale@santamariatimes.com.
June 11, 2008
Get local news delivered to your inbox!
Subscribe to our Daily Headlines newsletter.