Only months ago, the historic Alisal Ranch was looking for a head wrangler; 150 applicants later, they found their cowgirl. 
And Jill Rivoli finally found home.
"There's been a slight change in tradition here. It's for the most part always been a cowboy's position," said Rivoli, who is the first female head wrangler on the ranch.
With a legacy of wranglers dating back to the 19th century, Rivoli said the response has been positive.
"Everyone here, both guests and staff, have been so welcoming," she said.
Originally poised to move to Austin, Texas, to follow another career opportunity, she saw the head wrangler position come up online.
"I immediately applied within minutes of the job being posted. I even wrote in my notebook 'I will be head wrangler at Alisal,'" Rivoli said. "With some back-and-forth scheduling, I was interviewed and flown out to Alisal Ranch and interviewed for four days, which included something like 13 interviews." 
Prior to arriving in the Santa Ynez Valley, Rivoli worked for three years as the manager of Miraval Resort's Equine program (one of the top rated destination resorts in the world), where she facilitated the "Equine Experience" for about 6,000 guests.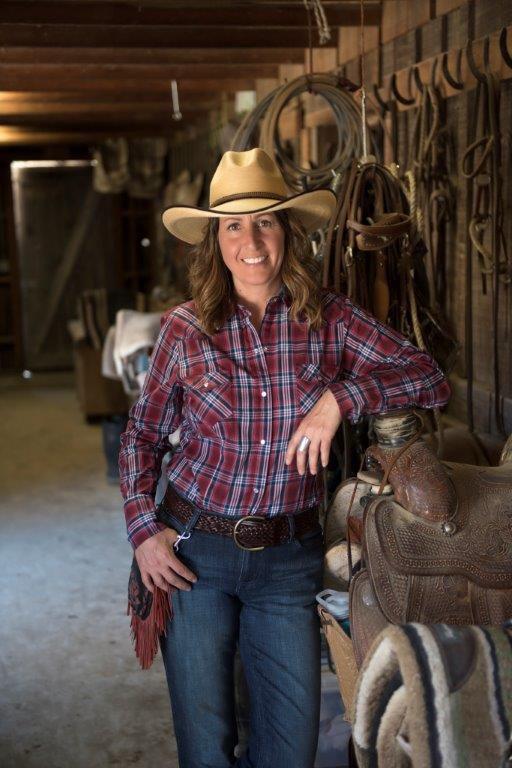 In 2010, Rivoli founded New Perspectives, working as an equine-assisted learning facilitator, developing programs in leadership development, relationship communication for families and couples, corporate and group team building, and equine assisted learning. She has worked with 7,200 individuals in Washington, California, Arizona and Oregon.
Typically relocating every handful of years or less, Rivoli said of the Valley, "I feel like I belong here."
Born in Orange, Rivoli moved to Oregon as a 9-year-old, where she was gifted her first horse by her father. Rivoli's dad was the primary inspiration for her lifelong love of horses. She specifically remembers her father telling her, "You can only be a kid in the country once in your life." From that point forward, Rivoli owned and worked with horses in every capacity possible.
Discovering after her father's death that her parents used to visit and ride at Alisal Ranch when she was a child further enhanced her desire to preserve both the history of Alisal Ranch and her father's memory. "[Alisal Ranch] is special to me in that way. Being here, I feel a connection to him," Rivoli said. 
Up at sunrise on most mornings to bring in the herd, Rivoli wears multiple hats on the ranch. She manages and trains a growing staff, oversees the corral of 110 horses as well as the barn's budget and expenses. The other minutes are spent planning for the continued expansion of their horse program. 
One of Rivoli's first initiatives as Alisal's head wrangler is to implement the ranch's first group training program, one that is rooted in horse therapy to instigate team building in a unique and effective way. Aiming to launch the corporate programming in fall this year, Rivoli has outlined the structures of her half-day and full-day workshops. Activities will be tailored to groups facing difficulties with communication, staff turnover and additional common workplace conflicts.
Three months into the job and living on the property with other staff members, Rivoli said that in all her years in hospitality she has never experienced the level of devotion from both guests and staff members that she has at Alisal Ranch.
"It's generational," she said.
Regarding the guest experience, Rivoli hopes to increase guest involvement in the weekly Wednesday night rodeo shows during the summer months. Plans include an opportunity to practice and then perform as a drill team, more games for young cowpokes, and the opportunity to work cattle in Alisal's Round Up class. She is also expanding children's educational activities, teaching proper horse care and providing hands-on activities to familiarize young guests with the ranch's famous friendly faces.
"I want kids to learn something, whether it's about the area, the horse or the riding," Rivoli said. "I want them to come back enriched by the experience. It's my passion to bring out the best in people and horses." 
Horses have been an integral element of the ranch since it was granted to Raimundo Carillo in 1843. In 1946, the Jackson family purchased the land, repurposing it as a guest ranch. Alisal horses were then trained for guided horseback rides, attracting travelers from across the state, including Hollywood icons.