Lompoc Mayor Jenelle Osborne said it was easy for her to view her mother as a strong role model.
Her mom, Osborne noted, spent many years as a housewife who occasionally took on secretarial jobs before deciding in the 1970s to go back to college and jump-start a career in education that saw her go from teaching to working as an administrator.
While Osborne credited her mother's journey as inspirational, she said it was the supportive actions of her father, who had served in the military before finding and then losing work as a mechanic, that instilled within her the idea that women could achieve beyond what was stereotypically expected of them.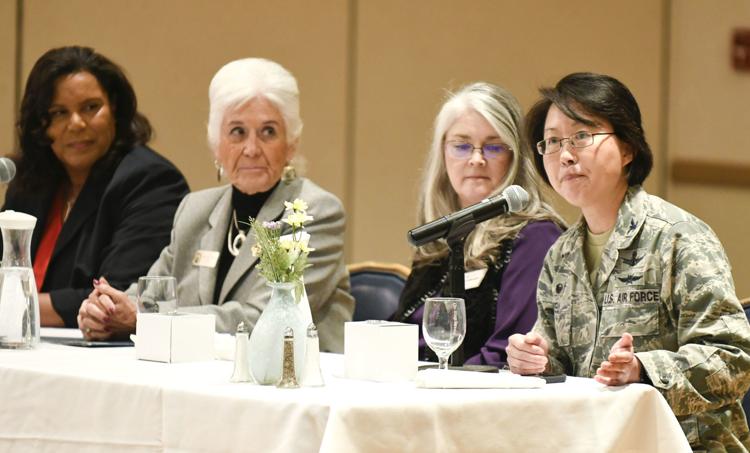 "I was in the fourth grade and I remember hearing [my father] say, 'You're the smarter of us; you need to go back to school. You can make more money and do more for our family than I ever will be,'" Osborne recalled of the conversation between her parents. "He would go stand in line for her and register her for classes and buy her books and make sure she got to class and that her car was working.
"I watched my very strong, very male father transition into a very supportive husband who thought his wife could do better and more for her family and supported that," she later added. "Watching and witnessing that was an empowerment to me that said my father, that male in my life, knows that women can do as much, if not more, (than men) and supports that."
That experience was one of several personal stories shared during a wide-ranging panel discussion, themed "Visionary Women: Champions of Peace and Nonviolence," held Thursday at the Pacific Coast Club at Vandenberg Air Force Base. Along with Osborne, the four-woman panel included Santa Maria Mayor Alice Patino, Air Force Col. Merna Hsu and Robin Ghormley, an Air Force veteran and current chief of public affairs for the 30th Space Wing.
The event was put on in celebration National Women's History Month, and was attended by about 60 people, including enlisted airmen and Air Force leaders, as well as civilians.
Vandenberg Air Force Base will likely see an uptick in the amount of rocket launches it hosts, just not in the immediate future.
During the presentation, which concluded with the women fielding questions from the audience, the panelists discussed the challenges they've faced in the military and political arenas, the successes they've experienced, the advice they'd share and the people from whom they've found inspiration.
While each of the panelists acknowledged that women can potentially face different hurdles than men in modern society, Patino said she felt like a lot of the current national discussion about gender inequality is a "snapshot" that lacks historical perspective.
"I think a lot of women today think there's so much inequality, that's the snapshot," she said, after describing her inability to take certain classes or play sports at her high school in the 1950s, or even purchase a car on her own as an adult.
"I know there are men out there that don't even like us to have a library card, but boy I'll tell you what, the women today have so many more opportunities than we did," she added, noting that women should continue building on those opportunities.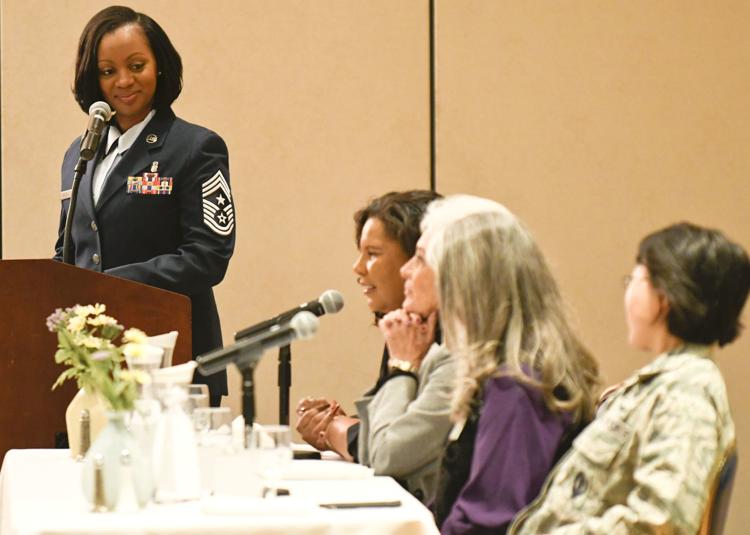 Patino acknowledged that women, particularly those in politics, can face added challenges. She celebrated the fact that so many cities in Santa Barbara County — including Lompoc, Santa Maria, Buellton, Santa Barbara and Goleta — have women mayors, and said she felt it was important for women to support each other.
She then offered general advice that she said can apply in politics and personal relationships: "I think it's important just not to be a bitchy woman," she said, drawing applause from some members of the audience.
As the other politician on the panel, Osborne also shared thoughts on the issues facing women in politics.
Osborne was first elected to the Lompoc City Council in 2016 after a campaign that coincided with the Donald Trump vs. Hillary Clinton presidential race, so she said she did her best to focus on issues and not fall into the man vs. woman debate that had grown nationally or have her gender used politically.
Osborne was then elected mayor two years later, in 2018, and said she'd love to see more women take an interest in local office.
"I'd like to flip that majority (and) I'd like, for once, that there be more women on the council," she said. "We come with a different voice; we come at issues differently. We tend to feel more comfortable putting our egos aside and doing what's best for the greatest amount of good and I think that does really impact and change a community."
Patino seemed to agree with that assessment after discussing an ordinance she helped pass in Santa Maria to cut down on massage parlors in the city. The establishments had come under fire for being potential fronts for human trafficking.
"Women, I think, come to leadership in a different way, and that's not bad and it's not good, but it's important because we do feel that empathy for our girls and how important it is," she said.
Given the significance of the month, the panelists also shared examples of women — and men — who inspired them throughout their lives.
All of the women talked about the strength of their mothers and grandmothers, but Hsu said that she had also found inspiration from several friends, family members and colleagues, some of whom were identified by her in the room.
Hsu also pointed to the late Maj. Gen. Jeanne Holm, who was the first female one-star general in the Air Force and the first female two-star general in the U.S. military overall. Holm, who was considered a pioneer and driving force behind the expansion of women's roles in the Air Force, died in 2010 at 88 years old.
"I thought [Holm] was remarkable because she joined the service at a time when panels like this probably didn't exist and probably never crossed people's minds," Hsu said. "And it's not just that she attained a particular rank; that's not necessarily the point I'm making. It's just that she earned and was entrusted with the responsibility that came with that rank … and she was really in uncharted territory."
Hsu noted that as she has taken on new jobs or ranks within the Air Force, she has often sought advice from people who had already held those same positions.
"I wonder who [Holm] could have been able to reach out to, or who would've been able or willing to help her out," she said.
"In my career, because of leaders like her, who happened to be female, she's charted some of those routes (and) she's broken trails, and I think that's made it easier for me, not that I don't encounter stereotypes and the like, whether because of my race, my ethnicity or my gender," added Hsu, who is Chinese-American. "But, I just think it's very fortunate to … be aware that someone of this caliber … was there."
Osborne and Ghormley reflected on their own histories after being asked what advice they'd give to their 18-year-old selves.
Ghormley said she would tell her younger self to enjoy the journey and do a better job of embracing every moment along the way, while Osborne said she'd encourage her teenage self to continue being brave and taking risks.
"Continue to have confidence in yourself, continue to trust that your family is there and supports you and loves you no matter what," she said of her advice to herself. "Learning that is a lifelong journey, but the sooner you learn it, the braver you become."