A group of young citizen leaders is being recognized as the fifth nominee for the 11th annual Lompoc Valley of the Flowers Peace Prize by the Valley of the Flowers Church for their work in social justice.
The five leaders — Anthony Vickery, 21, Kongie Richardson, Keith Joseph, 24, Raelyn Person, 23, and Jason Bryson — were responsible for organizing and delivering one of Lompoc's largest peaceful demonstrations for social justice following the killing of George Floyd, an unarmed Black man who died after a police officer in Minneapolis knelt on his neck for more than 8 minutes on Memorial Day.
Despite the high emotion, no vandalism occurred, officials said. 
After the killing of Floyd went viral, Vickery recalled the impact.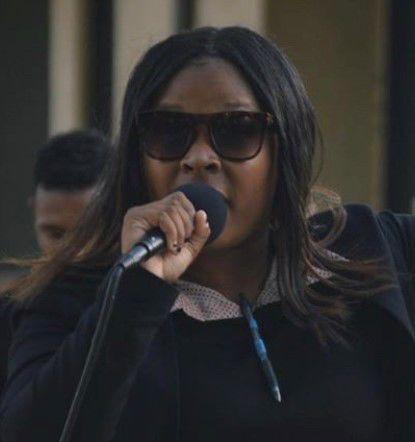 "I was really sad," Vickery said. "My thought was, 'How would my family feel if that happened to me?' If nobody was going to stand up, I had to." 
Two days later, Vickery and Richardson rallied three dozen friends to make posters, some reading, "You don't have to be Black to be Outraged" and "Black Lives Matter," and posted them throughout town that same evening.
"People were calling me," Vickery remembered. "They said signs were taken down, and asked me what to do."
In response, the pair grew their efforts by posting more signage over the next several nights.
That week, on Sunday, Vickery and Richardson gathered 80 protestors for a rally at H and Central.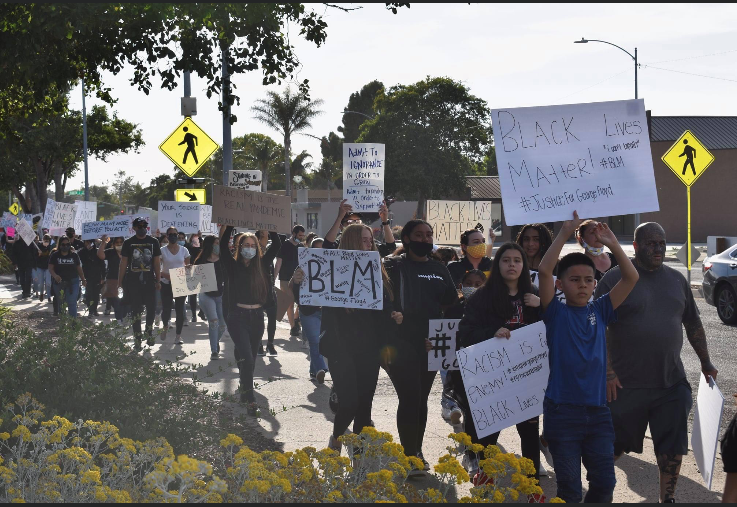 He said, judging by honking horns, 90% of motorists agreed.
On June 2, Vickery and Richardson drummed up support — to the tune of more than 800 Lompoc community members — for a peaceful protest at Ryon Park to demand an end to racial injustice and police brutality. 
"There was a lot of tension," said Joseph, a grocery clerk, who remembers finding boorish comments on social media. "There's a lot of racism in the 805. People putting their 2 cents in, [saying]' 'Floyd was a drug addict.'"
Joseph said some residents even ripped down signs.
"These were people you went to high school with," he said.
Joseph and Person, a mental health advocate, with Vickery's blessing, stepped up to become standout rally speakers.
Azyiah, Amia and Maliah Simmons, each of whom attended Lompoc High School in the 2019-20 school year, earned the nomination for their music video, which they created for a performing arts competition sponsored by EduHam, an educational spin-off of the hit Broadway musical Hamilton. The girls were featured on "Good Morning America" this summer for their efforts.
"As a young Black woman, someone with my skin tone who can speak from a certain perspective should speak and set the tone," Person said.
Channeling Angela Davis, Person said she "cut loose and captured the crowd," who kept chanting, "We will be heard!"
Bryson, a martial artist tasked with maintaining order, said he kept repeating, "This is our town. We're marching for peace; we don't need vandalism."
Brandishing a bullhorn, he ran the length of the parade as he recruited helpers. 
"It was a once-in-a-lifetime experience," Bryson said. "Nobody in their right mind expected that many people."
While the aim to improve mental health resources for local schools remains central to his campaign, Murkison, who is Black, said he also hopes to cast a wider net on youth representation and diversity while serving on the school board.
Local tai chi instructor Yuka Freeman has been recognized as the third nominee for the 11th annual Lompoc Valley of the Flowers Peace Prize, f…
Upon witnessing the televised murder of Floyd in late May by Minneapolis police officer Derek Chauvin, who kneeled on Floyd's neck for 8 minutes and 46 seconds, Dunaetz and Costa recalled feeling shocked and concerned about the issues of fair policing and social justice.
Lisa André covers local news and lifestyles for Santa Ynez Valley News. 
Get local news delivered to your inbox!
Subscribe to our Daily Headlines newsletter.