A pop-up exhibit at Hancock College featuring clothing displays from sexual assault survivors is sparking conversation at the Santa Maria campus about the stigma surrounding survivors, the blame they experience and what a survivor is. 
"What Were You Wearing" is a traveling project started at the University of Arkansas in 2014 and inspired by the 2005 poem "What I Was Wearing" by Mary Simmerling.
Through displays of clothing provided by a variety of survivors, the exhibit examines the implications of asking survivors what they were wearing when they were assaulted.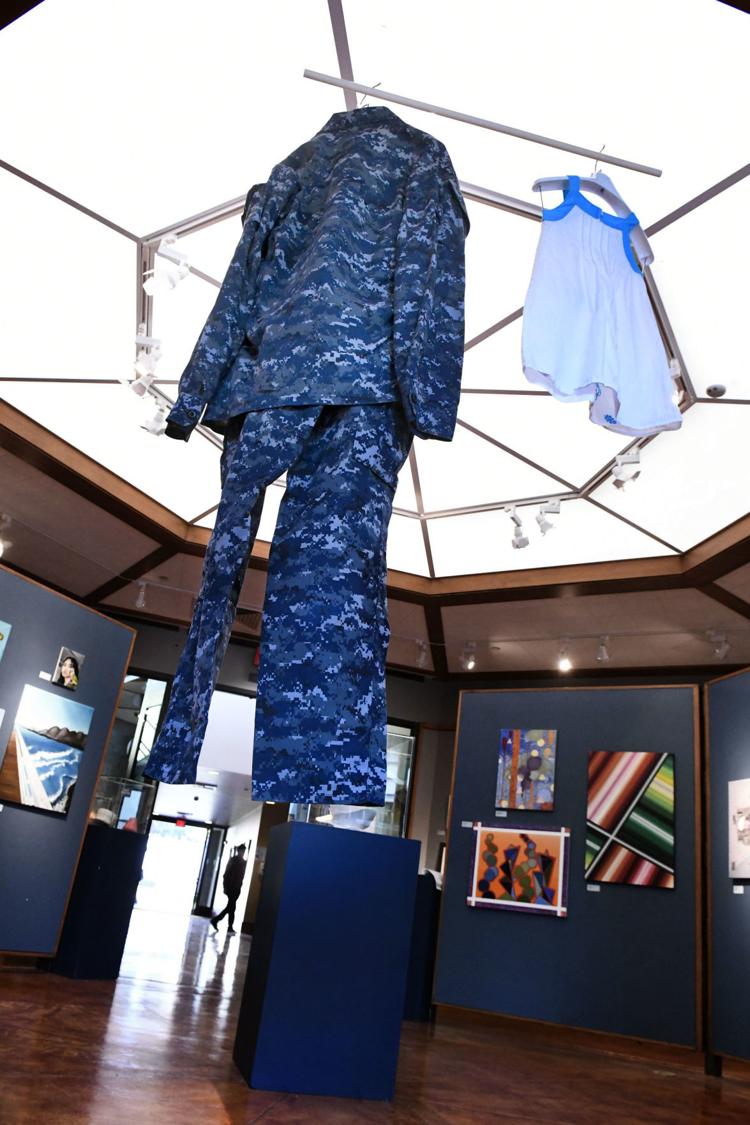 At the Ann Foxworthy Gallery, there are 12 displayed outfits, including a 6-year-old's dress, jeans and T-shirts, workout gear and Army fatigues. Each outfit is accompanied by a written description of what the person was wearing and the circumstances of their assault. 
The original project founders supplied a toolkit with eight clothing displays used at the University of Arkansas. The exhibit at the Santa Maria campus also includes two clothing displays from survivors at the Sexual Assault Prevention Response office at Vandenberg Air Force Base and two from survivors at the Rape Crisis Center's Lompoc office.
Gallery Director Laura-Susan Thomas said the exhibit is powerful because it challenges people to think about sexual assault differently.  
"I think it changes people's perceptions of what a victim is," Thomas said. "Seeing these everyday clothes, and the child's clothing and the uniforms … it makes both men and women more aware."
Alison Wales, associate director of the Rape Crisis Center, said she has wanted to bring a "What Were You Wearing" exhibit to the county for years. She said the center, which provides both crisis intervention and education services related to sexual assault and abuse in Santa Barbara County, had been working with Hancock College to provide resources and education, through tabling at campus and helping with events for Denim Day and The Clothesline Project.
"We've had a great partnership with Hancock for a while," Wales said. 
You have free articles remaining.
When it came to organizing the "What Were You Wearing" exhibit, Wales reached out to coordinators at the college's Student Health Services, who regularly work on programs and resources related to sexual assault and violence prevention on campus. 
Hancock College Student Health Services spread the word about the exhibit on campus as part of "Love Carefully Week," with presentations earlier in the week about consent and healthy relationships, according to Student Health Services Wellness Program Specialist Xixi Zhai.
Since the gallery had already planned out all of its exhibits for the year by the time Wales began discussing the clothing displays, the gallery was only able to feature a pop-up rather than a long-term exhibit.
However, both Wales and Zhai said they are open to featuring "What Were You Wearing" again in the future.
"I think if we do it, we definitely need more advanced planning. But it would definitely be something great," Zhai said.
While the 12-display exhibit is smaller than renditions of "What Were You Wearing" at other galleries, where exhibits feature up to 50 displays, the exhibit at Hancock still features a variety of experiences with sexual assault.
Displays depict men who have been assaulted by women, assault by someone of the same sex, and individuals who experienced assault multiple times throughout their lives. 
"If nothing else, the clothing sparks a conversation," Wales said. "Abuse is universal, and perpetrators are universal." 
Laura Place covers city government for the Santa Maria Times.