The fast-moving Whittier fire, which started Saturday afternoon near the Whittier Campground across from Cachuma Lake, has charred 10,823 acres as of 9 a.m. Monday morning, with 5 percent containment.
The containment area is along Highway 154 on the Cachuma Lake side.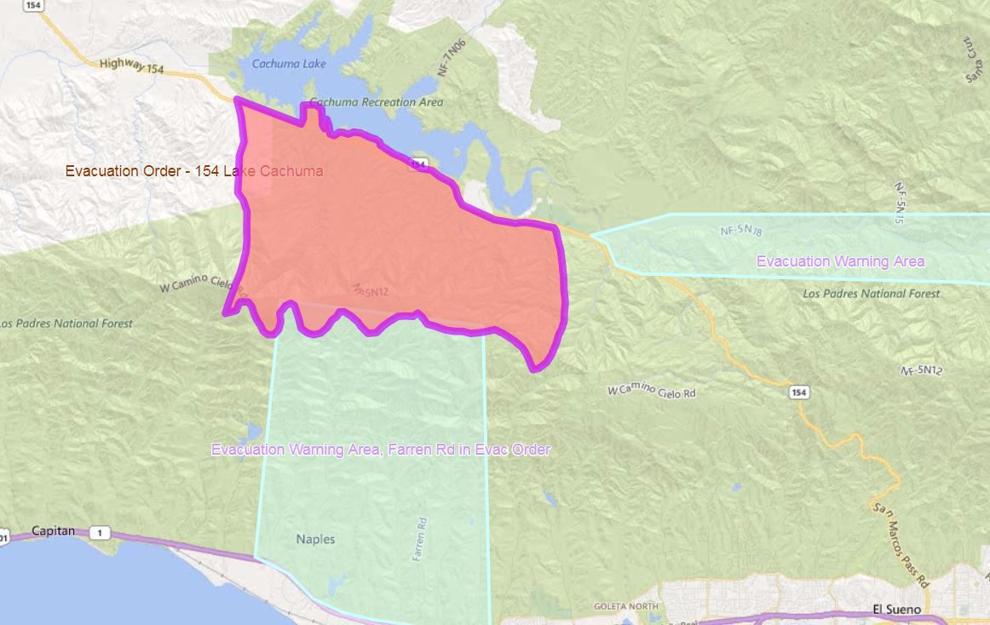 The fire crested the Santa Ynez Mountains above west Goleta on Saturday night, and an aggressive air attack was launched Sunday to hold it to the 1,500 acres that had burned on the south side of the ridge.
The fire, which sent a huge plume of smoke into a sky already marked by smoke from the 19,000-acre Alamo fire burning in northern Santa Barbara County, started about 2 p.m. Saturday. Early reports that the blaze was started by a car fire are unconfirmed and the cause is under investigation, according to officials.
Highway 154 is closed and will remain so for several days between Highway 246 in the Santa Ynez Valley and Foothill Road in Santa Barbara.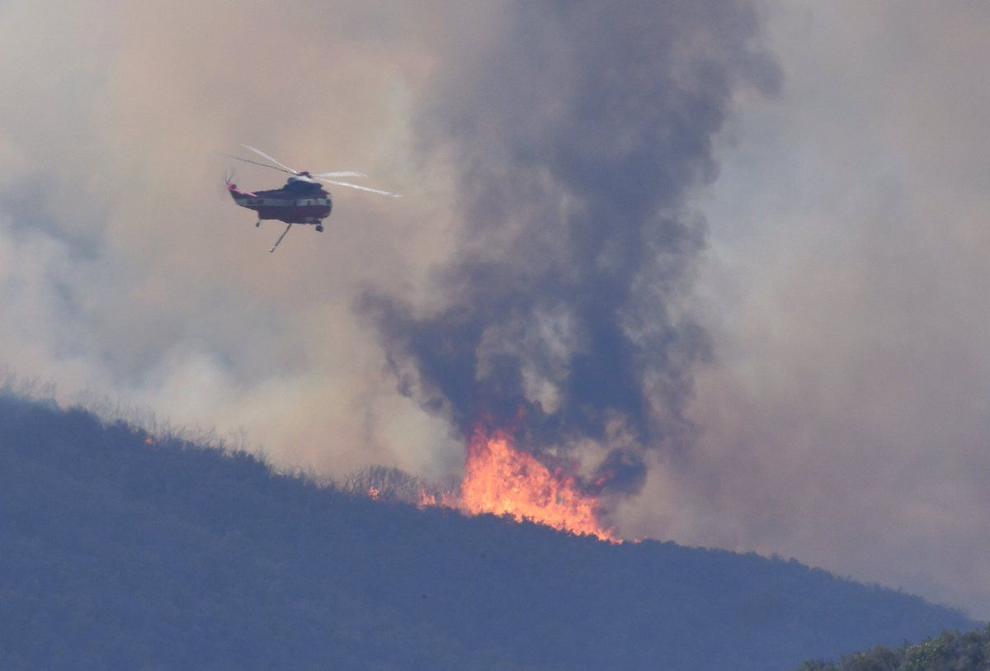 The fire crested the ridge of the Santa Ynez Mountains in the Condor Peak area above Goleta by 8:30 p.m. Saturday night, but winds were mild, according to County Fire Capt. Dave Zaniboni. A nighttime water-dropping helicopter was utilized overnight to fight the flames, and additional resources were ordered for Sunday morning, including 10 strike teams of Type 3 engines, more bulldozers, hand crews and aircraft, Zaniboni said.
The fire was burning on both sides of Highway 154 earlier Saturday, said Zaniboni, who described the blaze at that time as "completely out of control." 
A sheriff's vehicle, which was parked along Highway 154 while the deputy assisted in evacuating children, was destroyed. The deputy was not injured, according to officials.
Evacuation orders remained in effect Sunday for Hwy. 154 from Armour Ranch to Paradise Road, Farren Road, W. Camino Cielo from the Winchester Gun Club east to Hwy. 154, and Kinevan Road.
An evacuation warning is in place for:
Las Varas Canyon east to Winchester Canyon and from Highway 101 North to W. Camino Cielo.
Paradise Road from 154 to the first river crossing. 
A warning means anyone in the area should be gathering family members, pets, important documents and irreplaceable items and be prepared to leave. People with special needs should evacuate now. Large animals should be evacuated now.
Lake Cachuma Campground, Camp Whittier and The Outdoor School at Rancho Alegre were evacuated Saturday along with Circle V Ranch, Live Oak Campground and Cachuma Village. 
Ninety children and 50 adults who were trapped by flames when they cut off access to Circle V Ranch Camp on Saturday afternoon, sheltered in place with firefighters and were safe until they were successfully evacuated by 6:30 p.m., according to Zaniboni.
A spokeswoman for Circle V Ranch Camp said all 90 campers and 50 counselors and staff members were escorted out by firefighters and taken to Old Mission Santa Inés in Solvang, where those from Santa Barbara County were picked up by parents and guardians.
The Society of St. Vincent de Paul, which operates Circle V Ranch Camp, has made arrangements for campers from Ventura and Los Angeles counties to be bused to their points of origin for pickup by family members.
The Santa Ynez Band of Chumash Indians sent a bus to help evacuate children from camps in the area.
On Sunday Circle V Ranch Camp Director Ray Lopez expressed his thanks to first responders, staff and volunteers who helped safely evacuate the Session 2 campers and staff on Saturday. All campers and staff are safe and accounted for, he said, and were returned to their parents/guardians throughout the counties of Santa Barbara, Ventura and Los Angeles by 11:15 p.m. Saturday.
The camps Session 3 Space Week, which was scheduled for July 11-16 has been canceled as a result of the fire. The buildings on the camp's 30 acres of leased US Forest Service property were saved, Lopez said in a statement.
Evacuation centers remain open at San Marcos High School, 4750 Hollister Ave. in Santa Barbara, and at Santa Ynez Elementary, 3325 Pine St. in the Santa Ynez Valley. 
Based on evacuation orders and warnings, a number of people stayed Saturday night at the shelters established by the American Red Cross for both the Alamo fire and Whittier fire, according to county officials. Six individuals stayed at the Red Cross shelter at the Minami Center in Santa Maria, 29 stayed at San Marcos High School in Santa Barbara, and 5 stayed at the Santa Ynez Elementary School shelter.
There are no known injuries as a result of the fire.
Small animals that are evacuated are being accepted at the Santa Barbara Humane Society at 5399 Overpass Road. People needing help evacuating large animals, including horses, can call 805-681-4332. 
For the southern region of the county, a number of small animals were sheltered overnight Saturday including one horse, three cats, four dogs, four birds, and a guinea pig, according to officials.
All but two dogs were sheltered at the Santa Barbara Humane Society. County Animal Services in Santa Barbara is also providing shelter care. Two horses evacuated from the fire are now at Earl Warren Showgrounds. 
Early Sunday morning, a special animal evacuation was made by a Santa Barbara County animal control officer as homeowners were out of town and animals were left in the home, according to officials. Two schnauzers, Tucker and Cloe, were safely removed from a home in the evacuation area. The dogs were reunited with their owners today.
On Saturday, several fixed-wing aircraft, including a DC-10, and four to five helicopters, including the sheriff's helicopter No. 3, battled the flames.
"Conditions are not good today, obviously," Sheriff Bill Brown said Saturday, speaking from a sheriff's command center set up along Highway 154 near the Santa Ynez River Bridge. "It's very hot, winds are coming from different directions, and they're forecasting sundowners for this weekend. According to the fire guys it's a big fire, and it's going to get bigger."
Sergio Arredondo Jr., a ranch manager at the San Lucas Ranch along Highway 154, said fire has come close to the ranch several times.
"Remember the Sherpa fire? It was right up on the ridge here," he said. "And the Zaca fire was right over here," he said, pointing the other way.